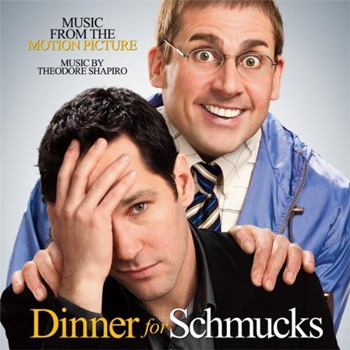 Soundtrack: Dinner For Schmucks
Composer: Theodore Shapiro & Sondre Lerche
Label: Lakeshore Records
Release Date: August 17, 2010
Dinner For Schmucks is a comedy starring Steve Carell and Paul Rudd, released July 30, 2010. Paul Rudd's character Tim is invited to a "dinner for idiots" by his boss, where the attendees find "eccentric" people to bring and then make fun of them. Tim runs into Steve Carell's character Barry and realizes he's the perfect specimen to bring to dinner, and all sorts of hijinks ensue.
The score was composed by Theodore Shapiro, who has scored many comedies including Tropic Thunder, The Devil Wears Prada, Wet Hot American Summer and Marley & Me. The album is entirely an instrumental score except for track two, a song called "Dear Laughing Doubters" by Sondre Lerche. Lerche is a Norwegian singer/songwriter who, not coincidentally I'm sure, composed the score for another Steve Carell movie, Dan in Real Life. The song is a happy little ditty about not caring what other people think of you ("Dear laughing doubters, I'm laughing louder, I don't really care…") and is really cute.

After these first two tracks (track one is an intro called "Prelude To A Schmuck"), the album consists of many short tracks, largely under two minutes long. Listening to the music, I assigned the majority of the tracks one of two different feels: light-hearted, happy-go-lucky tune, or wonderfully cheesy spy-sounding music. The instrumentation features piano, accordion, some guitar and ukulele, which is really cool. I like what I'm calling the "spy" sounding parts — they remind me of Mission: Impossible music and it makes me happy. I can only assume those are for scenes in the movie when Steve Carell is doing something comical (or stupid? Both?). There is a recurrent "main" theme with what sounds like a ukulele woven into a good number of the pieces. The last track, "Tower Of Dreamers," is longer at 4:10 and is kind of a medley of different things. It switches abruptly between a few different types of sounds, including a rousing rendition of the tune of "Yankee Doodle" followed by short electric guitar riff, then goes back to the main theme with the ukulele. It is altogether fun & enjoyable to listen to.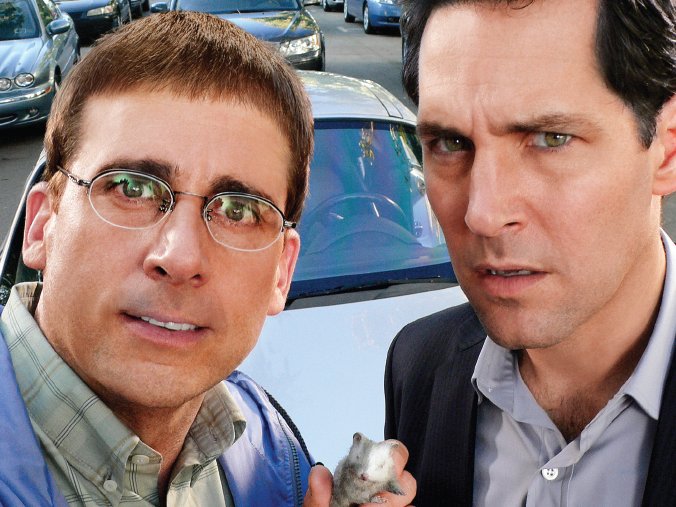 This score has a light-hearted, comical character, which I perceive to nicely match the character of the movie. Though not my #1 favorite soundtrack of all time, the music was fun to listen to and well-composed. Though the movie itself received dubious reviews (from what I read anyway), the soundtrack is another good release from Lakeshore Records.
Track Listing:
"Prelude To A Shmuck" (0:53)
Sondre Lerche – "Dear Laughing Doubters" (2:48)
"The Collector's Club" (0:50)
"Back Spasms" (2:17)
"Booty Parade" (0:44)
"Mousterpieces" (1:35)
"Cat Burglars" (3:12)
"Go Get 'Em" (0:27)
"Darla Arrives" (1:59)
"Penguin And Possum" (1:43)
"Barry's Photos" (0:50)
"Where Are They Now?" (1:49)
"Switched Phones" (0:54)
"Don't Stop Asking" (1:27)
"Already Cramped" (0:38)
"Four Wet Feet" (1:16)
"Mouse World" (2:28)
"The Naughty Purse" (3:19)
"Tim Confesses" (2:10)
"Brain Control" (3:07)
"Mein Finger!" (2:50)
"I Am A Goat" (0:55)
"Tower Of Dreamers" (4:10)
Rating: 4.5 / 5 Stars