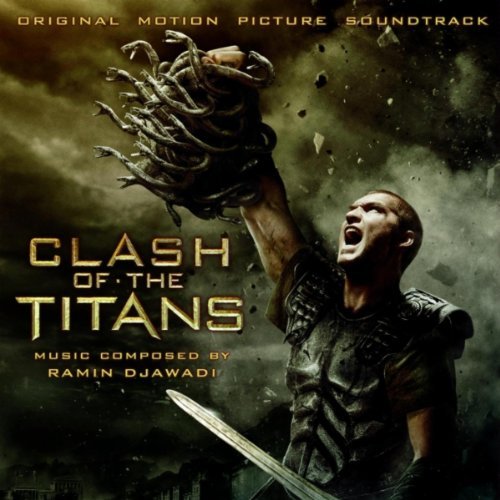 Soundtrack: Clash of the Titans
Composer: Ramin Djawadi
Label: Watertower Music
Release Date: April 1, 2010
In the Greek city of Argos, war is breaking out between the gods and the mortals. The only hope the city has for survival from Hades (Ralph Fiennes) is Perseus (Sam Worthington), a demigod son of Zeus (Liam Neeson). Ramin Djawadi (Iron Man, FlashForward, Prison Break) handles the score for this classic tale.
By now, it's pretty standard to have a Swords and Sandals movie accompanied by a score that's a mix of "ethnic" vibes with a good dose of rock added to it. This soundtrack is no exception, and considering the kind of movie it's supposed to go with, that's not really a bad thing. In fact, the more I listen to the soundtrack, I find myself wishing I could see the movie that this score is supposed to go to because it surely couldn't have been the movie I saw in theaters. This score has a drive to it that feels like it belongs to a movie more in the same vein as 300 or Spartacus: Blood and Sand, something more aggressive in its action and minus the overt (but not over-the-top enough) camp. It's very action-oriented, while still having its standard quiet moments. Track One, "The Storm that Brought You to Me," is actually a song as opposed to a piece of music that scores the action in the movie. It was a bit of a surprise because I didn't remember it being in the movie, but it was a welcome surprise.
It's got a good theme that's full of brass, deep strings, and drums that makes its way through the tracks like any good theme does. The overall feeling I get from this soundtrack is actually very similar to Djawadi's work on Iron Man; I feel like I should be building something out of metal or sharpening blades while listening to it. There's a very interesting industrial feeling to the combination of orchestral instruments, vocals, and electronic/rock that should probably feel out of place for the genre. For better or worse, it has become the preferred combo for the genre, and this soundtrack isn't bringing anything new to that. I would say the only real downside to this album is that the tracks don't go in order of events in the movie, but if you were like me and didn't really care for the movie (and thus aren't recalling scenes from the movie while listening to the tracks) it's not that big of a hindrance on the enjoyment level.
Track Listing:
"The Storm That Brought You To Me" (4:50)
"There Is A God In You" (1:38)
"Perseus" (6:33)
"You Can't Hide From Hades" (3:30)
"Medusa" (4:07)
"Scorpiox" (3:23)
"Argos" (1:53)
"You Fall, You Die" (1:14)
"Written In The Stars" (2:54)
"Pegasus" (2:22)
"Bring Everything (But The Owl)" (1:47)
"Killed By A God" (1:50)
"Djinn" (1:56)
"Eyes Down" (4:19)
"You Were Saved For A Reason" (1:20)
"Redemption Through Blood" (2:14)
"I Have Everything I Need" (3:15)
"King Acrisius" (2:27)
"It's Expensive Where You Are Going" (2:50)
"Be My Weapon" (10:09)
"The Best Of Both" (1:29)
"Release The Kraken" (6:03)
"It's Almost Human Of You" (3:15)
Rating: 3 / 5 Stars