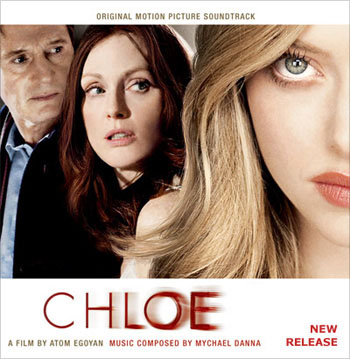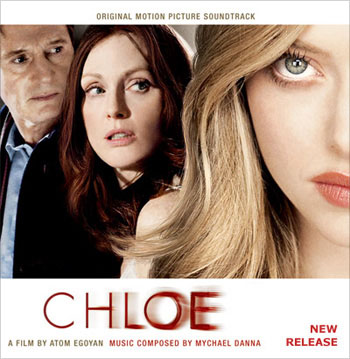 Soundtrack: Chloe
Composer: Mychael Danna
Label: Silva Screen Records
Release Date: March 22, 2010
Mychael Danna is no stranger to Chloe's director Atom Egoyan, as he has composed the scores for several of his films, including Exotica, The Sweet Hereafter, Felicia's Journey, Ararat, and Adoration. If there's one thing this soundtrack doesn't lack, it's intensity. I popped the album in my car, and as I was listening to it, I felt like I was traveling to a haunted town full of mystery and suspense, which sets the perfect tone for a film that has been pegged as a "sexually charged melodrama."
The instrumentals leave you to wonder what exactly is happening in the film. From what I've read, the main gist of the flick is about a woman who suspects her husband of cheating and hires the titlular Chloe to seduce him. You can hear the tones of desperation from the wife in some scenes tracks and the salacious retelling of what Chloe has done with the husband in others.
The track that stands out the most for me is nineteen; I feel as if it sums up the movie's sounds perfectly. You get the lingering wonderment in the opening, it then it flows into the lascivious resonance from my understanding of Chloe's rehash of what she's done with the cheating husband, to a paranoid staccato from the stringed instruments, and finally the piece comes to an abrupt stop.
I have to admit, even after reading all the terrible reviews of the movie, Chloe, I am still excited to see it, if only for the passionate harmonies that I've heard. This soundtrack is one that needs the accompaniment of the movie to make complete sense, but it was a joy to listen to in my car.
Track Listing:
"In My Line Of Business" (2:11)
"People Like You" (0:56)
"Chardonnay" (5:01)
"When Did We Stop?" (2:07)
"I Felt Him" (2:16)
"Shower" (2:11)
"You Look Just Like Her" (1:26)
"Windsor Arms" (3:03)
"The First Time" (1:17)
"Conservatory" (2:11)
"Touch You" (2:52)
"Have This" (1:15)
"Waiting Room" (2:04)
"Do You Want To Count It?" (0:46)
"Don't Want This To Be Over" (0:54)
"Told You Not To Call" (1:29)
"She Was Nobody" (1:10)
"This Person" (1:37)
"Your Parent's Room" (7:50)
Rating: 3 / 5 Stars