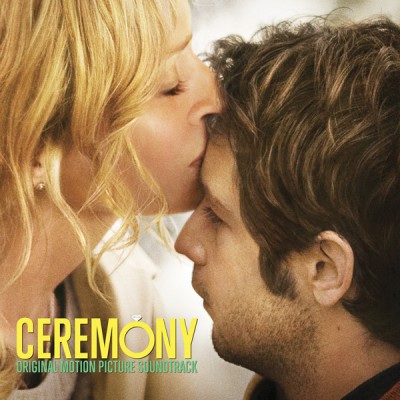 Soundtrack: Ceremony (Original Motion Picture Soundtrack)
Artists: Eric D. Johnson, Various
Label: Lakeshore Records
Release Date: April 12, 2011
The debut of Max Winkler as both writer and director of Ceremony is backed by a fantastic soundtrack that boasts contributions from artists such as Eric D. Johnson, Pete Townsend, and Ringo Starr. With such a variety of fantastic artists, you'll be put in the mood to celebrate. Winkler has noted that these songs were the inspiration as the movie was being written and developed. You can certainly tell that, as the songs feel like an organic element that built a complete storyline.
Eric D. Johnson, of the Fruit Bats, has ten of the sixteen songs on this soundtrack. With his range of instrumentals, he builds the backbone of the storyline. Sam is in love with Zoe, but she's going to marry another man. And thus we begin to romantic adventure of hoping Sam can win her over before it's too late. You are carried from the sweeping emotions of "Sam by the Window" to the fast-paced excitement of "Dos Gauchos en El Camino" as we travel on the journey together. I particularly like "Uncle Teddy" because it's got the feel of an old blues song, albeit without the lyrics.
Also contributing to the album are music legends Ringo Starr ("It Don't Come Easy"), Van Dykes Parks ("Plots and Entrees"), Pete Townsend ("La La La Lies"), Eric Burdon & The Animals ("Good Times"), General Public ("Never You Done That"), and Ezra Koenig of Vampire Weekend ("Papa Hobo"). I have noted before that my preferences always run towards lyrics, so to have such a range of favorite artists on this collection was a special treat. Burdon, Koenig, and Townsend in particular connects you to a simpler time of the musical past with eyes towards the future. And my personal favorite, Ringo Starr's "It Don't Come Easy," has had me singing along for more repeats than I'd care to admit.
Check out the movie in your local theatres and get the soundtrack when it releases this month. Take the musical journey with Sam and Zoe. You're sure to have a smile before it's over.
Track Listing:
Overture – Eric D. Johnson
Dos Gauchos en El Camino – Eric D. Johnson
At the Mohican – Eric D. Johnson
Uncle Teddy – Eric D. Johnson
Brief Encounter – Eric D. Johnson
La La La Lies – Pete Townsend
Zoe on the Beach – Eric D. Johnson
Married?! – Eric D. Johnson
Never You Done That – General Public
Sam by the Window – Eric D. Johnson
Plots and Entrees – Van Dyke Parks
It Don't Come Easy – Ringo Starr
Marshall Finds the Ring – Eric D. Johnson
Paper Chase – Eric D. Johnson
Papa Hobo – Ezra Koenig of the band Vampire Weekend
Good Times – Eric Burdon & The Animals
Rating: 4 / 5 Stars