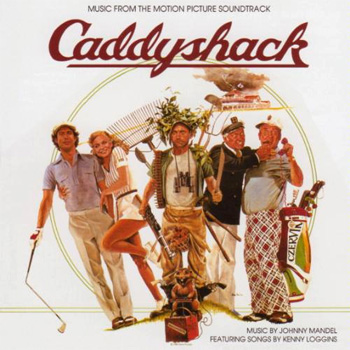 Soundtrack: Caddyshack: Limited Edition
Composer: Johnny Mandel
Featuring: Kenny Loggins
Label: La-La Land Records
Release Date: January 5, 2010
It's time to talk out of the side of your mouth and argue whether we should kill all the golfers, or just kill all the gophers. That's right, it's time for the soundtrack to Caddyshack.
Of course, to fully appreciate this little gem, you have to watch the movie, which presents no problem for most people. Caddyshack, even 30 years later, is an easy watch. I suspect there are some people out there who will refuse to acknowledge this comedy masterpiece (they'll say something like: "it's shallow and pointless," or "it's so dated — did men really wear their shorts that short?"), but normal people recognize genius when they see it.
The soundtrack doesn't rise to the same level of genius that the movie does. But it's pretty good. Of course, you have to be able to listen to Kenny Loggins songs without being tempted to tear your ears out, which is probably a bit difficult for most Fandomania readers. That's where re-watching the movie comes in handy.
The Kenny Loggins songs are great mood music. When I say "mood music," I don't mean the music you play in the background on Valentine's Day just before opening a bottle of red wine (that you probably can't afford) and flaring your nostrils at your date while you hand her a single yellow rose.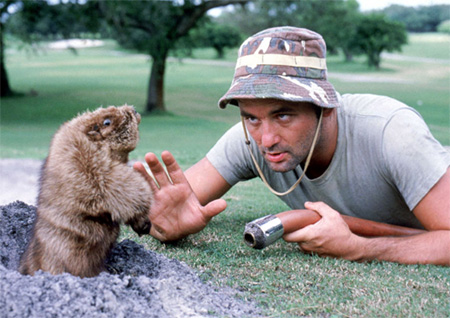 That's not the mood I'm talking about. I'm talking to happy-go lucky mood you get from watching Caddyshack. And the mood you get from throwing Caddyshack quotes at your friends. Plus, there's the talking out the side of your mouth thing. That's the mood the Kenny Loggins music will set.
"I'm All Right" will make you think of that dancing gopher, which by itself is worth the price of admission. "Lead the Way" is the kind of sappy song only a Kenny Loggins fan could love, but "Make the Move" puts you back in the right frame of mind, especially if you're into '80s style dancing (and really big hair).
The Journey song "Any Way You Want It" approaches a more universal appeal, so that's good. The other songs are okay, but the last track brings it all home. Remember that last scene? The one where the thing happens?
I don't want to give it away in case there is someone in Fandomania readership who still hasn't seen this movie (if that's you, then be ashamed, and go watch it right now). But the music they are playing when the thing happens at the end is a lot of fun even without referring to the movie. It's especially good if you're looking for theme music for your rousing game of "pin the tale on the Chippendales model" at your next bachelorette party.
If you don't like Caddyshack, then you probably won't like this soundtrack. Of course, if you don't like Caddyshack, you've got bigger problems to worry about anyway.
Rating: 3.5 / 5 Stars
Track Listing:
Kenny Loggins – "I'm Alright" (Theme from Caddyshack) (3:35)
Kenny Loggins – "Lead The Way"" (4:32)
Kenny Loggins – "Make The Move" (3:45)
Kenny Loggins – "Mr. Night" (3:21)
Journey – "Any Way You Want It" (3:09)
The Beat – "There She Goes" (2:41)
"Divine Intervention" (1:46)
"Marina" (3:21)
Hilly Michaels – "Something On Your Mind" (2:42)
"The Big Bang" (2:03)