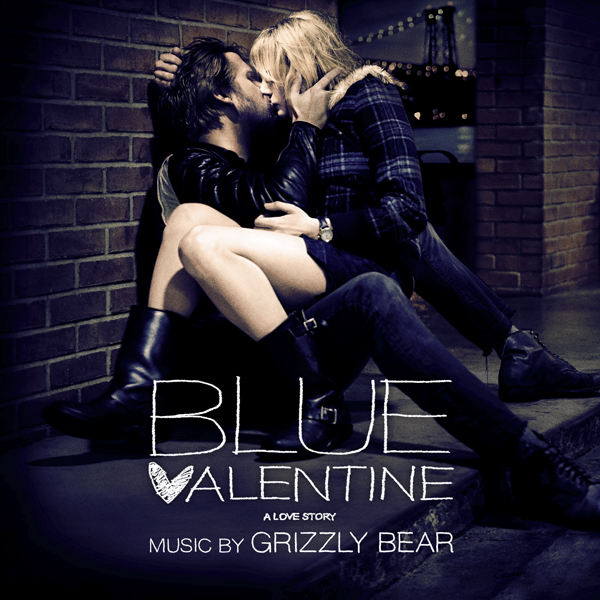 Soundtrack: Blue Valentine
Artists: Grizzly Bear, Department of Eagles, Penny & the Quarters
Label: Lakeshore Records
Release Date: January 25, 2011 (digital) / February 22, 2011 (CD)
Blue Valentine stars Ryan Gosling and Michelle Williams as a couple trying to keep their marriage from falling apart, as told through a series of flashbacks to important moments in their relationship. Providing most of the musical accompaniment to this journey is the Brooklyn-based indie folk rock/pop/experimental band Grizzly Bear. Although the filmmakers originally wanted the band to compose an original soundtrack, they ended up choosing songs from Grizzly Bear's previous albums and added to them three other songs for this fifteen-track album.
I chose to review this album because, based on the 30-second preview clips on Amazon.com, the music was different from your run-of-the-mill orchestral soundtrack; I was especially taken with the neat guitar and piano riffs that sounded interesting at the time. Upon listening to the whole album, however, I was not impressed, although much of that can quite probably be chalked up to personal musical preferences rather than the musicianship of the band itself. The mix of instruments is interesting: heavy on guitar, drum set, piano, and vocals, but also including the occasional recorder and other wind instruments. Theirs is a very minimalist style, however, with repeated riffs and melodies in the various instruments that, to my ears, end up running together and sounding the same very quickly. As a matter of fact, some of the selections don't just sound the same, they are the same: four of the album's songs appear twice, once in an instrumental version and once with vocals. And although, with the exception of those four instrumental tracks, all of the songs have vocals, they are also minimalist in nature, acting as another instrument in the harmonic texture rather than providing a tune that you can sing along with. Don't ask me what any of Grizzly Bear's songs were about — the words are often hard to decipher and most of the ones you do catch are just repeated phrases.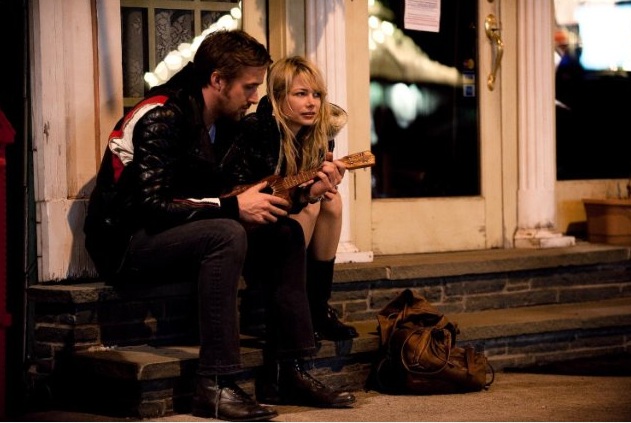 For me, the highlights of this soundtrack were the three songs that were not by Grizzly Bear. "In Ear Park" by Department of Eagles is similar to the Grizzly Bear songs (which is not surprising considering that the two groups have a member in common) yet it is less minimalistic and more uplifting in mood than the rest. "You Always Hurt The Ones You Love" is straight out of a scene from the movie where Ryan Gosling's character plays a ukulele and sings — you can even hear Michelle Williams's tap dancing and occasional comments in the background. My favorite track, however, is "You and Me" by Penny & the Quarters, which has an interesting history to go along with it. It has a Motown-type sound, with a female lead backed up by several men and a guitar. It's not as polished as what you're used to hearing on the oldies radio station, but that's because it is a demo track, probably recorded in the early 1970s. Nothing else is known about it, including the identities of Penny, the Quarters, and the guitar player.
If you are a fan of Grizzly Bear, or of experimental minimalist music, then you will probably enjoy this soundtrack. If you need some background music that won't distract you with sing-able lyrics and catchy tunes while you are trying to work, then this is the soundtrack for you as well. If you are anyone else, then you are probably better off choosing a different soundtrack. I'm not saying that Grizzly Bear is not good at what they do, and I welcome the insights and opinions of their fans as to how they compare to others like them. As I said above, it's more of a stylistic preference thing for me — minimalist music in any form is not my cup of tea. I will be relegating this album to my "background music" playlist, but your mileage may vary.
Track Listing:
Grizzly Bear – "Granny Diner" (4:43)
Department of Eagles – "In Ear Park" (4:02)
Grizzly Bear – "Easier (Instrumental)" (3:39)
Grizzly Bear – "Lullabye (Instrumental)" (5:18)
Grizzly Bear – "I Live With You (Instrumental)" (5:08)
Grizzly Bear – "Foreground (Instrumental)" (3:29)
Grizzly Bear – "Dory (Instrumental)" (4:25)
Ryan Gosling – "You Always Hurt The Ones You Love" (1:39)
Penny & the Quarters – "You And Me" (2:39)
Grizzly Bear – "Shift (Alternate Version)" (3:31)
Grizzly Bear feat. Zach Condon, Dave Longstreth, & Amber Coffman – "Alligator (Choir Version)" (5:14)
Grizzly Bear – "Easier" (3:40)
Grizzly Bear – "Lullaby" (5:15)
Grizzly Bear – "I Live With You" (4:57)
Grizzly Bear – "Foreground" (3:33)
Rating: 2 / 5 Stars