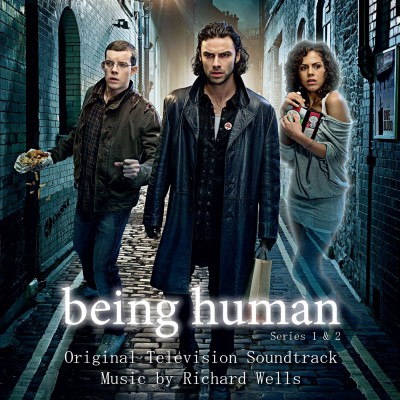 Soundtrack: Being Human Series 1 & 2
Composer: Richard Wells
Label: Silva Screen Records
Release Date: July 26, 2011
A werewolf, a vampire, and a ghost rent a flat together… no, that's not the start of a bad joke, it's the premise of the hit BBC show Being Human. These three supernatural folks, played by Russell Tovey (whom Whovians might recognize as Midshipman Alonzo Frame from "Voyage of the Damned"), Aidan Turner, and Lenora Crichlow, must try to blend in with the normal people around them for their own safety while working to protect those same people from the forces of evil that they don't even realize exist. Silva Screen Records has released Richard Wells's excellent soundtrack with selections from the first two series of the show, and whether you have seen the show or not, it's worth a listen.
After all of the soundtracks I have reviewed for Fandomania, this one was a refreshing change from the norm. Although Wells still uses plenty of strings and orchestra for the slower, more dramatic moments, the album relies heavily on piano- or guitar-driven melodies. The twenty-four tracks encompass a wide range of moods, from poignant to whimsical to downright horrifying, which is exactly the impression I get of the overall tenor of the show (although I have not actually watched it — yet). The main theme sets the stage with a thoughtful, reflective melody that is thrown just slightly off-kilter by background percussive effects that are just slightly dissonant — hardly noticeable if you're not listening for it, but it lets you know that something is not quite right here. A few of the tracks you probably won't want to listen to more than once, unless you are a glutton for aural punishment — can only imagine the horrific battle scenes they must accompany — but I'm sure they are quite effective in the context of the show. The rest of the music is great — my only complaint is that the tracks I like the best (the light, fun ones) are also the shortest.
Richard Wells is evidently a fairly new composer on the scene, at least in the realm of television and film music. His other credits are scant and don't cover anything else I am familiar with. I look forward to more from him, though. If this soundtrack is any indication of things to come, he has a very promising future!
Track Listing:
"Being Human" (1:43)
"Ancestors" (2:12)
"Annie's Theme" (1:16)
"A Wonderful Thing" (2:22)
"Box Tunnel Massacre" (1:48)
"Gilbert's Door" (2:02)
"Resurrection" (2:43)
"Spread A Little Joy" (0:42)
"Best Night Ever" (1:00)
"It's Coming" (1:19)
"Leaving" (0:47)
"Molly" (0:37)
"Beautiful Chaos" (4:12)
"Blood Addicts" (0:47)
"Someone Else" (2:05)
"Catacombs" (2:47)
"Lucky" (0:46)
"A Second Chance" (1:16)
"Vampire Annihilation" (1:58)
"Who's Laughing Now" (2:57)
"Holding On" (2:45)
"Annie's Door" (5:56)
"Nina and George" (1:01)
"Full Moon" (0:38)
Rating: 4 / 5 Stars