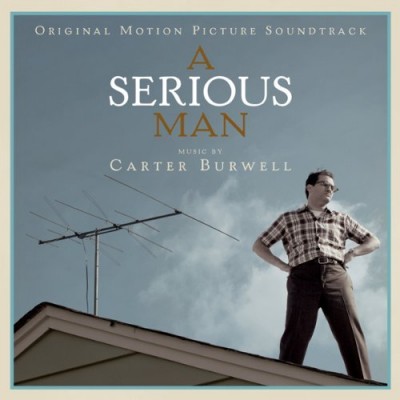 Soundtrack: A Serious Man (Motion Picture Soundtrack)
Featuring: Carter Burwell, Jefferson Airplane, Sidor Belarsky
Label: Lakeshore Records
Release Date: November 10, 2009
The Coen Brothers and musical composer Carter Burwell have had a very long relationship with each other. Since the Coens' debut film, Blood Simple, Burwell has created the music for every one of the duo's movies except for O Brother, Where Art Thou? The release of the Coens' latest film, A Serious Man, gave Burwell the opportunity to create one of his darkest and most suspenseful scores.
The 30-minute soundtrack features 17 tracks by Burwell, as well as three tracks from '60s/'70s psychedelic rock band, Jefferson Airplane, and one track by Sidor Belarsky. For the most part, the soundtrack is a somewhat depressing one. The piano featured on most of the album provides a creeping type of sadness around the entire score, and continues to play throughout the CD. A definite key track on the album is "Good Riddance/The Canal," where Burwell seems to take inspiration from Jefferson Airplane and create his own type of darkly '60s jam. The CD also features "Somebody to Love," "Comin' Back To Me," and "Today" by Jefferson Airplane, which all seem to tie into all of Burwell's work quite well.
The soundtrack overall is fairly short, but still very good. Burwell created some very dark work with this score, and kept things just as entertaining as the film.
Track Listing:
1. "A Marvel" ( 1:16)
2. "Knock Knock" (0:52)
3. "Green Lawns" (0:51)
4. "Good Riddance/The Canal" (2:46)
5. Jefferson Airplane – "Somebody To Love" (2:58)
6. "Blue Skies" (0:39)
7. "Rabbi Sting 1" (0:24)
8. "Thirst" (0:48)
9. "Uncertainty" (0:52)
10. "The Roof" (1:42)
11. Jefferson Airplane – "Comin' Back To Me" (5:16)
12. "Rabbi Sting 2" (0:18)
13. "Thinking" (0:31)
14. "The Mentaculus" (1:21)
15. "Seriously" (0:20)
16. "Canada" (2:05)
17. Jefferson Airplane – "Today" (3:02)
18. "Sanctum" (1:05)
19. "A Serious Man" (2:45)
20. Sidor Belarsky – "Dem Milner's Trern" (3:45)
Rating: 4 / 5 Stars