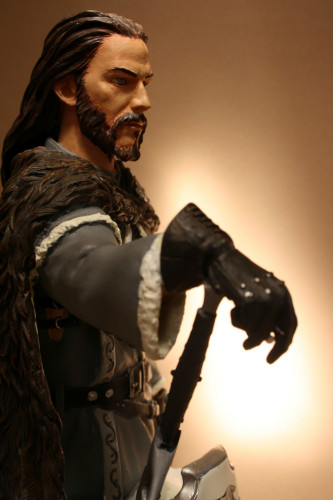 Earlier this week I reviewed the Daenerys bust from Valyrian Resin's A Song of Ice and Fire series. Now it's Eddard Stark's turn, and I can start by saying that this is every bit as fantastic piece as the Dani bust.
Eddard Stark is the patriarch of the Stark family in the George R. R. Martin fantasy series. He's depicted here leaning on his trademark weapon, the great sword Ice. When I was reading the A Song of Ice and Fire novels, I built an image of Ned Stark in my mind, and this bust comes uncannily close to what I imagined, from the serious and angular face to the grey outfitting to the fur cloak clasped with a wolf brooch.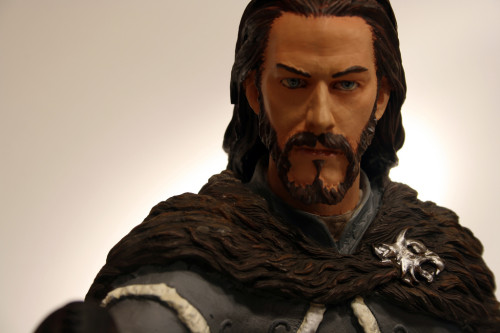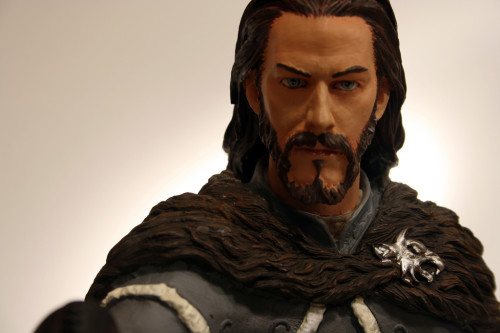 Eddard stands around 7.5″ tall, significantly larger than I'd expected these busts to be when I saw the original prototypes. As with the Daenerys bust, the sculpting is top notch. There's a lot of detail not only in the face and outfit, but also in subtler places like the inside lining of the cloak and the etchings on the sword. The paints really bring out all these details, and I love the hints of silver in Eddard's beard, as well as the dusting of snow on the back of his cloak. The metallic touches on his cloak's clasp and the chain at his chest really give his outfit some great definition.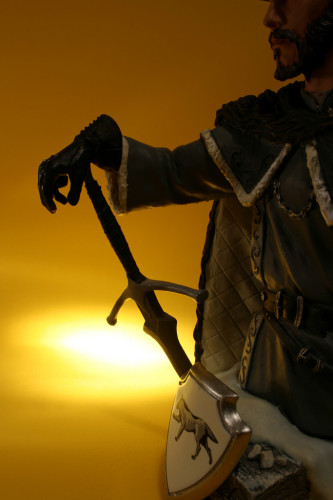 The base is suitably a snowy one, as the Stark family holds the wintery lands in the book series, and the cold is an essential part of their characters and lives. All the busts in this line feature a shield at the front of the base that bears the sigil of the character's family. Ned Stark's shows the wolf, the sign of the Stark family, and it looks faithfully like what I expected from the novels.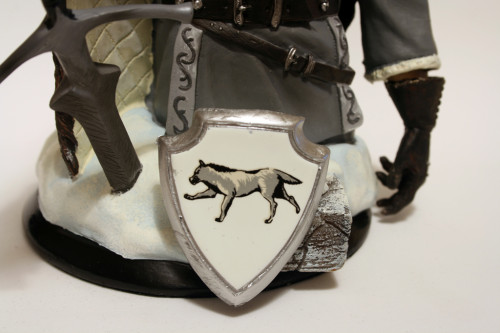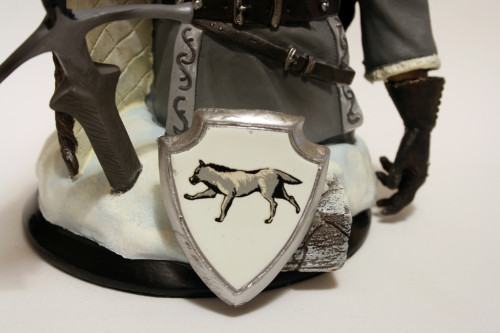 As with the previous piece, I can't recommend this bust highly enough. The craftmanship is superb, and it's obvious that this series is a labor of love for the folks at Valyrian Resin.
( Song of Ice and Fire Eddard Stark Bust Photos )