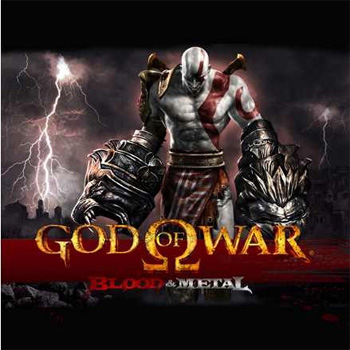 Calling all gamers and metal fans! Between now and March 3rd (that's this Wednesday, guys), ShockHound is offering a six-song soundtrack for the highly anticipated Playstation 3 game God of War III for just $1.99 (you save 66%) when you pre-order through ShockHound.com. The soundtrack, aptly titled God of War: Blood and Metal, includes kick-ass, previously unreleased tracks from Killswitch Engage, Opeth, Trivium, Dream Theater, Mutiny Within, and Taking Dawn, all of which were inspired by the God of War III video game!
In addition to this great deal, ShockHound.com also has a sneak peek at some of the artwork for the God of War: Blood & Metal EP digital booklet and a stream of Trivium's "Shattering the Skies Above" from the EP available only at ShockHound.
When asked about the band's contribution to the God of War: Blood & Metal EP, Trivium vocalist Matt Heafy commented, "When we were initially asked to write an original song for the game, we were slightly perplexed since we've never actually written a track for something other than a Trivium record." The band came around to the idea, however, as Heafy told interviewers: "But we answered the call as we are fans of the game. Writing the song was a fun experience. We started piecing riffs together on tour and then we really put time into the song when we got home and had the chance to go into the practice space to work on our ideas as a group. This new song captures a certain energy we've been trying to harness on record as well, as it will show all our fans worldwide where Trivium is heading musically in the future."
Killswitch Engage vocalist Howard Jones was also asked about the God of War III EP. "I have played the previous God of War releases," he commented. "To be a part of this game in any fashion is amazing! Let the rivers flow red with blood; there is vengeance to bestow! Bring me more new finishing blows to my enemies!"
If you're not able to take advantage of ShockHound's pre-order offer, you can still purchase and download the God of War: Blood & Metal EP after its official release for just $5.94. For more information visit ShockHound.com. Also keep an eye out for Fandomania's review of the God of War: Blood & Metal EP soon to come!
Not familiar with the God of War video game series? The God of War video game was developed by Sony Computer Entertainment's Santa Monica Studios. The game brings epic battles to life with an elaborate plot that has the main character, Kratos, at the center of carnage and destruction as he seeks revenge against the gods that have betrayed him. For more info on the third incarnation of the game, set for release on March 16th, go to GodOfWar.com.