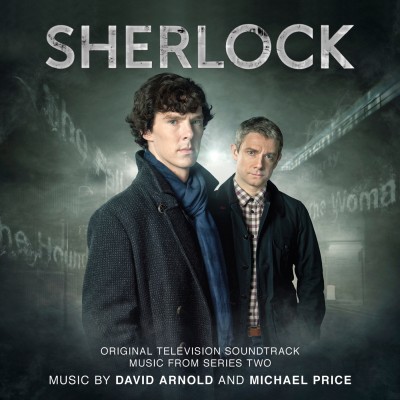 Soundtrack: Sherlock: Series Two
Composers: David Arnold and Michael Price
Label: Silva Screen Records
Release Date: May 8, 2012
Listen up, Sherlock fans — no, really, I mean that literally. Here in the U.S. we're still waiting to see Series 2 of Steven Moffat's hit Conan Doyle adaptation but until that happens, we can at least get a taste of things to come with the soundtrack for the next three episodes. David Arnold and Michael Price have built on their excellent work with the Series 1 soundtrack that was released just over a month ago, adding new themes as well as unique variations on the familiar ones.
The overall feel of the soundtrack is very much the same as that of the Series 1 soundtrack, so I won't go into much detail here — much of what I wrote in my recent review of that album applies here, so take a look at it if you haven't already. This soundtrack is not a clone of the first one, however. In fact, I think the music for Series 2 takes a good thing and makes it better. First of all, we start with the beautifully lyrical yet slightly melancholic "Irene's Theme" (Track 1), played by a solo violin. This melody returns as part of "SHERlocked" (Track 7), where parts of it are played by a string orchestra and other parts by a solo violin accompanied by the rest of the group.
Like the Series 1 soundtrack, only the string parts are played by actual instrumentalists, with all other sounds created electronically. Once again, the hammer dulcimer-like sound finds its way into the score quite often, especially in the more upbeat sections. Other tracks, however, like "Deeper into Baskerville" (track 11), feature sounds that are obviously electronic, rather than mimicking acoustic instruments, which adds an interesting feel to the music. The mix of these synthesized sounds with the strings is especially well-done in "Mind Palace and Solution," where the electronic music doesn't quite mesh with the more melodic strings, giving a slightly cacophonous, although quite subtle, impression.
The familiar main theme from Series 1 appears in several tracks here as well, in both the full "Opening Titles" version (as at the end of track 19, "One More Miracle") and (more often) in the quieter basic chord progression version. This second variant begins track 12, "To Dartmoor," played by string ensemble and guitar, and it returns in the piano part of the next track, "The Lab." My favorite instance of it, however, is in "Prepared to do Anything" (track 17), where it is again played by a piano but this time combined with a contrasting theme in the strings for a great new sound.
Despite the similarities, the Sherlock Series 2 soundtrack is just as awesome as the Series 1 album, if not more so. Even if you already own the first soundtrack, I would highly recommend checking out this one as well. If you can only get one, however, I'd go with Series 2. It's a tough call, but what tips the scales for me is the combination of the familiar themes from Series 1 (kicked up a notch) with great new additions like "Irene's Theme" and unique new ways of using the electronic instrumentation.
Track Listing:
Irene's Theme (0:43)
Potential Clients (1:58)
Status Symbols (2:33)
The Woman (2:31)
Dark Times (2:16)
Smoke Alarm (3:01)
SHERlocked (3:44)
Pursued By A Hound (1:46)
The Village (2:30)
Double Room (2:21)
Deeper Into Baskerville (2:44)
To Dartmoor (3:11)
The Lab (3:40)
Mind Palace and Solution (2:05)
Grimm Fairy Tales (3:12)
Deduction and Deception (2:45)
Prepared To Do Anything (4:19)
Blood on the Pavement (2:07)
One More Miracle (2:08)
Rating: 4 / 5 Stars