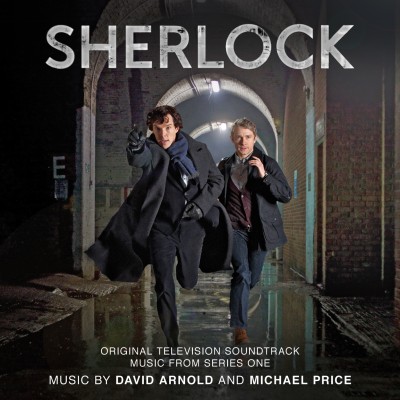 Soundtrack: Sherlock: Series One
Composers: David Arnold and Michael Price
Label: Silva Screen Records
Release Date: March 13, 2012 (digital download) and March 26, 2012 (CD)
I have some great news for fans of Steven Moffat's hit modern adaptation of Arthur Conan Doyle's famous detective: while those of us in America are waiting for Series 2 to make its way across the Atlantic, we can get into the proper mindset by listening to the excellent soundtrack for Series 1 of Sherlock. Composers David Arnold (Independence Day, The Stepford Wives, and most of the recent James Bond films) and Michael Price (music editor or producer for such films as The Lord of the Rings trilogy and X-men) have put together a series of short pieces that go well with this modern-day Sherlock Holmes and are enjoyable to listen to by themselves as well.
Many of the tracks on this album are based on the show's theme, as heard in the first track. It is a nice mix of sounds and styles, from quirky and upbeat to exotic and sneaky with a Henry Mancini vibe to appropriately dark, somber and serious as the on-screen action requires, and all of the various musical moods are excellent reflections of this version of the eccentric investigator. The different nature of the show and soundtrack are highlighted with different and exotic sounds, like the frequent use of something that sounds very much like a hammered dulcimer. It seems somewhat appropriate to this modern-yet-not character that almost all of the sounds are created electronically, with only the string parts played on actual violins, cellos, etc. (For those interested in more behind-the-scenes tidbits, check out the short video "Scoring Sherlock" in the media playlist section of the show information on Michael Price's website. There's also an interesting article about scoring the Series 2 soundtrack here, and a fan orchestra is in the works, similar to what Whovians have done with some of Murray Gold's music for Doctor Who.)
All in all, this is a very enjoyable soundtrack and well worth your time to have a listen to it, whether you are a fan of the show or not.
Track Listing:
Opening Titles (0:40)
The Game is On (3:40)
War (3:19)
Pink (3:47)
Security Cameras (3:02)
Pursuit (1:49)
Which Bottle? (2:11)
Targets (2:26)
Library Books (3:19)
Number Systems (3:01)
Light-fingered (3:41)
Elegy (3:13)
Crates of Books (3:03)
Sandbag (4:42)
On the Move (2:43)
Back to Work (3:50)
Woman on the Slab (2:51)
A Man Who Can (3:13)
Final Act (3:08)
Rating: 4 / 5 Stars

Ann Wells is an elementary music teacher by day and a nerd all the time. Her fandoms include Star Wars (the original three, thank-you-very-much), Doctor Who (10 is her doctor), and great authors like J.R.R. Tolkien, Isaac Asimov, and Neil Gaiman, among others. She can usually be found with her nose in a book, playing an instrument, singing show tunes, being crafty with yarn, or doing the bidding of her cat.