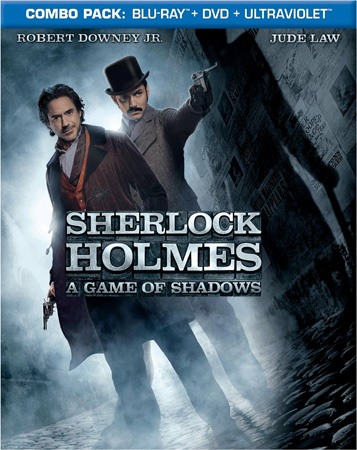 The past few years have been a renaissance period for Sir Arthur Conan Doyle's signature detective. Since his debut in 1887, Sherlock Holmes and his adventures have seen countless adaptations and reimaginings, but the most popular version of Holmes is that of an inscrutable genius clad in a deerstalker cap and cloak, pipe firmly clamped between his teeth. Jeremy Brett would become the standard by which all Holmes actors would be measured. 2009's Guy Ritchie film, Sherlock Holmes, reintroduced movie audiences to a leaner and meaner vision of the fictional detective by bringing Robert Downey, Jr., into the role. While earlier adaptations focused on the intellectual side of Holmes, Ritchie's version brought more physicality to the character, a side of the original Doyle character that goes largely ignored by many. Sherlock Holmes proved to be a thrilling and fun start to what was sure to be a new big screen franchise, and it debuted less than a year before we would meet Benedict Cumberbatch's singularly odd Holmes in BBC's Sherlock series. The Holmes of Sherlock is a modernization that distills the classic Holmesian traits and tropes into an unforgettably magnetic performance. After seeing Cumberbatch in the role, it's hard to remember exactly what it was like to see Downey as Holmes for the first time. That bias likely colored my viewing of Sherlock Holmes: A Game of Shadows, the 2011 sequel to Sherlock Holmes that released on Blu-ray and DVD this week.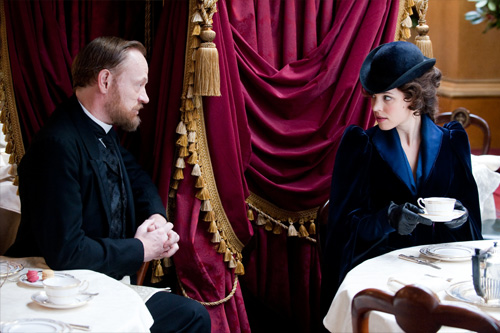 While Sherlock Holmes incorporates Holmes's physicality into the character more obviously than it has been done in the past, this sequel brings the physicality to the forefront, almost as the defining characteristic of the man. Holmes's idiosyncrasies and eccentricities remain intact, but the focus of A Game of Shadows is more on how he uses his genius intellect as a near-superhuman fighter, rather than as a brooding sleuth. There still are moments of Holmesian cleverness, but there are far more scenes featuring Holmes and Watson in literally bombastic fights. In fact, it would not be a stretch to call the Sherlock Holmes of this second film more of a bumbling action hero than a consulting detective. His brilliance is intact, but he uses it more for things like tricking his attackers into being knocked to the ground than to ferret every detail of information out of a suspect with a single and knowing glance.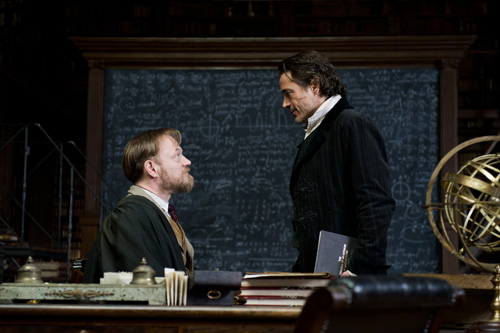 The overall tone of the film matches the continental drift of Downey's Holmes. A Game of Shadows is less a clever mystery and more an adventurous action film with lots of silly moments and cheap gags. It's a shame that Guy Ritchie steered his franchise in this direction, because this second movie explores many key aspects of the classic Holmes lore, including the introduction of Holmes's brother Mycroft, the much awaited matching of wits with the diabolical Professor Moriarty, and some character defining scenes translated directly from the source books. The movie begins with Dr. Watson (Jude Law) about to marry his fiancée, Mary (Kelly Reilly). Depressed by what he perceives to be the impending loss of his friend and partner, Holmes convinces Watson to accompany him on one last investigation before the wedding. Holmes has been tracking a number of seemingly unrelated crimes and tying them all back to one Professor Moriarty (Jared Harris). The most recent pawn in Moriarty's schemes is Irene Adler (Rachel McAdams), from whom Holmes swipes a letter during a failed bombing attempt.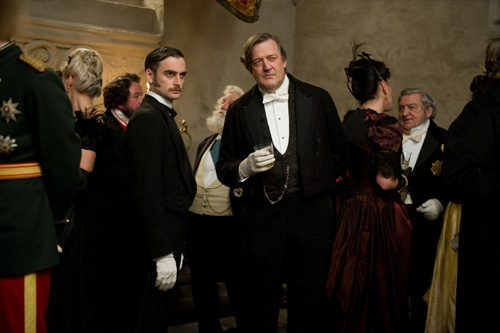 Noomi Rapace (Prometheus) co-stars as Simza, a Gypsy fortuneteller caught in the midst of Moriarty's anarchy, and Stephen Fry plays a peculiar rendition of Mycroft Holmes that doesn't quite sync with my notion of the character. All of that hardly matters, though, because story and characters take a back seat to the action. The investigation takes Holmes and Watson from one big set piece to another, having them in fisticuffs against a Cossack assassin one moment and fighting with grenades and machine guns on a train the next. The plot really is secondary to the big explosions, the finely planned punches, and the cheap humor that populates the movie. It seems like a strange and contradictory thing to recommend, but you're likely to enjoy A Game of Shadows more, the less you think about it. This is not a traditional Sherlock Holmes mystery story. It's a very Hollywooded-up action feature with a drunk and beaten-up Watson showing up to his wedding Hangover-style. That's not to dismiss the entire movie as a failure. The performances remain enjoyable and believable, given the material they're working with. The writing is the weak point here, and it really does let down what should have been an even better follow up to what was an outstanding film.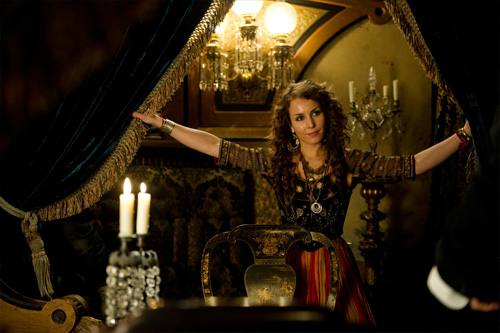 The Blu-ray combo pack release includes the film on Blu-ray and DVD, and there's also a code that allows access to a digital version of the movie on the online Ultraviolet service. Along with the feature, there are some bonuses packed in. The best of the assortment is a Maximum Movie Mode that plays the film with a video commentary by Robert Downey, Jr. The video diversions in the mode also are available as Focus Point features on the menu, so you can skip around to the special segments if you don't want to watch the whole movie to get the bonuses. All the other bonuses, unfortunately, are incorporated into an app that requires downloading onto your iPad, iPhone, or other mobile device. I'm not a fan of these movie apps that are becoming more and more frequent as substitutes for on-disc features. The bonus content should be on the Blu-ray itself and shouldn't require an additional piece of hardware to enjoy them.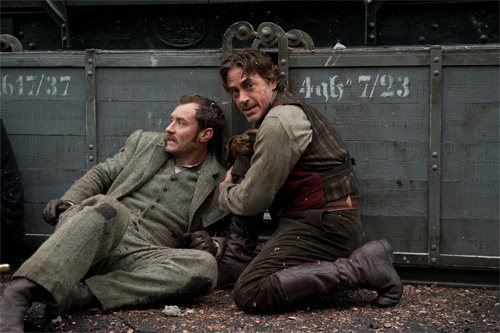 Overall, Sherlock Holmes: A Game of Shadows is not as good a movie as its predecessor. Most of the intelligence of the source material has been drained and replaced with quick gags, grand action sequences, and frequent attempts at easy and sometimes anachronistic humor. If you're a Downey fan, you'll still get some enjoyment from seeing the return of his rendition of the character, but there's not a lot more to the film than that. The movie released on Blu-ray and DVD on June 12, 2012, and is in stores now.