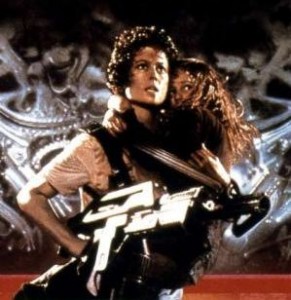 Eddie Izzard said it best: "Guns don't kill people; people kill people, but I think the gun helps." In cinema, particularly action and sci-fi, the one thing that's just as memorable as the heroes and the villains, is the kind of heat they're packin'. When you think about it, James Bond would never haven gotten as far as he did without his wicked arsenal. Sometimes the arsenal itself is more outrageous than the person who carries it. Presented here are ten examples of some of the weirdest, wildest, and most importantly, ass-kicking-est weaponry to ever be wielded by fictitious characters.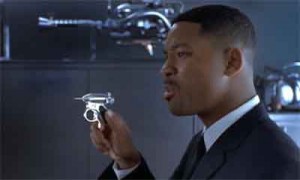 WARNING! Handle this weapon with the utmost care! It may appear to be a miniscule firearm, but this little sucker could blow your freckles off from miles away. It's compact, it's easy to carry, it's lightweight, and it is powerful… VERY POWERFUL. The blast radius is the equivalent of a stick of dynamite, maybe two, and if handled correctly it can be a most percussive instrument. The thing is, it's the handling that's the problem. The Noisy Cricket has a helluva kick, and that's an understatement. If you're unprepared, this weapon will knock you on your butt a few yards back from where you initially fired it. If you opt to have this weapon as your sidearm, you might want to take it to the range to get a feel for it.
9. The Schwartz-Saber from Spaceballs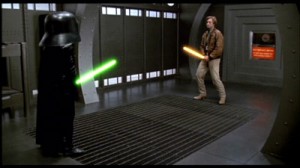 A stellar perk to have if "The Schwartz" is strong with you. It's notorious for ephasizing particular… ahem… benefits. If you can handle this weapon, it can be oodles of fun. You can engage in Schwartz-Saber battles, but just make sure to take the fight away from any film crew members as they tend to be a magnet for stray Schwartz-Saber death. Despite the benefits of said weapon, it does have limitations. It has absolutely no effect on big-ass helmets, and if the fight becomes too vigorous, the Schwartz tends to get twisted, which can be a bit of an uncomfortable position. Especially because you'll need your opponent to help in untwisting it.
8. Pulse Rifle/Flame Thrower from Aliens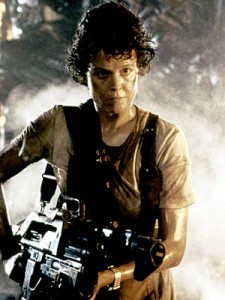 What's better than a powerful pulse rifle that carries one hundred rounds per magazine and comes complete with a grenade launcher? How do you improve on a long range flame-thrower? COMBINE THEM! This is ideal for seemingly hopeless suicide missions into the heart of a nest belonging to an extremely hostile alien species. The rounds in the pulse rifle are guaranteed to shatter a xenomorph like it was ceramic, and the grenades can pierce into the target's hide and will explode shortly afterward, giving the beast heartburn it won't soon forget. The flame thrower serves to ward off the enemy if you find yourself cornered. It also aids in discouraging them from trying to ambush you. So if the situation is dire and you can handle the weight, don't be afraid to double your pleasure.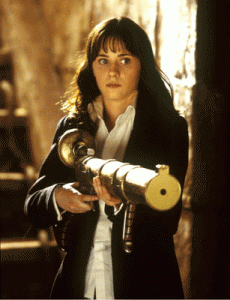 This is bar none the most dangerous gun in existence. If Scientologists got hold of this gun, the universe would be in peril! The Hitchhiker's Guide to the Galaxy has this to say about the "Point Of View" Gun: It was designed by Deep Thought as a commission from The Guild of Angry Housewives who became frustrated with concluding every argument with, "You just don't get it, do you?" The function of the gun is as follows: If you point this gun at someone and pull the trigger, the target will automatically see everything from your point of view. The gun has two primary settings: The first setting enables you to change the point of view of one target for a limited time. The second setting however, releases a massive wave of dogmatic carnage, powerful enough to convert a massive crowd to your way of thinking. WARNING: Keep away from religious groups, politicians, talk show hosts (especially Dr. Phil), film producers, and people who thought Episodes 1, 2, and 3 were good.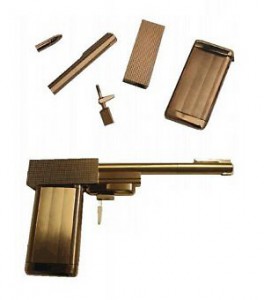 A sleek .22 caliber gun, custom made by a man named Lazar, for one of the greatest assassins in the world, Francisco Scaramanga. The practical implications of this weapon are astounding. It's incredibly easy to get this gun past customs, due to the fact that the weapon is collapsible and can be disguised as a variety of common items. This means that, even if you were searched, they would be none the wiser if they were to stumble upon the pieces. The main failing of the gun is that it carries only one round. The bullets are also custom made, and thus extremely rare, meaning that it is necessary to plan every shot and never waste it. This gun was designed for one man, because only that man has the skill to use it. Only one other man has the skill to use this gun, and that man is the target.
5. Guitar Case Guns from Desperado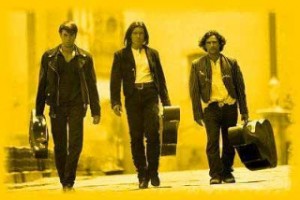 A must have for any mariachi who is out for revenge. Whilst the notorious "El" prefers to conceal traditional armaments in his guitar case, his associates remove the hassle of having to fish around for that next weapon. One of them fashioned his guitar case to work as a rocket launcher with devastating capabilities. El's other band mate carries twin guitar cases that conceal two mini-guns which deliver a hail of rapid-fire justice to any drug lords that try to stop your concert. The guitar cases also have exceptional reload capabilities, which can be achieved simply by raising the cases at a 45 degree angle. The only downside of both weapons is that you tend to lose track of how many rounds you've exhausted, and as a result you could be left vulnerable at the worst time possible. So if you intend to use these weapons, make sure you've got a backup plan.

Much like every edged weapon, The Phurbah requires immense amounts of training to wield it properly. However, with The Phurbah the training is entirely in your head. This knife cannot be handled in the conventional sense. The blade is a living creature who is extremely hostile, and like any hostile creature, it must be trained. It does not respond to brute strength, but rather to mental control. In order to tame The Phurbah, it is necessary to train yourself to have exceptional psychic abilities, abilities which can only be taught in the mysterious temples of The Tolku in the mountain ranges of Tibet, and you must apply yourself entirely to the studies. Afterward, you will be able to wield this knife, and have other wicked psychic abilities to go with it.
3. The Lawgiver II from Judge Dredd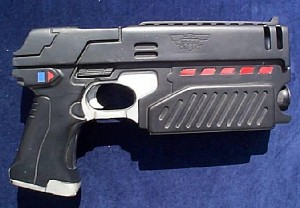 The essential sidearm for any Judge on the beat. The weapon is a technological marvel, and is feared by every crook in Mega City. It's voice commanded, which enables a Judge to simply speak which mode it wishes the weapon to be set. Such modes include: Full Auto/Rapid Fire, Double Whammy, Single Shot, etc. The functions of the Lawgiver II are not limited to modes of fire. The Lawgiver also is armed with a series of different types ammunition. It can use basic rounds, armor-piercing rounds, smoke-bombs, and signal flares. This is a weapon that would be exceptionally dangerous in the wrong hands. Fortunately the weapon can never stay in the wrong hands. If a perp were ever to attempt to handle a Lawgiver, the weapon will activate its automatic defense system and send a lethal electrical current through the arm of the unauthorized handler. Additionally, should a judge decide to get trigger-happy and kill civilians, there is a DNA tag on every round, which will easily trace the bullet back to the Judge who fired it. In a world gone mad, The Lawgiver II is the perfect weapon to keep the peace.
2. The Samaritan from Hellboy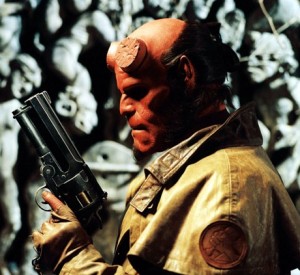 Forget crucifixes, The Samaritan is the perfect firearm for delivering us from evil. The Samaritan is an extremely powerful sidearm and usually leaves a massive gaping hole in the target after it's been hit. The other thing that makes the Samaritan exceptional is its ammunition. Aside from the fact that the bullets are quite large, some of them are fashioned to contain various items which are known to ward off evil–Items such as garlic, holy water, silver-nitrate, etc. The Samaritan is also compatible with a special tracking bullet, which can aid in hunting down a runaway monster by leaving a trail of luminescent, neon green ink. This gun was made especially for use by Hellboy, specifically because it kicks like two mules and is pretty heavy. Regardless, this weapon is guaranteed to dole out the harshness in evil's general direction.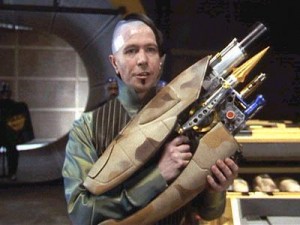 The weapon of the future can be found right here and now. Desiged by Jean-Baptiste Emmanuel Zorg, this is a renaissance weapon for the renaissance man. It's light and ideal for easy carrying. It contains smart ammo, which means if you hit the target with one shot, all subsequent shots will lead back to that original target regardless of the direction you're firing. The gun also contains a rocket launcher, dart gun, flame thrower, net launcher, and Zorg's personal favorite, the freezing capabilities which help your target sympathize with Chilly Willy. In the event of capture, Zorg added a kamikaze feature in the form of a little red button, which if pressed, activates the automatic self destruct device taking the enemy down with you. There is no weapon more dynamic, more effective, or more innovative than this latest addition to the Zorg Industries catalog.
Honorable Mention: The Super Joy-Buzzer from Batman
A must have for today's clown prince of crime with a depraved sense of humor, this buzzer is guaranteed to seal the deal in any board meeting by delivering a lethal dose of electrity through the poor sap who decides to shake the wearer's hand. Afterwards you might as well live at KFC, cause after shaking The Joker's hand, you'll be "extra-crispy!"
Aliens
,
batman
,
Desperado
,
hellboy
,
hitchhiker's guide
,
james bond
,
Judge Dredd
,
men in black
,
spaceballs
,
the fifth element
,
The Shadow