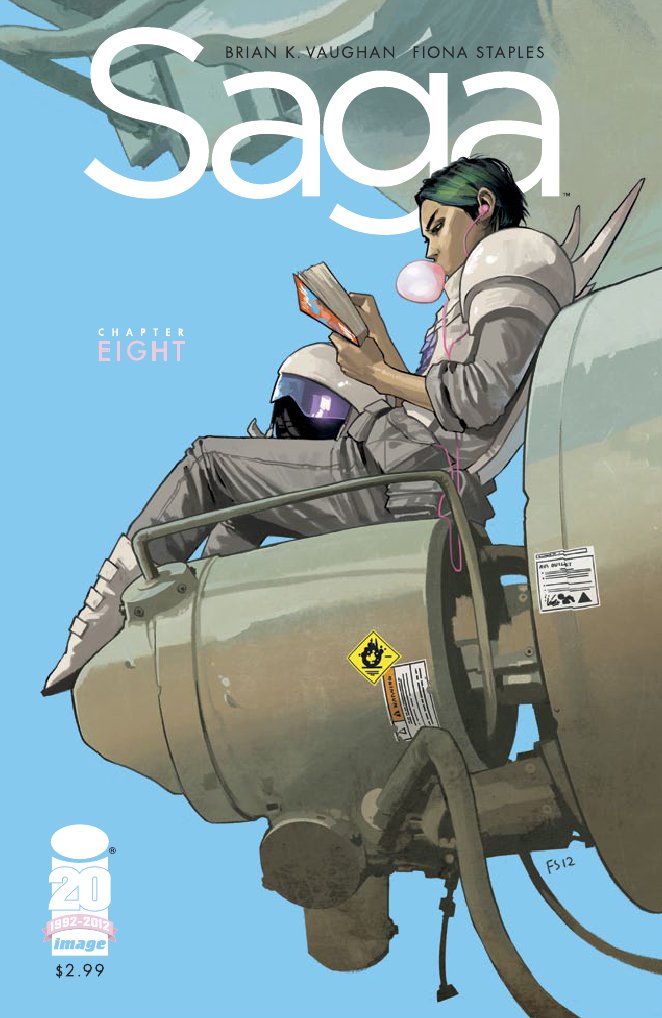 Issue: Saga #8
Release Date: December 2012
Writer: Brian K. Vaughan
Art: Fiona Staples
Letters and Design: Fonografiks
Coordinator: Eric Stephenson
Publisher: Image Comics
We got more details on the backstory of Alana and Marko in this month's issue, and I fell in love with Alana a little more. Consistently, this comic gives us characters who are real, with flaws and human determination, and portrays a relationship that is far from perfect. However, the love between Alana and Marko shines through, and that's the most important of all.
Note: This recap may contain spoilers!
We open the story in the past, back when Alana was still working on her ship. It was the first time she had finished that trashy romance novel that she adores, the one about forbidden love, and her life was forever changed because of it. I love that she's a fangirl at heart, that she overlooks the bad writing and horrible plot to dig deeper into the meaning of the text. Plus, she immediately tries to drag her coworker along for the ride, insisting she read it as well so that Alana can have someone else to talk about it with. It's something I can definitely relate to, something any fandom participant can relate to. And you can already see how this novel affected her entire life afterward. She became involved in her own forbidden love situation with Marko and, just like the characters in the novel, she is determined to make her own happiness despite their circumstances. It explains so much about Alana in just a few words.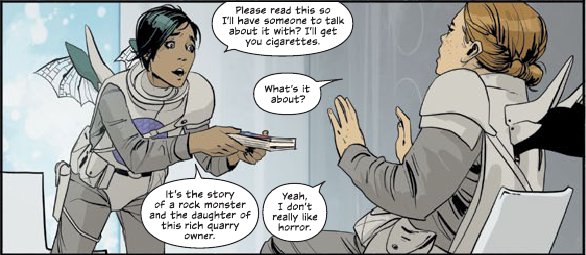 We learn that Marko was a prisoner aboard Alana's ship and that's how they met, except this was nowhere near love at first sight. They fought, they still fight, but she dared to look beneath the surface and saw Marko's true nature rather than just the face of an enemy she was taught to hate. Alana recounts this for her father-in-law back in present time, after he acknowledges the undeniable truth that Alana makes Marko happy, just as Marko makes Alana happy. Despite all the things that drive her crazy about her husband, he's beautiful on the inside and will remain so when his good looks fade. It would be sappy if it weren't so true. That's another thing I love about the comic so far: the writing rings true for the characters and they can reflect their devotion to one another without it feeling too overdone. It just makes you love them even more.
Marko's dad is still continuing on with his secret plan, though we still don't know the true extent of it yet. Yes, he sedated Alana and yes, he's bonding quite a bit with Hazel, but he doesn't seem like he wants to harm either one of them. Instead, he is bending over backwards to make sure his extended family will be kept safe and cared for once he dies. He even goes so far as to make Alana clothing with protection woven in to withstand many attacks, doing the same for Hazel, Marko, and his wife. It really does seem like he's only doing things for their own good and doesn't have any ulterior motives. I hope that remains true because I'm beginning to like the guy.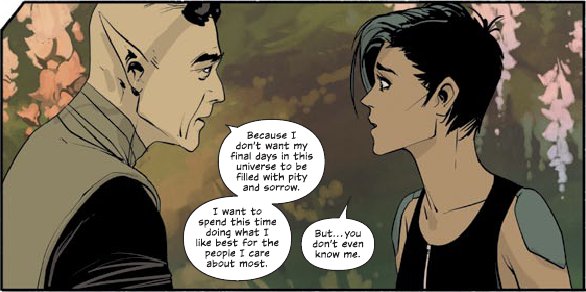 Alana's mother-in-law, on the other hand, isn't winning me over. While Marko and she continue to battle the giant planet-side, she keeps up the verbal attacks against her new daughter-in-law. She brings up Marko's old fiancée, a woman she didn't like that much, as a more suitable alternative to Alana. And when she breaks out with the name-calling, that's when Marko loses it and warns her off with a lightning strike. Good for him, for putting her in her place! Nobody talks badly about the woman he loves, not even his own mother, and the sooner she gets that, the better for everyone. I hope she comes around soon, especially before her husband dies, because family is important in a time like this. They've got enough trouble to deal with, considering half the universe seems to be out for Marko and Alana's blood. They don't need in-fighting to go along with that.
And if that weren't enough, now they find out that Izabel has been kidnapped, the planet they thought they were on is actually an egg, and there's no way to get their babysitter back before the imminent hatching. Plus, Wreath High Command is still on the duo's trail, and they are very upset that Marko and Alana haven't been found yet. The Will is MIA, there's a new heavy-hitter involved, and the new parents are still running for their lives. Life is complicated, but at least they have each other. I hope that's going to be enough.
Rating: 4 / 5 Stars