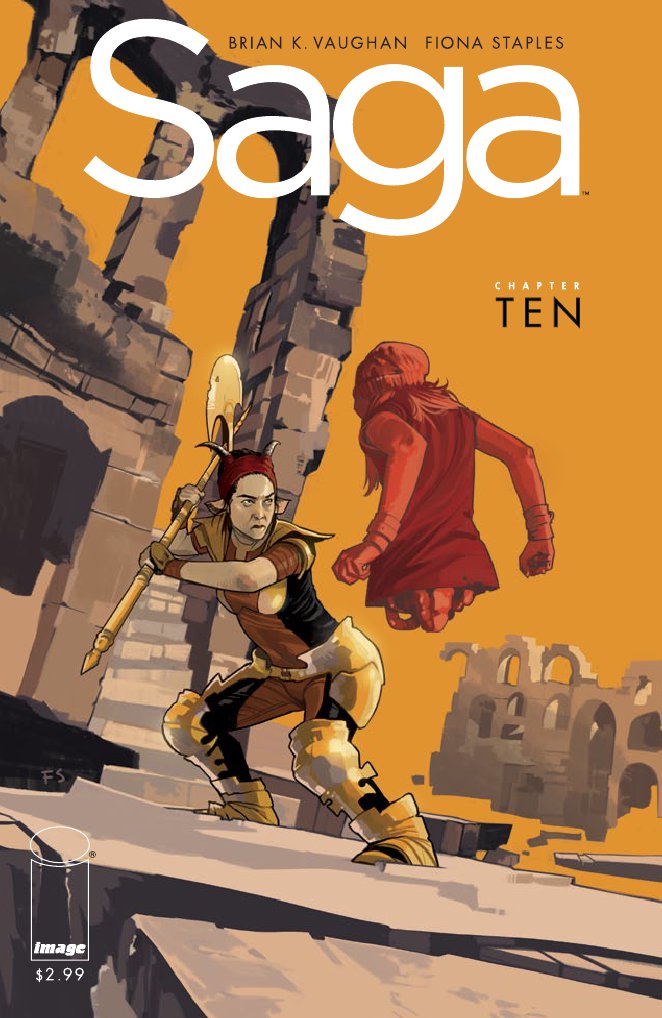 The planet is hatching, the family is in danger, and The Will might have just lost something dear to him. We're in for another exciting issue of the Saga comic and I was once again left gasping, waiting anxiously for the next issue.
Note: This recap may contain spoilers!
I love that we are getting to know more of Alana and Marko's back-story, especially how their relationship began. Starting off this issue, we are in the midst of a flashback, showing Alana guarding Marko when he was once a prisoner of her people. Weighed down with his ball and chain, he seems perfectly happy to work as Alana reads her beloved romance novel to him. They had their own little book club, just the two of them, as they delved into all the symbolism of the book. It's interesting to see that not only was the book a doomed romance kind of story, sworn enemies that defied their people's hatred to fall in love, but also a larger representation of the civil war that was going on between Alana and Marko's people. It has also been a pretty good representation of their evolving relationship as well. Ah, when fiction becomes reality.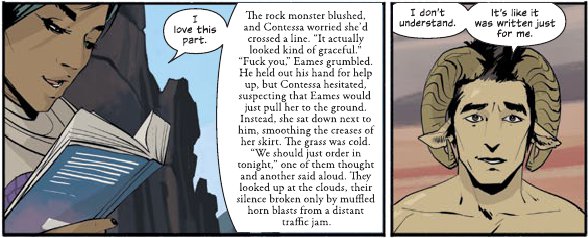 And though we don't yet know how Alana went on the run with Marko, we do have a clue as to how he initially got out of prison, and it was all thanks to her. When Marko informs her that he is destined for Blacksite, a place that Alana knows will kill him, she does what she must to see him survive. Alana shoots off his chain, releasing him, and orders him to run. She will stay behind and try to buy him some time, she says. Did she do just that? Or did Marko convince her to go on the run with him at that time? I'm looking forward to finding out.
Back to the present, Marko and his mother are still trying to find Izabel. There have been rumors of her appearance, but nothing concrete. However, Marko is determined to find the babysitter again, even if he has to go up against upside-down-faced creatures called The Midwives. The planet is hatching, they're all waiting for it, so if Izabel isn't found soon, Marko and his mom are going to be in much more trouble. Thankfully, Izabel wants to be found just as much as they want to find her, and the trio escape back to their ship just in time.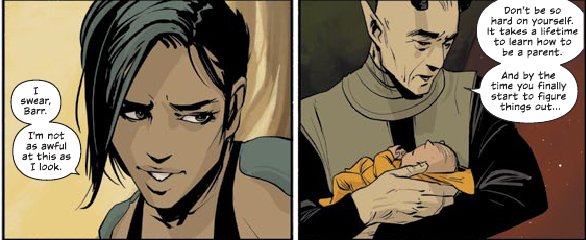 While the rescue mission was going on, Alana and her father-in-law have been bonding even more. I liked seeing the little exchange when Alana was freaking out over Hazel losing her umbilical cord stump. She's trying to be a good parent, but it takes time and experience. There's going to be a few rough spots along the way. Alana also knows the value of loved ones and that's why she wants her father-in-law to tell his family he's dying. It's unfair for her to have to carry this burden alone. Marko and his mom deserve to know the truth. I'm wondering if the information will come up before dear old dad dies another way. The planet's imminent birth isn't helping matters much. The baby is massive and sure to do some damage, so everyone is in danger at the moment.
And if all that wasn't enough to worry about, The Will and Gwendolyn's ship has shown up on their trail. Slave Girl knows the rings are close, even if they can't see Marko's cloaked ship. While Gwendolyn would want nothing more than to see Marko suffer immediately, The Will sees more pressing matters to attend to. The hatching planet baby is called a Timesuck, and he's seen what one of those things can do. Their best option is to retreat, regroup, and take on Marko at some other time. Unfortunately, Gwendolyn is more about immediate revenge, so she blindly shoots a missile out into the darkness in hopes that it will damage Marko's ship. Good plan, but Alana's got a better one. They ram the missile, sending it off course and straight into the Timesuck, who starts bleeding from its orifices. The resulting black goo damages The Will's ship, opening up holes in its hull, and out slips Lying Cat. Is he dead? Can he be saved? We don't know yet, but going by Hazel's narration it seems like Lying Cat is going to be a casualty of this war. If so, I am left with deep sadness. In every war, soldiers must fall. I just hoped Lying Cat wouldn't have to be one of them.

Rating: 5 / 5 Stars