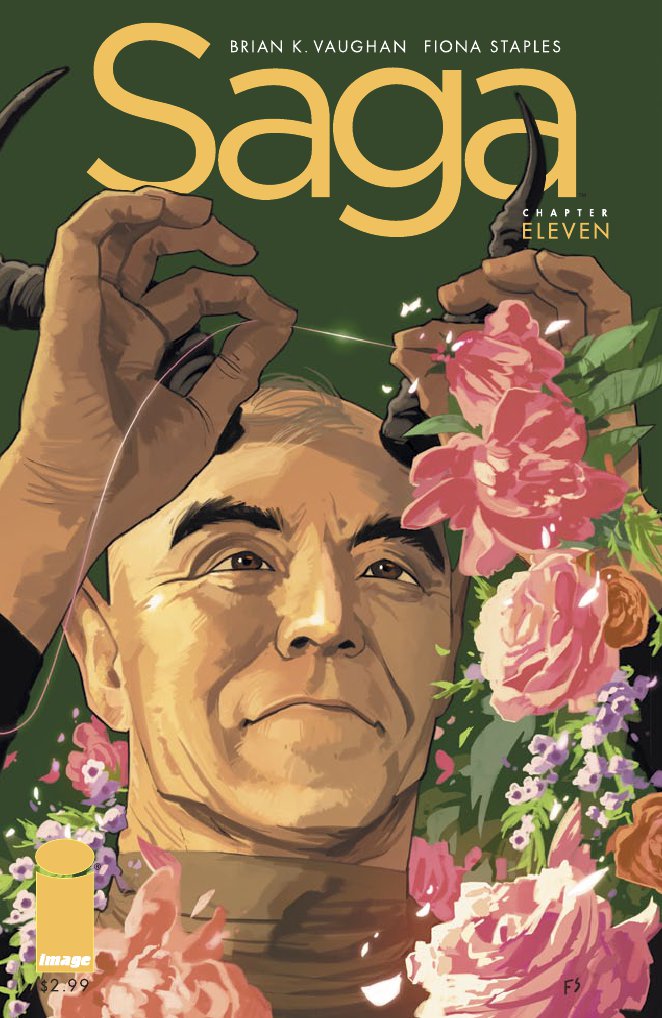 The roller-coaster of emotions continued this month and I was left with a few more questions than usual, but in the end the ongoing theme of Saga rang true. Family will get them through, whether that be with laughter or tears. I just wonder if Hazel will be the only one left to carry on the legacy.
Note: This recap may contain spoilers!
We open with a sex scene, but aside from the shock value there is also the underlying humor that I've come to know and love in this series. This takes place in the past, prior to Hazel and the current war. Instead, we get a glimpse of how their little girl was possibly created. Alana and Marko have escaped together, and they're now on the run. However, they are also letting their base emotions overrule their common sense. Well, Alana is anyway. When the urge of desire overcomes her, she turns into "Sexy Alana" and gets downright filthy. While she later warns Marko that her requests should be ignored during these times of insanity, he's not about to lodge a protest when he gets to have sex with a hot woman. And, thus, a quickie turns into baby-making sex.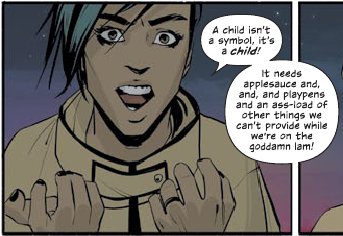 The flashback serves another purpose, too. We get to learn the name of Marko's father and how much he means to his son. Marko wanted his own son to be named after him, if they ever had a boy. Maybe in the future, but for now they have Hazel and a ship and Marko's parents tagging along during a battle they would like to escape. They continue to fight against the fetus with its black, seeping eyes, but it's proving difficult since they are being pulled backwards into its gravitational field. The group splits in hopes of powering their way out of there, Marko and his mom down below and Marko's dad staying above with Alana, Hazel, and Izabel. This proves to be the set-up for a very tragic outcome, but we have a few moments before the world comes crashing down around them.
In the meantime, we find out that Lying Cat isn't truly dead! Yes, he's floating around in space, but apparently it's not the deadly vacuum that I thought it was? Considering The Will sped out into the same space, without a protective suit, I guess it works differently in this universe. Whatever the reason, Lying Cat is still alive, The Will doesn't have to lose his best friend, and the duo remain to fight another day, along with Gwendolyn and Slave Girl. They also have a line on Marko and Alana now. Once they regroup, they can pick up the trail again.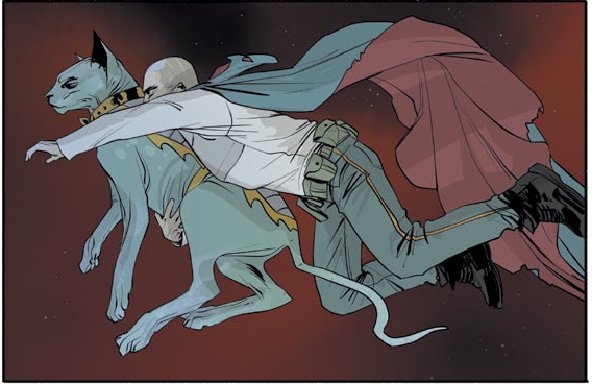 With The Will on his way to escape, now it's Marko's turn. He uses one of his mom's crash helms to power the ship, which does indeed give it a boost, but also threatens to break it apart. Marko's dad lends his assistance up above by holding together the fracturing ship through some unknown power that shoots out from his fingers. Looks cool, but it also has a deadly side effect. In a man whose heart is already weak, the power boost proves too much and he dies on the ship's floor, unresponsive to Alana's attempts at CPR. Marko's mom is in mourning, Marko is in shock, and the family is losing itself one piece at a time. Hazel ties up the issue with a remembrance. The first piece of clothing that her grandfather made her, which turned out to be the last as well, has remained with her throughout her life. She now uses it as a bookmark, marking a time in her life when her world was in jeopardy. However, considering we don't know what the future brought for her, perhaps that is a constant. We'll have to see where the journey takes us.
Rating: 5 / 5 Stars