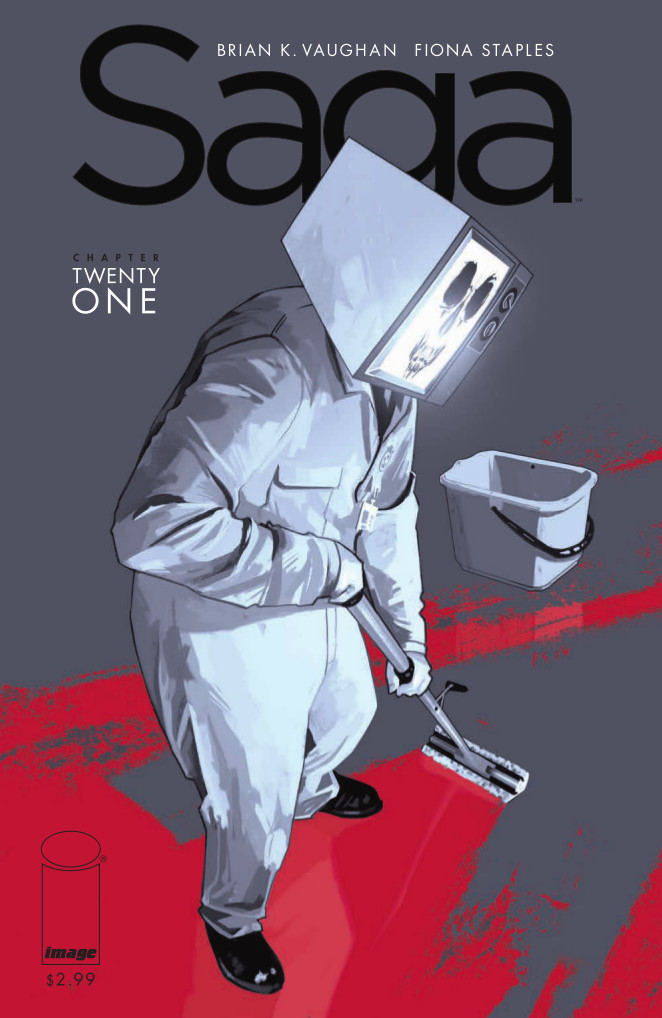 Dengo's mission continues and Hazel's family life is starting to fracture. With the coming storms of possible death and tragic fate, I continue to live in hope that Hazel's future can possibly be rewritten. The alternative is too sad to contemplate.
Note: This recap may contain spoilers!
As with last issue, we're pretty evenly split between the Hazel storyline and the Prince Robot IV storyline. Neither one of them is particularly happy, but I'm sure that they will intersect sometime soon.
First up, we have Hazel and her parents. Alana is growing fed up with her job. The degradation, the product placement — it's just not as shiny and fun as her fantasies. However, she is being kept supplied in drugs, thanks to Yuma, so perhaps she'll forget the misery she's in. I hate to see her become an addict, and especially hate to see how this will further separate her and Marko. He's already complaining that he doesn't see enough of her with the job. Can you imagine what will happen when she's so out of her mind in a drug haze that she's not even present when she's physically in the same room?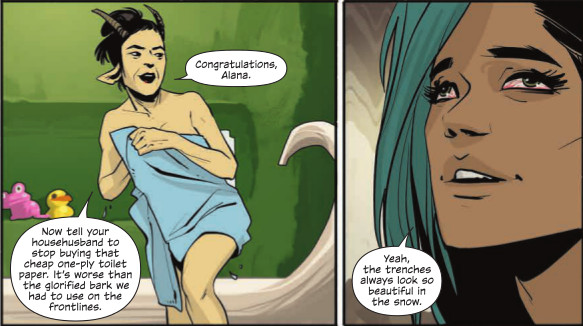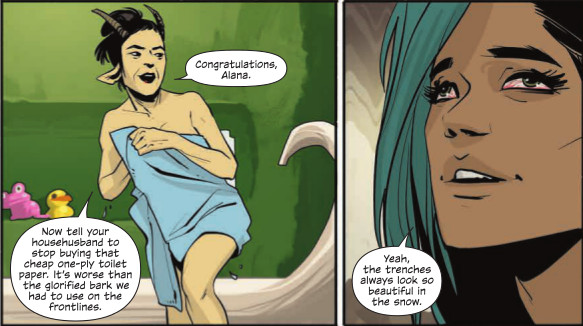 I continue to be suspicious of Ginny and the threat she represents. Yes, her daughter Ecca seems to have bonded with Hazel. Yes, Ginny's dance studio has become a favorite activity of Hazel's. And, yes, Ginny and Marko seems to have struck up a friendship in their shared experiences as virtually single parents. But, still, that does not mean this will end happily. The secrets that Marko must maintain, just to make sure he and Hazel and Alana are safe, are enough to make anyone crack. And already he had a near-miss with Hazel when Ginny offered to clean her up. Their true selves cannot be discovered, or else they'll be in mortal danger. But with a marriage that's pulling apart at the seams, something's got to give soon.
Meanwhile, the Dengo storyline is plugging along with blood and death at every corner. He stowed away in the HMS Skyscraper, and then took out the entire crew in order to gain control of the ship. Once he's done so, he sets a course for Gardenia, and we're left to anticipate what murderous activities he will get up to once he gets there. As an aside from that, I love the visuals we get on the television faces throughout this series. They give us a reflection of the twisted nature of these characters and I love it.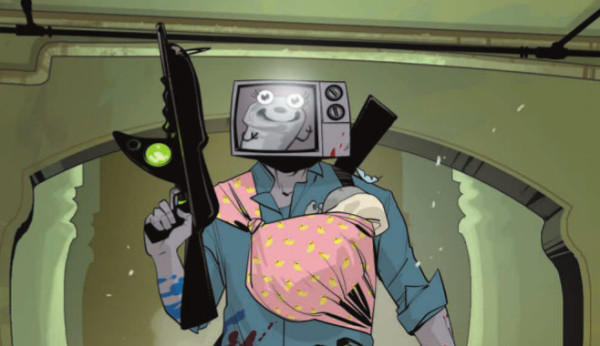 We end the issue with a check-in with Prince Robot IV. He's dreaming of an ideal life, with his wife and child playing along a beach. Too bad he's brought back to reality by Mama Sun and her associate, who has bad news. They tell him that his wife's dead and his son is missing, but presumed alive. Poor Prince Robot IV has been so out of it that he didn't even know his child had been born. To learn that he's had a son for 21 days, and that he may never see him, causes the prince's anger to get the best of him. He blasts through Mama Sun's chest, sends the girls on the run, and causes her associate to cower in fear. When all hope is lost, the prince decides that the best course of action would be to go see King Robot. Will dear, old dad solve the mounting problems? Or will he just make them worse? We will soon find out.
Rating: 4 / 5 Stars