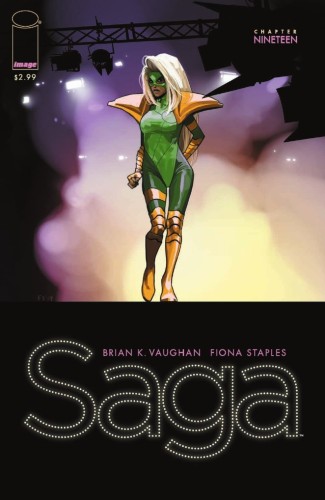 The story continues! Saga's next arc begins with new focus and new proclamations. Can the end result really be what was hinted at? Or is there hope that Hazel's future won't be as dark as we think? I'm holding on in breathless anticipation to find out.
Note: This recap may contain spoilers!
This is hands-down one of my favorite comic series that I've read. Each month I anxiously await the new issues. That anticipation has not weakened with the publishing gap between storylines, nor with the start of the new arc. I want to know what events shaped Hazel's life, making her the narrator we know from afar. And I also want to know the outcomes of all the other characters, including the ever-complex Prince Robot IV.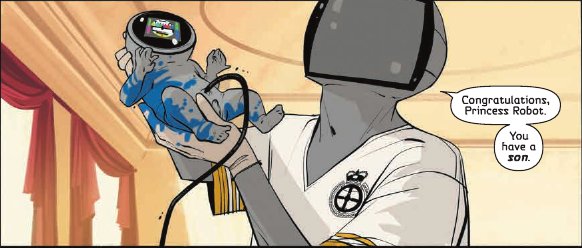 The prince is notably absent, presumed dead, as his wife is giving birth to their son. But the princess is still convinced that he's still alive somewhere, even if those around her are not so sure. I wonder if we will get more insight into Princess Robot, as we only got glimpses from afar during the first arc. And I also wonder if we'll get more insight into the robot planet in general. I'm still trying to understand the societal framework, as well as how it is deemed what species has television faces versus the more expected faces of the familiar creatures we're used to. For example, why do the bulls have television faces to match the robot high society members, but the nurse has the traditional face to match her presented species? And how do the non-royals of the planet fare against their rich counterparts? I want to know more.
And I'm always interested to know more about Hazel and her parents. They've settled on Gardenia, with Marko taking on a more domestic stay-at-home father role, from what I can tell. He's also been going undercover when he takes Hazel out to the park, wrapping up in bandages and making those around him think he's a wounded soldier rather than the instantly-recognizable fugitive. There is clear prejudice against Landfall and against its people, which puts Hazel and her family in clear danger. A child born from two enemies? That's going to draw attention. Alana, on the other hand, has made it her life's work to always be undercover, becoming the breadwinner as a soap opera actress. It's all her dreams come true, if she can keep hold of it.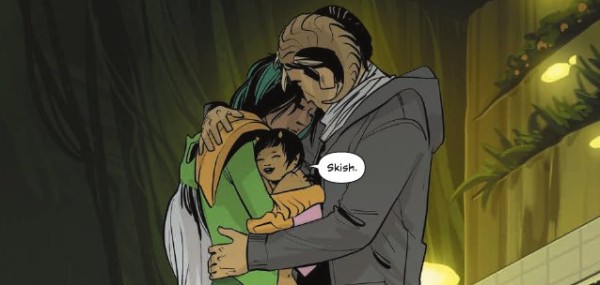 What concerns me at the moment, among the seemingly serene life they've achieved alongside Klara and Izabel and their pet walrus creature Friendo, is that it feels like the calm before the storm. Hazel's last message is one not of hope, but of dire outcomes. "This is the story of how my parents split up." Alana and Marko are the love story that I never want to end. To think that they will be forced apart is hard to contemplate. I want to believe in the happily ever after, even if Hazel's never going to get it.
Rating: 4 / 5 Stars