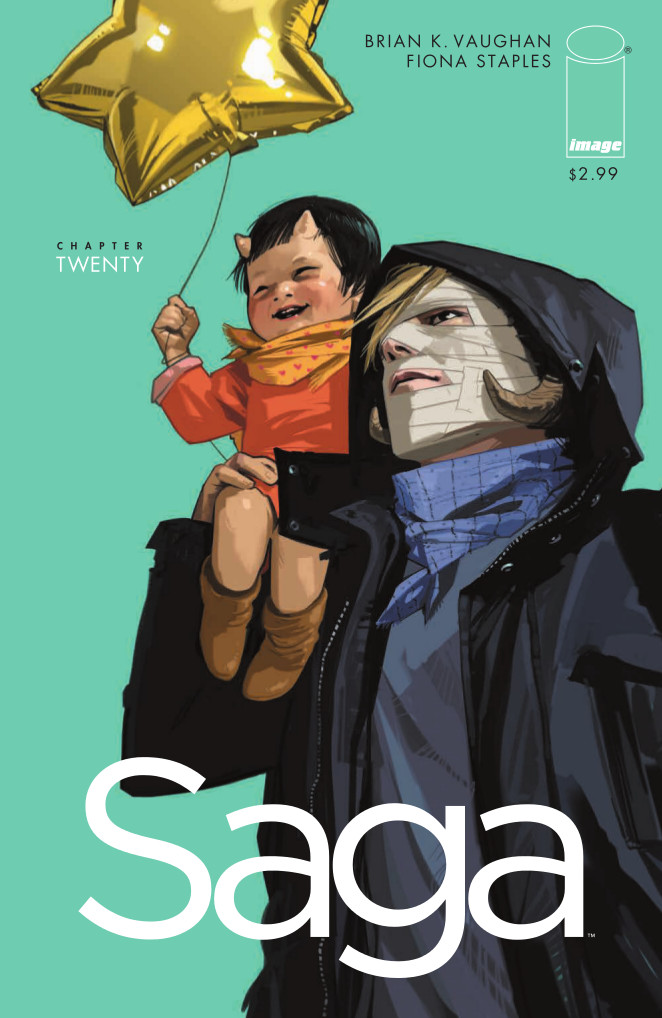 The prince is still in hiding, the princess is still going it alone, and the family is making their way through a life undercover. There is a dark cloud hanging over them all and I fear what is coming down the road.
Note: This recap may contain spoilers!
We start off the issue checking in with Prince Robot IV. He has taken refuge on Sextillion and seems to be enjoying himself with as many girls as he can handle. The prince doesn't seem to be dwelling on his wife or newborn son at all. I guess the guy needs some time away after all. And Mama Sun is not about to bust his cover by kicking him out, despite what her frog associate says. Yes, the world is looking for the missing prince, but he came there for a reason. As long as the money's coming in, Mama Sun doesn't care what his business is. He can stay as long as he wants.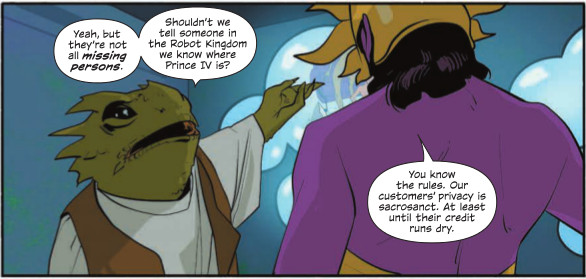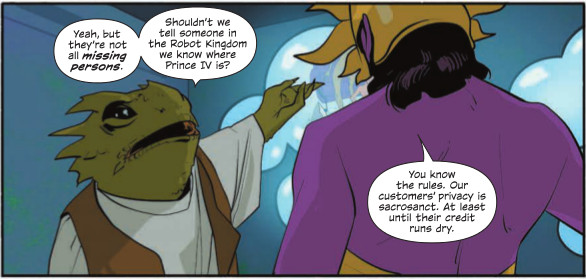 Meanwhile, his wife is trying to deal with the heartbreak of a missing husband and the fate of being a single mother. But there is danger lurking near her, as she soon discovers. The custodian, Dengo, is going to make her see just how disconnected she is from the common people of her kingdom. Dengo takes a seat and proceeds to tell her the story of his own lost son, who died as a result of poverty and lacking medical care. He wants revenge for his misery and the princess is the one who must pay the price. Once he finishes with his story, in a shocking twist, he stabs her in the face and steals the baby away. We soon see that he has not only taken out the princess and her guards, but also possibly all the servants. What will become of the baby prince? And will his father finally return to help save him?
While the royal family is in chaos, Hazel and her family seem to be on a more even keel. We see them dealing with the common themes of parenthood, exhaustion, and frustration. Hazel wakes her father from his sleep with loud cries for breakfast, and he is left to deal with it on his own as Alana has already taken her leave to go to work. In an attempt to distract his daughter from her constant screams, he takes her to the dance studio of the woman he met in the park, Ginny. The baby enjoys herself, though her social skills are a bit lacking, going by the fact she proclaims Ginny to be ugly. Marko is quick to apologize, but Ginny takes no offense. In fact, she almost seems to be flirting with Marko, even though they are both married. I hope she is not going to come between Marko and Alana, though it would be interesting to see Alana fight for her man. I think she would win, hands-down.


Alana seems to have found her niche with acting, though, and she's reveling in all her roles. Although, she does have to keep on guard and not get too involved with her fellow actors, for fear they will find out who she is. Yuma is the only one she can bond with, and the veteran of the Circuit is definitely one to know, as she has a supply of Fadeaway that she shares. The last we see of Alana, she's tripping on the good drugs, without a care in the world for her daughter or husband or their current situation. I hope her break from reality doesn't last too long. There's a storm coming, and everyone needs to be on guard to prepare.
Rating: 4 / 5 Stars