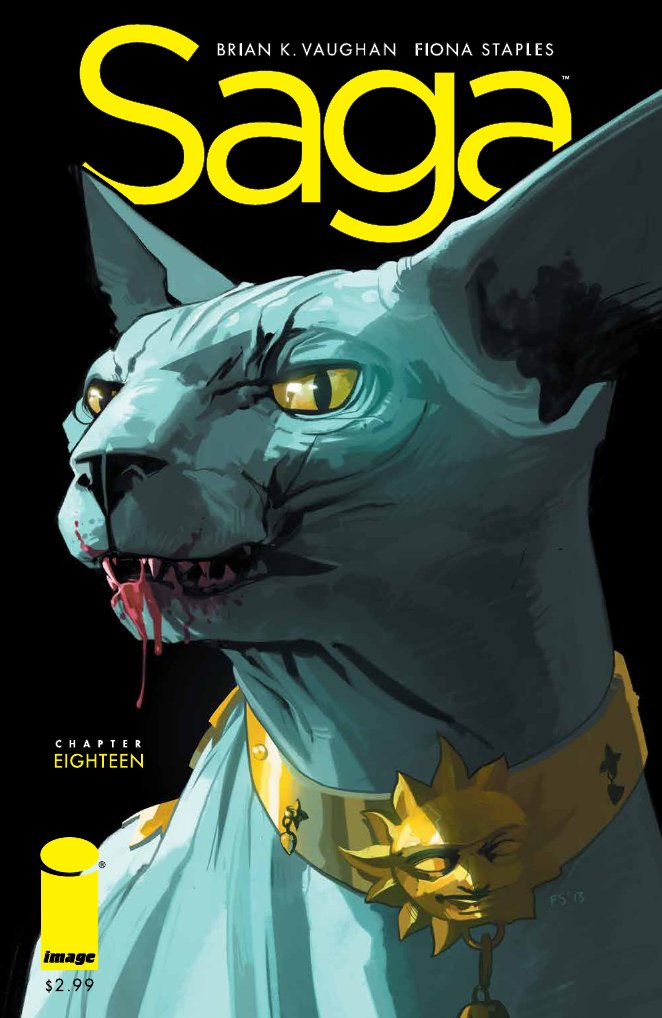 Closing the current arc of the series, we are left with a few loose ends tied up and a few more unraveling. That makes it all the better to ponder "what now?" I have enjoyed each and every character in this comic and I want to know where their lives will lead. That's the mark of a good series.
Note: This recap may contain spoilers!
Opening the issue, we're met with the image of Lying Cat, with blood dripping from his jaws. As you recall, he attacked Marko's mom and is now standing over her, willing to go in for the kill if necessary. Klara is ready to die, after seeing Heist killed by their attackers, but she's not going to go down without a fight. Poor Lying Cat had to sacrifice an eye in the midst of her anger. But it's not Klara who eventually gets him to clear out and leave them be. No, that honor falls to Izabel, who holds much more power than maybe we realized. She makes him face what he did, how he had no right to execute Heist and is therefore not playing by the rules that should govern him. Izabel then proceeds to taunt him, morphing into a large mother cat and reminding him how he was useless in his youth as the runt of the litter. Her warnings are eventually heeded and Lying Cat clears out, leaving Gwendolyn alone in her mission.

As if they didn't have enough to deal with, considering Heist is no more and Klara is down for the count, Prince Robot IV sneaks up behind them. But he's not the same threat that he once was. Damaged, mentally incapacitated, it's clear that he's fritzed. Izabel uses his confusion to her advantage and has him assist her in moving Klara out of the fire raging in the room. Her plan to use him again, to ensure Marko and Alana make it to safety as well, is not met with as much success. He instead goes into glitch-mode and insists that he needs to get back to his ship. His face screen is not a very appropriate scene, reminiscent of other pleasant memories as he lay dying, and Izabel dismisses him to go do whatever it is he needs to do. This is the last we see of the prince in this issue, though there are later mentions to him being missing.
As this is transpiring, Gwendolyn is dealing with Marko and Alana upstairs. The couple have literally no place of escape, trapped on the balcony and out of options. Instead of coming to kill them, though, Marko is confused when Gwendolyn instead asks for his help with a healing spell. The quick fix turns into a deadly stand-off once she learns that The Will cannot be saved by their magic, since he is not of their kind. If her ex-boyfriend cannot save her current boyfriend, then the only option is to kill someone close to him. Namely, Alana. No amount of talking or pleading to put the past in the past will soothe Gwendolyn's anger. Marko broke her heart, destroyed her. It's time for him to feel some of that pain. Gwendolyn takes out her weapon to attack Alana, but Marko gets in the way to protect his wife. He pushes Alana and Hazel off the edge perhaps on purpose, perhaps accidentally, but either way it looked like Marko had just lost his entire family. But, in a triumphant return, Alana rises up behind Gwendolyn, with gun drawn and wings flapping. It turns out that her wings aren't just vestigial after all. Gwendolyn's subdued, Marko and Alana embrace, and it appears that the family escapes intact.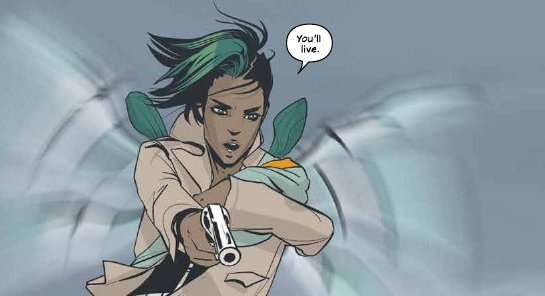 Meanwhile, Upsher and Doff are together in their office and Upsher is still trying to find a way out of their spell after months of searching. He discovers that if the casters are hanged until death, the spell is broken. It seems a promising lead, even if Doff is tired of searching for a loophole. I get the feeling Upsher will never be satisfied until the deed is done. There is mention of Prince Robot IV in this scene, still missing and drawing media attention because of it. I'm left wondering where he is, what happened to him, and if he will indeed make it back in time to see his first child born. For all his morally-complex characterization, I was always intrigued by him.
Closing out the issue, we find that Gwendolyn has delivered The Will to a MASH unit, per Alana's suggestion. And we also find out more about The Will and his connection to The Brand. She is there, questioning the medical officials about The Will's prognosis. The doctor tries to prepare her for the dire state that he's in, saying that while The Will is making vocalizations, there's no activity in his frontal lobe. She is not one to admit defeat, and asks to have the room to herself for a bit, so that she can talk to him. He acknowledges her as Sophie and she calls him Billy. It turns out that she is his sister, and that would be why he was so adamant to give Slave Girl the same name. This opens up so many possibilities and questions. Great fodder for future stories.

And there is also great possibilities in the last panel. We end with a shot of Alana and Hazel, now a toddler. There is hope, despite the feeling of dread as to what might come. That's been the theme throughout this story and I hope that it continues.
Rating: 4 / 5 Stars