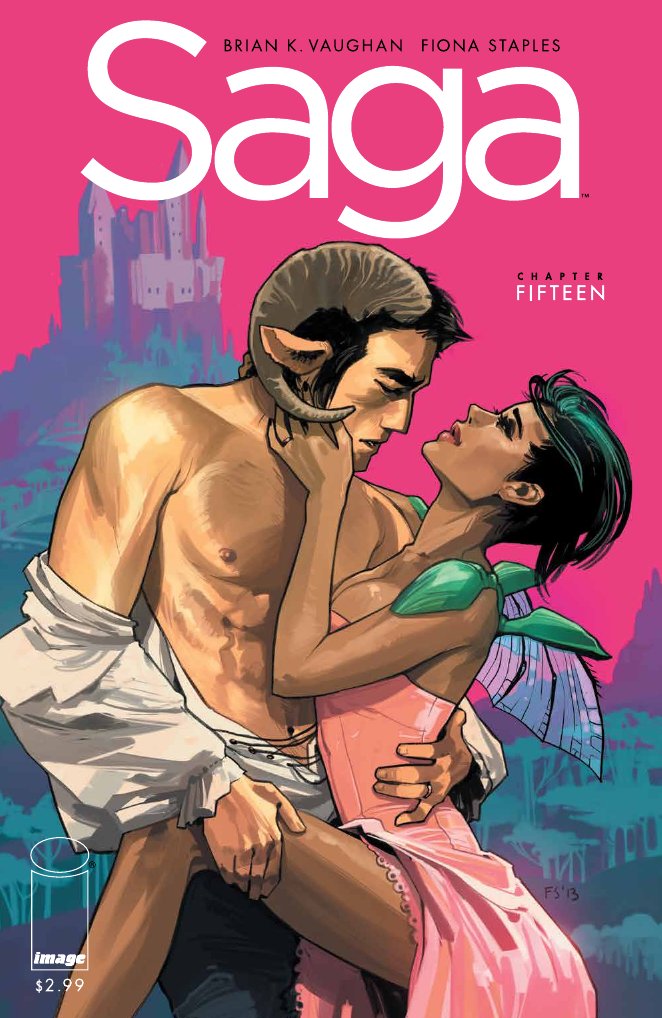 Family, life, it's not always flowers and chocolates. People get along one day and are angry the next, but with all relationships you learn to work through it. That's one of the major pluses of Saga, because the story shows that whether you're a member of the royal family or a fugitive on the run, the dynamics of getting along aren't always easy.
Note: This recap may contain spoilers!
I was a bit confused when I started the issue, wondering who the initial figure was. At first I thought it was Prince Robot IV, since we had just seen him recently, but considering how feminine the body shape was, including breasts, that proved incorrect. But at least we're in the same family! The character was instead Countess Robot X, a disgruntled member of the royal family who wants nothing to do with Prince Robot IV or his upcoming kid. Thankfully, though, when the paparazzi come calling on her it's another story they're chasing, and this one has much more drama involved.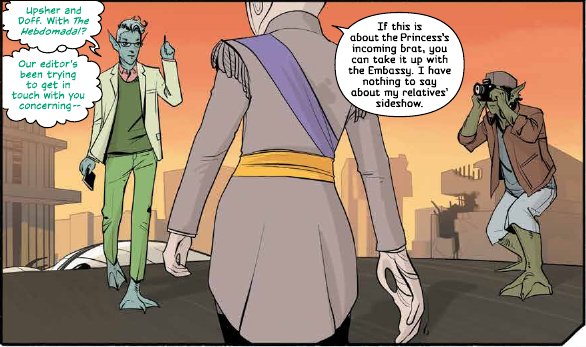 We find out that Countess was Alana's old commanding officer, and like her feelings toward her family, she has a real hate on for Alana as well. The reason? Alana hesitated briefly during battle, putting her team at risk and putting her in the permanent doghouse with Countess. I wonder how she will play into the overall Marko and Alana storyline now. Will she go searching after Prince Robot IV and the fugitive family herself? Or does she have her hands full with the supposed sniper that sought to kill her, Upsher, and Doff while in the middle of the interview? Somebody doesn't want the truth to come out. I wonder who.
Meanwhile, back at D. Oswald Heist's lighthouse, the family have been staying there for five days now and seem to be settling in nicely. Alana's being domestic goddess in the laundry room while Marko, his mom, and Oswald are playing a really intensive game of Nun Tuj Nun, which is a Wreath board game that is translated as Now Means Now. There's drawing and wrestling and all kinds of maneuvering in this thing. I told you it was intensive! This is also the first time Marko has broken out of his depressive spell and is actually laughing, enjoying life a bit. It seems so happy, so perfect. You just know it can't last.

And, of course, it doesn't. Marko's mom seeks to point out how Alana seems to be living in a fantasy world, being all domestic while not thinking about the future. She cannot stay on the run forever, coasting through life with no job and no money. No, Alana needs to step up and provide for her family. Unfortunately for Alana, both Oswald and Marko agree. They always said they wanted better for Hazel, wanted her to have a good life. That can't be accomplished if they are forever fugitives, wondering where their next meal is coming from or staying cooped up on their ship with no outside interaction. In a huff, Alana leaves, not ready to talk about such heavy matters.
We end our jaint with Alana and Marko this issue with some heart-to-heart discussion outside. Not even Alana's attempts to distract her husband with sex can deter Marko from making her face facts and actually consider their future. He makes her realize that they don't have to choose between being consumers or destroyers. They can be creators instead, making the world a better place. They don't know what that might entail, not yet, but at least they have the beginnings of a plan. All's well that ends well…for now.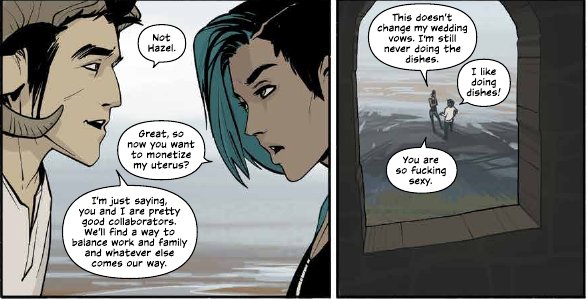 Turning to the other player in this storyline, The Will is getting his ship repaired. He's still seeing The Stalk, still showing signs that he's a bit mentally unbalanced, but he's decided to carry on with his mission of vengeance and go after Marko and Prince Robot IV. This pleases Gwendolyn greatly and it looks like they are united in their mission again. As soon as they find Slave Girl, who has wandered off somewhere, they can be on their way.
Slave Girl is edging into mentally unstable territory herself. She sees a vision of her mother in the forest, who warns her she must be brave for what comes next. The pink remnants of her recently-consumed food were our first clue that something might not be right, and when The Will gets a call from the claims adjuster office we find out why she's starting to have visions. The employees that were just on the planet have started hallucinating and they think it might be Heroine, from tainted food. Slave Girl has eaten the local food, too, and that's why she's hallucinating. But her hallucinations turn deadly, as she's ordered to attack The Will, stabbing him in the neck and watching him bleed out all over the floor of the ship. The vision of Slave Girl's mother turns into The Stalk and we're left wondering if The Will is gone for good. Will Slave Girl snap out of it? Will Gwendolyn come back in time to save him? How much blood is going to spill before this is all over? We've got to wait until next month to find out!
 Rating: 4 / 5 Stars