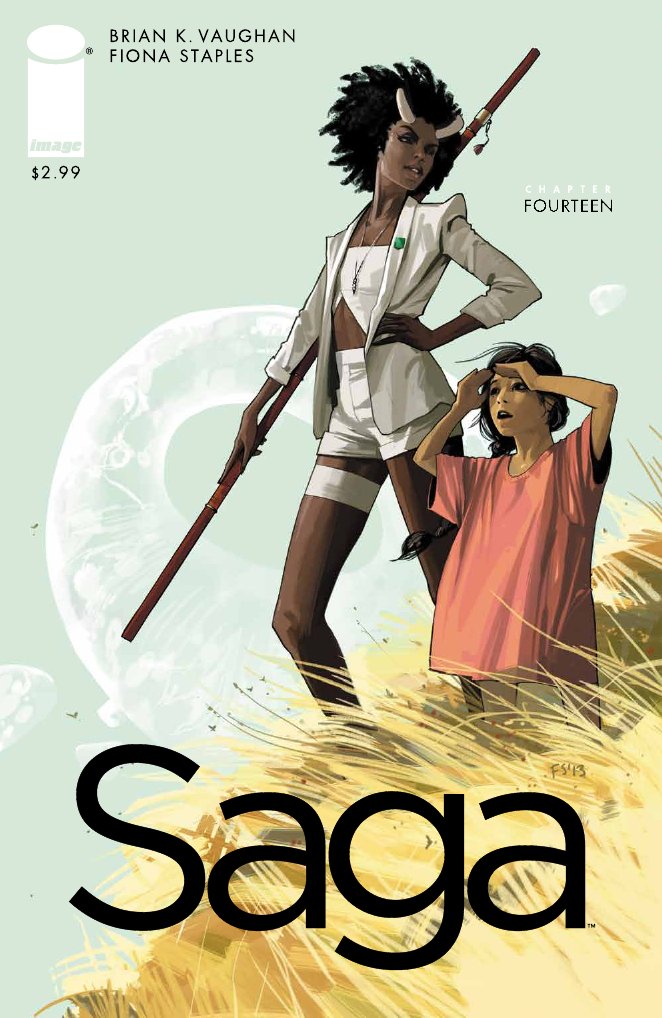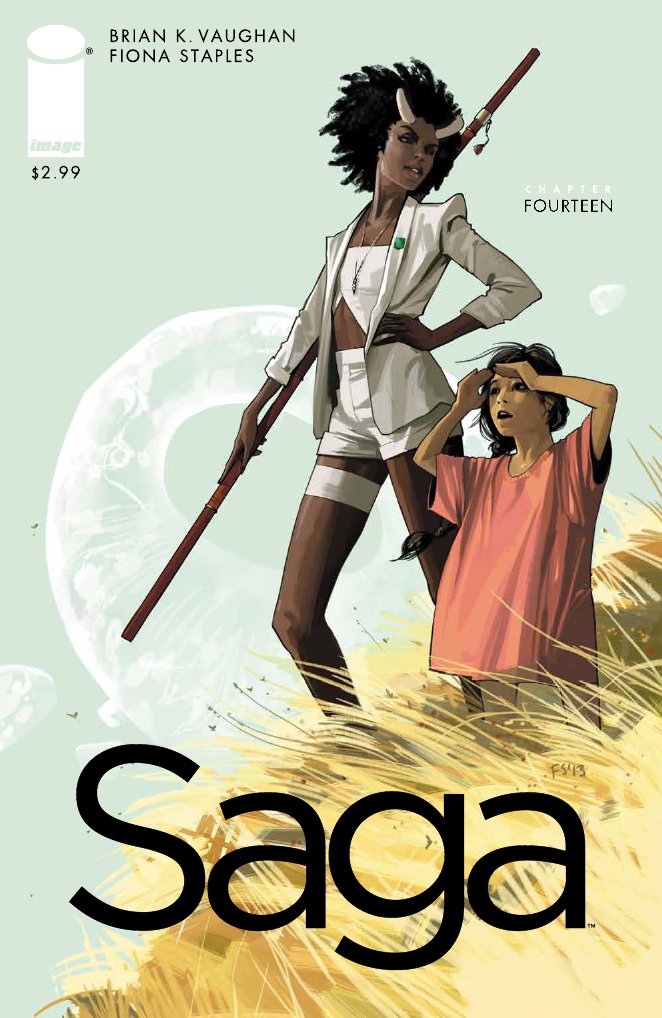 You know what I love best about Saga? That it truly is a saga. We get new information, new characters, and new revelations every issue that all come together to contribute to a rich and complex storyline. And this issue was no different. We meet part of Alana's family, get more background on Heist, and learn that The Will is perhaps a little bit more unhinged than we first thought. My love for everything in this universe continues.
Note: This recap may contain spoilers!
Starting out this month, we meet Alana's step-mother, the butterfly-winged Even who is pretty much the same age as her step-daughter. While it's clear that Alana is not so keen on her young step-parent, Even still hasn't caught that clue bus. However, with the media at her door, I see the potential to learn much more about Alana than we have so far. What was she like growing up? Were there any clues that she may defect and follow the romantic notions found inside her beloved novel? The stage is set to see Alana in a whole new light if the reporters stick around for a while.
Back to Hazel and her family, we find out that Heist is a bit prejudiced against Wreathers, but changes his tune pretty fast when he finds out Alana is from Landfall and that Hazel is a product of a Wreather/Landfall pairing. Alana and Marko are a living example of what he wrote in his novel A Nighttime Smoke. Love can persevere and opposites can attract.
Alana's more than happy to take up Heist's offer to stay and clean up, even using his washing machine. She and Marko are in geek heaven while Izabel and Klara just look on and wonder what they're getting themselves into. In time, Klara has a heart-to heart with Heist and they reminiscence about the Battle of Cartwright — how Heist lost his first wife there, and later his son in the ongoing war that has stretched out for years. Will Heist be their salvation or betray them all as they meet their tragic end? With Hazel's recounting of the story, I fear for her parents' outcome, but keep holding onto the hope that somehow it will all be okay.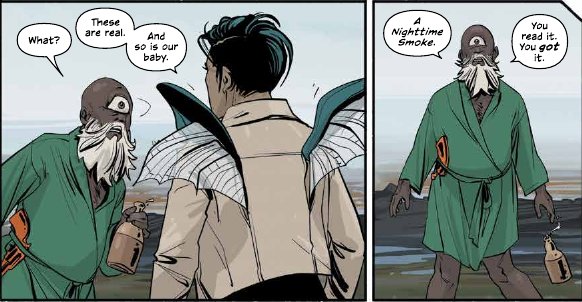 Switching over to The Will and Gwendolyn, we get to see them hunting polka-dotted sky sharks. Looks like fun. However, there are some serious issues going on with them, and Slave Girl, too. Sophie (aka Slave Girl) is still stuck in the mindset of being a slave, doing whatever it takes to please The Will, and not having a real identity of her own. I know that The Will wants to fix her, somehow, but I'm not sure if he's going to be successful. She's got some secrets hidden inside that head of hers and I don't think she's as innocent as The Will thinks.
His attempt to temporarily retire is surely not going to end well either. Though he promises to pass along any leads about Marko and Alana to Gwendolyn so that she can continue tracking them, he's going to stay put and follow some vague orders that The Stalk is giving him. That's right, he's hallucinating his long-lost lover and she's controlling his thoughts, his words, his actions. What's behind The Will's mental breakdown? Is The Stalk really talking to him from beyond the grave or is something more sinister going on? With a call from an old informant who has information about Prince Robot IV and how he's cruising the galaxy in The Stalk's old ship, I think The Will's got some revenge on his mind.
As we say goodbye to the story for another month, I'm left wondering how it will all turn out. Is The Will going to ultimately go crazy? Will Prince Robot IV take down Alana and Marko? And will Hazel grow up an orphan or can our favorite couple defeat the odds yet again to have a family life separate from the pain and destruction they once knew? Many questions, and I can't wait to find out the answers.
Rating: 4 / 5 Stars