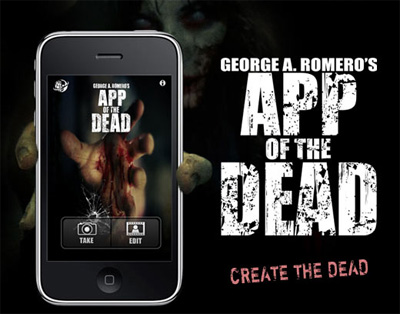 Directly on the heels of the final green-band trailer release for George A. Romero's latest "… of the Dead" zombie film, Survival of the Dead, comes news that Romero's APP of the DEAD, set for release sometime in the next few weeks, has a new website, Facebook page, and Twitter feed. Interested parties can now preview the iPhone and iPod Touch App by watching the trailer available on the App's website and can learn how they will be zombifying their friends and family once the App comes out.
To follow breaking news on the APP of the DEAD, become a fan of the App's Facebook page or follow its Twitter account:
Website: appsofthedead.com
Facebook: App of the Dead on Facebook
Twitter: @appofthedead
The App's website is pretty impressive, considering that it's an entire site dedicated to nothing more than an iPhone/iPod Touch application. The site does, however, feature the trailer for Romero's Survival of the Dead, but viewers be warned: in order to watch the trailer or see the App demo you will need the latest version of QuickTime.
You can either take photos or import pictures into the APP of the DEAD using your Apple iPod Touch or iPhone and then use various tools and techniques to turn your subjects into bloody, disgusting undead minions.
For more information on APP of the DEAD, visit one of the websites or fan pages mentioned above. For more information about George A. Romero's Survival of the Dead, scheduled to hit theaters nationwide on May 28, 2010, visit the film's Facebook page. Survivial of the Dead will debut on VOD, Amazon and Xbox LIVE on April 30, 2010.