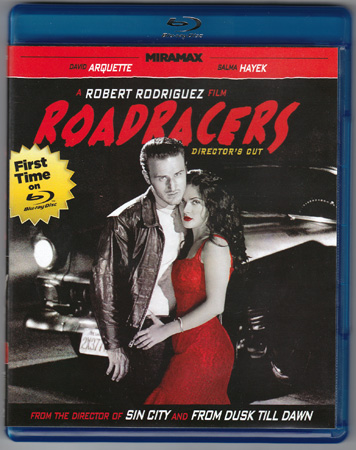 In the pantheon of American B-movies, Samuel Z. Arkoff stands tall with a prolific library of low budget but profitable films from the '50s through the '80s. Lou Arkoff, Samuel's son, brought a series concept to Showtime in the '90s as a modern tribute to his father's work. Showtime produced this unique throwback series in 1994 with the title Rebel Highway. It was an anthology series that pitched an intriguing challenge to ten notable directors. Each filmmaker would choose an old film from the senior Arkoff's body of work and use its title and, optionally, its concept to develop a new B-style movie on a tight budget (reportedly $1.3 million) and a short schedule (less than two weeks of shooting). The debut episode was produced by Robert Rodriguez, fresh off his success with El Mariachi and in the midst of working on its follow-up, Desperado. Rodriguez cast David Arquette and Salma Hayek in his take on Roadracers, a '50s drive-in style flick with '90s sensibilities and production values. Roadracers hit Blu-ray for the first time last month and presents a revealing look at low budget moviemaking and the early career of Robert Rodriguez.
David Arquette stars as Dude Delaney, a bad buy greaser with rockabilly aspirations. Salma Hayek, in her first Hollywood role, plays Dude's girlfriend Donna. John Hawkes co-stars as Dude's strange pal Nixer, while Jason Wiles plays Teddy Leather, Dude's de facto nemesis. Teddy's dad is the town lawman, Sarge, played by veteran actor William Sadler. Roadracers' plot is a simple and loose one without much development in either its story or its characters. Dude likes to make his own rules, load his hair up with grease, and cruise around town in his beaten up convertible. Teddy has a chip on his shoulder and takes it out on Dude and Donna whenever he can. Teddy's cop dad has a longstanding grudge with Dude's father and wants the whole family cleared out of his town. All the while, Dude aspires to hit the road with a rockabilly band, where he wants to do his own thing and make a living with his music.
Roadracers isn't that great of a movie, but that's kind of the point. In much the same way that Rodriguez's contribution to 2007's Grindhouse deconstructs the grindhouse B-movie genre while telling a story within its trappings, Roadracers examines the absurdity of '50s rebel flicks from within a ridiculously framed and surprisingly bloody interpretation of that genre. David Arquette seems a bit miscast here as a James Dean inspired tough guy. His trademark squinty smarm that works so well in movies like Scream and on TV shows like Pushing Daisies gives him a bit too much softness and insecurity here, and that detracts from the overall believability of an already ridiculous story. Aside from Arquette's misplacement, the rest of the cast delivers. And really, what would a B-movie be without some questionable acting?
Along with the movie itself, the new Roadracers Blu-ray release also features a director's commentary, as well as one of Robert Rodriguez's now-signature 10-Minute Film School segments. Even when his final products aren't the best, Rodriguez always is an enthralling filmmaker. His openness and ability to convey his love for movies and his craft always come through in features that allow him to talk to his audience. The commentary track and Film School feature make the movie itself a more enjoyable watch, and they are good listening and viewing for anyone interested in low budget cinema.
Roadracers released on Blu-ray on April 17, 2012, and is in stores now.