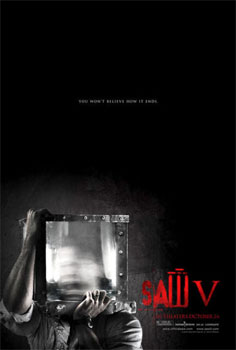 This weekend I checked out the continuing adventures of Jigsaw and the gang, and here's my review of Saw V, without spoilers.
I'll begin by saying I'm not a horror fan. I have nothing against the genre, but I'm just not prone to rushing out to see any and every movie just because it's horror, as I might be for science fiction or superhero movies. That said, I'm a big fan of Saw and have been into it ever since I saw the original movie at its midnight release. The thing that sets Saw aside from other horror franchises for me is that it's not just all about the kills and the gore. At the core of the Saw movies, there's a moral message, and Jigsaw is a very atypical killer in that it's possible to sympathize with what he's trying to accomplish, if not with his methods.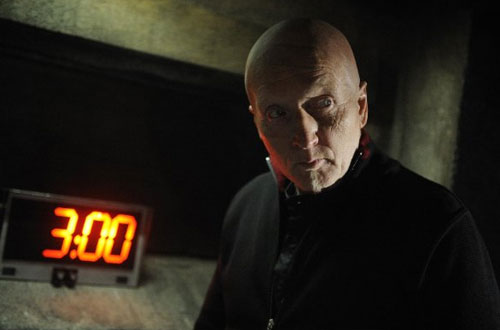 The Saw series also diverges from its horror sequel brethren in that it is a series with tight continuity that requires its viewers to pay attention to the plot and to remember little details from all the movies. Most Friday the 13th or Nightmare on Elm Street installments will allow you to jump in mid-stream and watch and enjoy any of the movies individually without relying on your knowledge of the rest of the films. Not so with Saw. I'd venture to guess that anyone seeing Saw V without having seen all the previous installments will be quite confused and will miss out on most of what's going on.
Saw V picks up minutes after Saw III and Saw IV, with Jigsaw's second apprentice carrying on the sadistic work of his mentor. Lacking the brilliance of the original mastermind, the new apprentice, Lieutenant Mark Hoffman (played by Costas Mandylor and revealed at the end of Saw IV) slips up with one of his traps and allows FBI Agent Peter Strahm (Scott Patterson) to live. The movie then becomes a cat and mouse game of Strahm pursuing Hoffman, whom he suspects of being in league with Jigsaw, while Hoffman springs a new trap on five unsuspecting new victims.
The new trap is similar in many ways to the house trap from Saw II. Rather than having a single person enduring the Jigsaw treatment, there are five seemingly unconnected (but likely somehow related) people stuck in a locked room and tethered by the neck to a pulley system that eventually will decapitate them. Through the course of the movie, we follow their progress as they move from room to room in the trap, facing horrible test after horrible test. Among the victims are Brit, a real estate developer played by Julie Benz and a journalist played by Carlo Rota.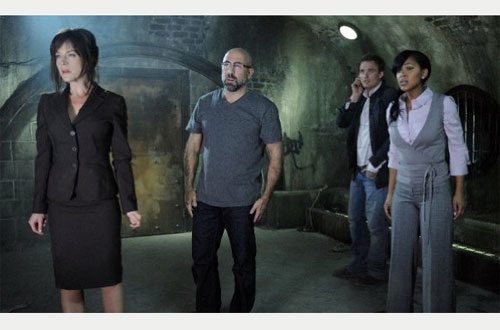 A third element to the plot this time is a series of flashbacks, similar to the ones we've seen in the previous installments. This time around we get Hoffman's origin story and learn more about his character prior to meeting Jigsaw (Tobin Bell), as well as how he became Jigsaw's apprentice. The flashbacks tie into events we've seen in all the previous Saw movies, and as always they illuminate aspects and details we never thought to question from those earlier movies.
Saw V is an entertaining movie, but it definitely is the weakest of the five films. To me it feels like a gap filler between Saw IV and Saw VI. I enjoyed the flashbacks, mostly due to Tobin Bell's brilliance and his complete grasp of Jigsaw, and the new multi-room trap was an intriguing watch as well. I'm a fan of Julie Benz from her work on Dexter, Buffy, and Angel, and I have enjoyed Carlo Rota on 24, so it was neat to see the two of them together in one of my favorite movie franchises. The movie is lacking in its metaplot, though. Strahm's pursuit of Hoffman and Hoffman's activities fail to engage in the same way that previous cops and their pursuits of Jigsaw and Amanda have grabbed me. I think this is due in large part to Tobin Bell's continued absence from the present day proceedings. I don't buy Hoffman as a mastermind, and his moral compass is nowhere near the original Jigsaw's. He comes across as just a thug, left with the remnant of a psychotic legacy.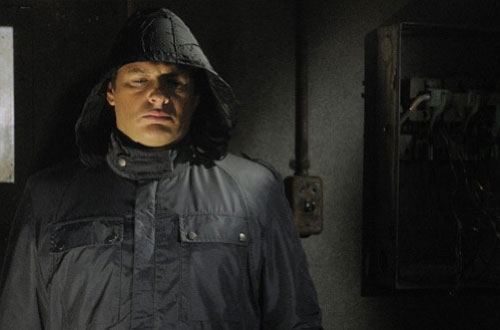 One of the hallmarks of the Saw movies is a surprising twist in the third act. Saw V's tagline has been "You won't believe how it ends" (no marks for originality there), and I guess it ended up being a fulfilled promise. While I left all four previous Saw movies with a feeling of, "Hey, that was kind of neat," I left Saw V sort of perplexed, because what seems to have been the intended twist at the end was actually something that was very obvious and should be evident to anyone halfway through the movie. Robbed of a sufficiently engaging villain and a cool bit of audience deception, Saw V fails to be as much fun as the previous outings.
There are of course some dangling threads that are sure to be resolved in Saw VI, and the one that intrigues me the most involves a metal box and Jigsaw's widow, Jill. Even though Saw V left me cold, I'm still a fan of the series and am looking forward to my yearly solo theater outing to catch the newest developments in the increasingly labyrinthine plot.