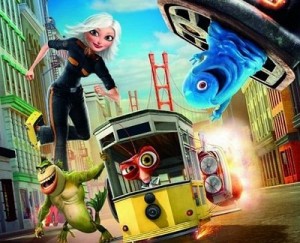 Starring: Reese Witherspoon, Seth Rogen, Hugh Laurie, Will Arnett, Kiefer Sutherland, Rainn Wilson, Paul Rudd, and Stephen Colbert
Directed by: Rob Letterman & Conrad Vernon
Synopsis: Susan Murphy (Witherspoon) is just a short wedding ceremony away from a wonderful life when
she is struck by a meteorite composed of a matter with supernatural qualities. Now Susan is fifty feet tall, and in no time flat she is taken in by a secret government sect devoted to containing bizarre phenomenons which result in the creation of monsters. There, she meets Dr. Cockroach, mad scientist (Laurie); The Missing Link, a vainglorious fish man (Arnett); B.O.B., a brainless, indestructible blob of blue goo (Rogen); and Insectosaurus, a 350-foot-tall grub. Susan and her fellow monsters seem doomed to permanent seclusion from the rest of the world until the aliens come, and only the monsters have the skills to save the day.
Analysis: Though the film was distributed in both 2D and 3D formats, it would indeed be to everyone's advantage to go see this on in 3D. Granted, it's no T2:3D, but the beautiful visuals and action sequences are made all the more sweet when the film is sent to the third dimension. The characters are also more defined. B.O.B. for example, being a gelatinous blob, is given enhanced realism in 3D. The animation is of the same high quality you tend to expect from Pixar's rival DreamWorks Studios, and they definitely don't waste any opportunities to make you miss a breath with the outstanding designs of both character and production, combined with action sequences which share a bit of kinship with recent action flicks (as if it were a hybrid of Transformers and Kung Fu Panda). You may sniff at the comparisons, but there is this sort of grandeur about it which is given a unique shape by the animation.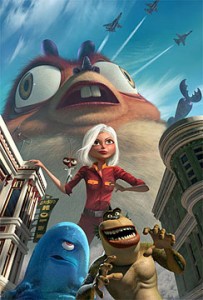 Okay, now that I've gotten all that technical jibber-jabber out of the way, I can get to the real reasons that
Monsters vs. Aliens is a total blast.
It's a pleasant reassurance to me that not every animated movie has to aspire to be an artistic masterpiece. Not everyone can be Studio Ghibli. For that matter, not everyone can reach the ever-escalating standards of the consistently perfect work of Pixar. Many times the posers try way too hard. A good example is the painfully over-hyped Coraline. Neil Gaiman and Co. were too self-absorbed to make Coraline an enjoyable experience. Instead, we got weak story structure rife with plot holes, along with lackluster character development masquerading as animated artistry. Monsters vs. Aliens, on the other hand, seeks no more than to be a fun-spirited romp. The film's refreshingly unashamed simplicity is on the same level as Kung Fu Panda. Walking out of Monsters vs. Aliens, I felt the same sense of bliss knowing that, despite the lack of complexity, I still felt I just saw something special — something that has the same memorability of Kung Fu Panda, and yet never resorts to cheap gimmicks or worn-out pop culture gags used in lesser animated films.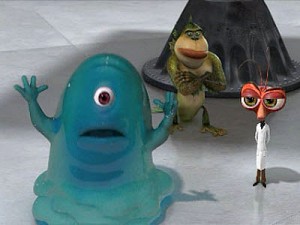 The simplicity of the story in M.v.A. is an advantage in this case because it would distract from the film's greatest asset — namely, the insanely well-rounded characters and the constant barrage of gags that never miss the mark, greatly assisted by the outstanding voice-over cast. Witherspoon nails the heart and soul of Susan within the first few minutes. Then there's my favorite smart-ass Hugh Laurie (House) unloading his almost-unrecognizable voice as mad scientist Dr. Cockroach. Meanwhile, Arrested Development's Will Arnett invokes the same lovable egotism that he had as Gob Bluth, but he takes it a step further by showing that he uses his ego to mask his lack of faith in his talents. Of course, the scene stealers are Seth Rogen as B.O.B. and Kiefer Sutherland as General W.R. Monger (I admit I snickered upon hearing that name). Rogen, who is no stranger to comedic voiceovers, really milks B.O.B. for every drop. Of late, he has just been impressing the hell outta me with his considerable comedic range. As B.O.B., Rogen sets a brand new standard for dim-witted characters with a heart of gold. Sutherland also surprises me in this film because, despite his outstanding performance in the "If It Isn't Scottish, It's Crap" sketch on SNL, it's still invariably weird seeing him doing comedy. In his portrayal of General Monger, we actually get a remarkable balancing act wherein Sutherland clearly embraces playing the clichéd B-movie General while avoiding the cliché of making him heartless. Upon seeing the trailer I was worried that we would be seeing yet another cruel, oppressive military guy. Fortunately, no, not here. Instead, he is more of a surrogate father figure to the monsters, and Sutherland sells General Monger's pride of the monsters' endeavors towards saving the world.
Oh, as far as the silent member of the monstrous cadre, Insectosaurous, I only have this to say… I DEMAND INSECTOSAUROUS PLUSHIES!!! Seriously, how can you look at him and not wanna cuddle him? DreamWorks marketing boys… GET TO WORK!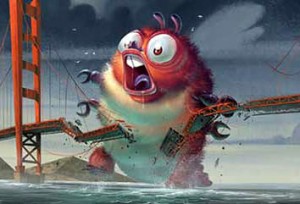 This is an exceptional treat for the start of the year, and until the summer movie season kicks off, it's nice to know that we'll have flicks like this to keep us busy. Also, since DreamWorks doesn't seem to have a problem making sequels of their animated films, I definitely would NOT say no to a Monsters vs. Aliens 2.
Essentially: A hilarious animated action extravaganza that allows the audience to kick back and enjoy. It has no aspirations of being groundbreaking. It simply aspires to be entertaining. To that end, it's Mission: Accomplished.
FINAL GRADE: B