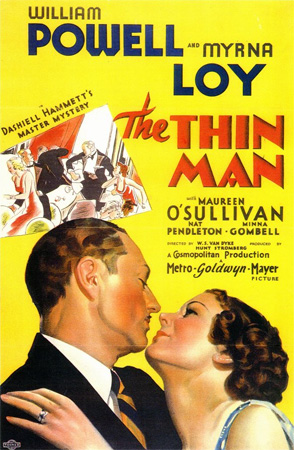 Title: The Thin Man
Director: W.S. Van Dyke
Writer: Dashiell Hammett (novel), Albert Hackett, Frances Goodrich
Cast: William Powell, Myrna Loy, Cesar Romero
Rated: G
The Thin Man is based on a book of the same name by Dashiell Hammett. The movie was so popular that five sequels were made. In the movie, William Powell plays Nick Charles, an ex-cop married to Nora Charles (Myrna Loy). Nora is an heiress, so Nick gave up his job to take care of her money. They have a dog, named Asta, who is mainly used for comic effect.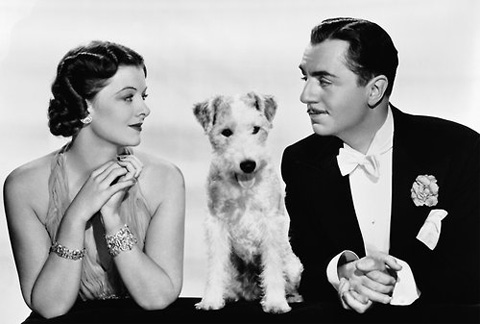 Interestingly, the first characters you see are not Nick and Nora, but Clyde Wynant (the "Thin Man"), his daughter, Dorothy, and her fiancé Tommy. This scene sets up Wynant as absent-minded and Dorothy as a loving daughter. This first scene also sets up a lot of plot points that come into play later, such as that Wynant is divorced and has a mistress. Wynant is going away, but he won't tell anyone where he is going or why he is leaving. He does promise Dorothy to be back in time for her wedding, which is at the end of December.
The movie then jumps ahead to around Christmas. We see Dorothy and Tommy dancing. Dorothy is worried about her father. Then we see Nick at a bar, which sets up his love of drinking. Soon after, we see Nora being dragged in by Asta. Nick and Nora banter, showing the great chemistry Powell and Loy have. There's also a great scene of Nora ordering as many drinks as Nick had, showing she can keep up with her husband.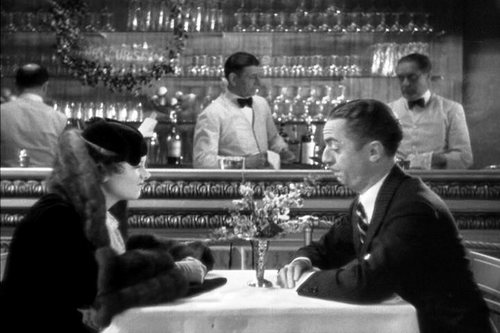 We later meet Wynant's ex-wife, Mimi, and her new husband, Chris (Cesar Romero). It is shown that Mimi only cares about money and that Chris won't work. We also meet Mimi and Wynant's son, Gilbert, who is shown to be creepy and weird. Provoked by Chris, Mimi goes to see Wynant's mistress, Julia, to ask for money. However once Mimi arrives, Julia is dead. Lieutenant Guild is introduced (he shows up in a few of the sequels) and is immediately suspicious of Wynant, who still hasn't been heard from or seen.
Then the movie cuts to Nick and Nora's hotel room, where they are hosting a Christmas party with many of Nick's friends from when he was a cop, some of whom he put in jail. Some reporters show up as they think that Nick is in town to help Wynant or solve the murder. Dorothy also shows up and tells Nick she killed Julia. Nick doesn't believe her. Even Mimi and Gilbert show up to talk to Nick, thinking he knows where Wynant is. Mimi wants Wynant to call her, so she can get more money.
Later that same night, a friend of Julia's, Morelli, shows up at the hotel room. He wants to make sure that Nick knows he didn't kill Julia. Nick and Morelli get into a scuffle, but Guild shows up just in time so no one is seriously hurt. Guild thinks that Nick knows more than he does and that he had something to do with Julia's murder. Nora wants Nick to take the case to help Dorothy.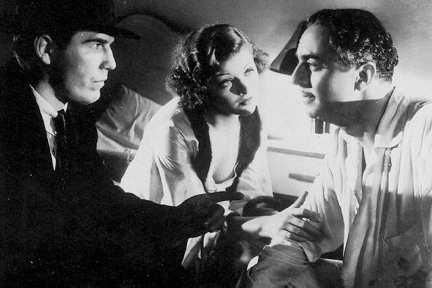 Nick and Guild go to see a stool pigeon, Nunheim, who knew Julia. They want to ask him a few questions, but he runs out before they can get any real answers. Meanwhile, Nora is at Mimi's. It seems Chris has disappeared. Dorothy is upset because she believes her father killed Julia, so she breaks off her engagement to Tommy.
Nick and Asta break into Wynant's shop to find out why it had been closed up. Once there he finds an area freshly covered in cement. He also runs into an employee of Wynant's, Tanner. The police find a body under the cement and Wynant is blamed for another murder. Guild thinks he has the case all wrapped up, but Nick is doubtful.
In what is now typical murder mystery fashion, Nick rounds up all the characters that aren't dead in one room to discuss the murders and expose everyone's secrets. He and Nora host a dinner party as a cover for this discussion. Once everyone has arrived, or been escorted by the police, Nick sums up what he thinks happened. Everything is then revealed, including who the murderer is, and it isn't who you think it is.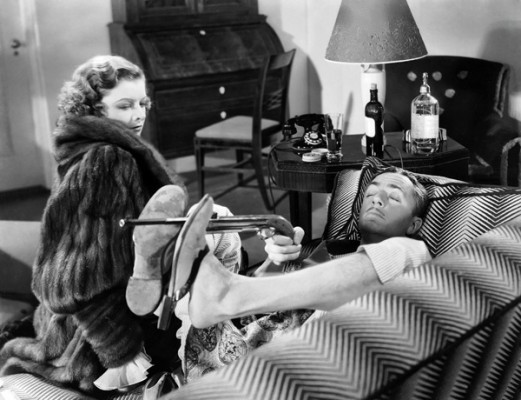 Overall, the movie is very good. There is a lot of humor and suspense throughout and it shifts seamlessly from one to the other. The plot keeps you guessing and you are always changing your mind about whom the murder is. The chemistry between Powell and Loy is really visible. Not only did they do six "Thin Man" movies, they also did eight other movies together. Even after repeated viewings, the movie doesn't lose any of its charm. If you like noir and murder mysteries, this movie is a must see.