And now for more (relatively) new releases. Once again we have a mix of old and new.
The MC Type – A Good Tattoo (NSFW)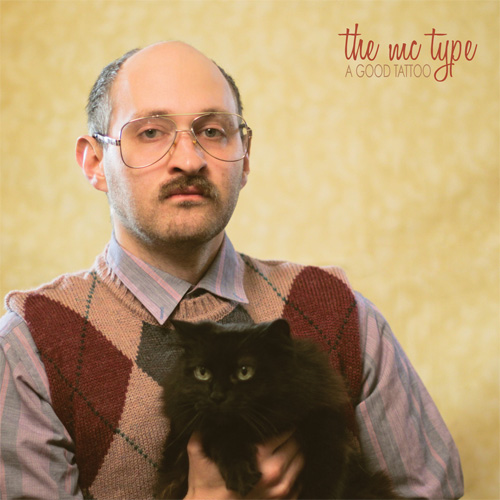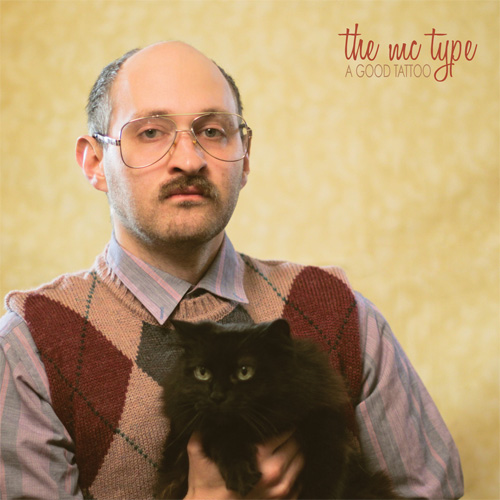 Let's start off with an artist new to me: The MC Type. In addition to A Good Tattoo, Type also has three volumes of Bad Tattoos. I'm sensing a pattern there somewhere…
Anyway, as you might have guessed from the album titles, The MC Type falls into the comedy rap category, often satirical. For example, the chorus for "Black Guy" contains the lines "I can say the n-bomb and not get a black eye… (Why?) 'cause I'm friends with a black guy." As if somehow having a black friend makes it impossible to be racist. Or "Incest Love Song," in which the narrator falls in love with his second cousin. It reminds me of "Just Hangin' Out" from the Birdemic soundtrack, although Type's is more direct (plus I'm pretty sure the implied incest in Damian Carter's song is unintentional…). A couple of related favorites are "Thank God" and "Preacher Song" (featuring Open Mike Eagle), both of which lampoon religion. If you enjoy satire and "wrong" comedy, you'll love The MC Type.
Beefy – The Adventures of Beef Thompson: Check Your Local Listings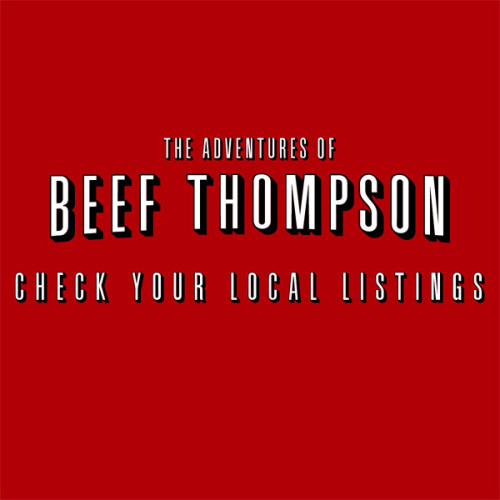 As you might have surmised from the title, Beefy's latest EP has a theme: TV shows. The first track ("Ruining My Life") sets up the theme, with its celebration of just sitting around and watching TV. Following this is a track about everyone's favorite serial killer, "Dexter." I particularly like the way Beefy captures Dexter's personality in the chorus of this track. There's also a track about Hey, Arnold, called "Football Head." I admit I had to look up the reference for this one since I've never seen the show, but I should have figured it out given that the lyrics even mention Arnold. Perhaps a little odd for nerdcore, there's also a track about a sports show, "Dan Nation." Again, it's not a show I'm familiar with, but I still enjoy the song. In fact, you should really check out this EP from Beefy even if you're not a fan of the shows just because Beefy is great.
Kabuto the Python – The Almighty (NSFW)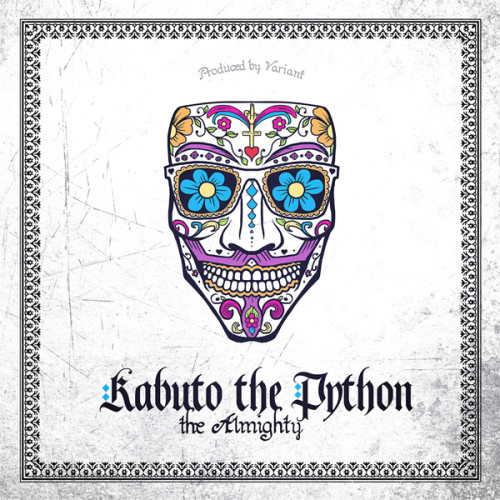 Kabuto's been releasing music for a while now, but The Almighty is actually his first full length LP. Available as both a free release from Scrub Club and a $7 deluxe edition from Bandcamp (you can stream the tracks for free, but the deluxe edition also includes instrumentals and a cappella versions), the album continues Kabuto's interesting dichotomous relationship with nerdcore. On the one hand, he's on Scrub Club records, a label known for nerdcore artists, plus he has plenty of nerdy tracks (and his own Bandcamp page lists his music as nerdcore). On the other, like many other nerdcore artists, he doesn't really consider himself to be truly nerdcore (or, perhaps more precisely, he's the "World's Worst Nerdcore Rapper" as the name of the second track on this album indicated).
Regardless of what genre he considers his music, Kabuto puts out some great stuff. Take "Yo, Science," for example. Kabuto schools anyone who is anti-science like global warming denialists or creationists. Or "Kicked Ones, Pt. 2" featuring Schäffer the Darklord, the sequel to "The Face Kicking Song" in which the Darklord and the Python kick some face. And of course "The Guest List," which is pretty much an excuse to get tons of other rappers together for the ultimate nerdcore collaboration. And rather contradicts the "World's Worst Nerdcore Rapper" song, as I think about it.
milo – cavalcade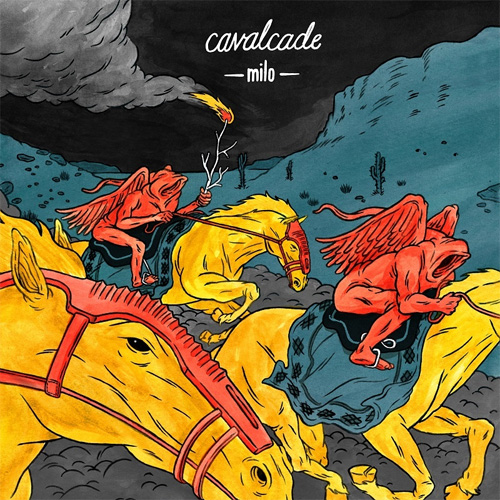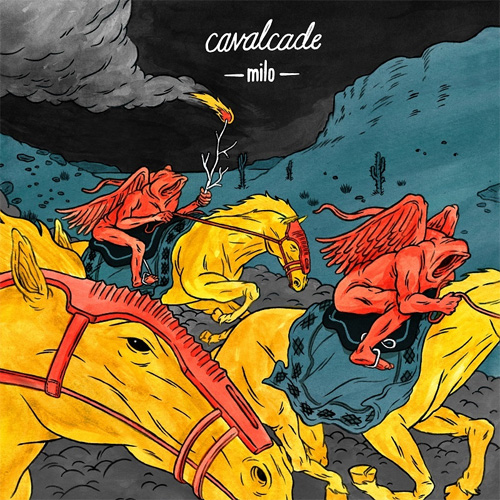 Speaking of artists that aren't really quite nerdcore but that certainly qualify as geeky (if references to Batman and the Hulk can still be considered geeky and not just mainstream), milo has a new mixtape, cavalcade, available for free. In the track, "sophistry and illusion," milo calls his music "art rap," a term coined by fellow Hellfyre Club artist Open Mike Eagle. That's probably the best nomenclature I've seen for milo. Not many rappers reference Thomas Pynchon and Steve Reich in the same track (also "sophistry and illusion"), but both comparisons fit milo: musically minimalist like Reich, but deep and sometimes obscure like Pynchon. Another good example of this is "red oleanders," which features Busdriver (another member of Hellfyre Club). The track opens with dialogue from the movie Bloodsport, and ends with an interview with the philosopher Richard Rorty.
Along the way are references to Batman, existentialism ("existence precedes essence"), The Fifth Element ("Why does every DJ have a haircut like Zorg?"), and Plato. Now, I admit that I wouldn't have figured out all of these examples without help, which is pretty much my point. I really love that I have to work at understanding milo's music, and it helps that the music itself is almost hypnotic and easy to listen to.
Alpha Riff – From Beta to Alpha Riff (NSFW)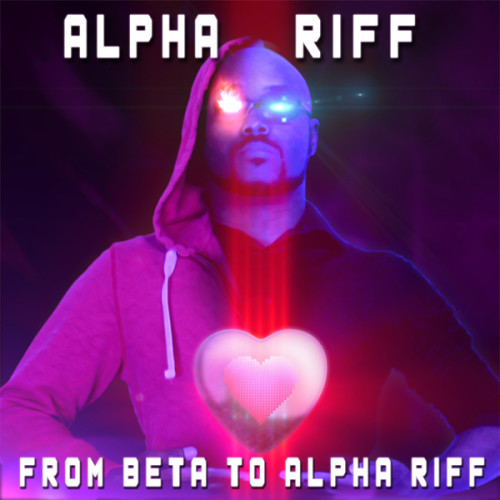 Let's end with another artist that's new to me, Alpha Riff. I've been meaning to check out his music for a while now but only got around to it with this newest release. I'll definitely be digging more into his back catalog. From Beta to Alpha Riff traces the story of Alpha's journey to nerdcore rap. Before he can truly begin his debut, however, a cosmic storm splits Alpha in two (Alpha Riff and Beta Riff), and they dive into a portal caused by the storm to find the glass heart to restore the essence to whichever version wins the video game-like environment they find themselves in. It's a really cool concept that does a good job of introducing Alpha's music.
A few noteworthy tracks on the album include "Nerd Core" (featuring Beefy and 1UP), which sets up Alpha Riff's participation in a music competition; "Revolutionary Love Letter" (featuring 1UP), about the Matrix trilogy (yeah, yeah, there's only one good Matrix movie, but whatever); and "Blackholes Just Mean I Love You in Space Jargon" (featuring Trista Kinman), about a captain trying to save his ship while fully caffeinated. Really, though it's worth listening the album straight through since it does tell a story, complete with narration tracks.