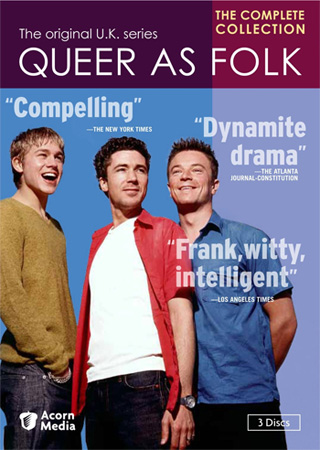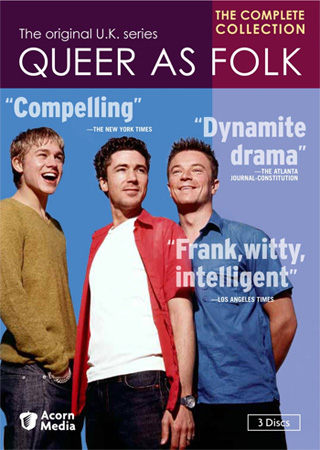 DVD: Queer As Folk: The Complete UK Collection
Release Date: September 27, 2011
Cast: Craig Kelly, Charlie Hunnam, Aiden Gillen
If you're a fan of Showtime's Queer as Folk, but have not yet seen the original UK version, it's absolutely vital that you correct that oversight immediately. Until this holiday season, I was among the US-only viewers, but thanks to getting the complete UK series on DVD, I can now say that I not only enjoyed the original version, but I also have a whole new perspective on the US version.
Well-versed fans will recognize the similarities of the two series right away. There's the playboy character (Stuart/Brian) and his best friend (Vince/Michael), there's the young, emerging gay man (Nathan/Justin) and the flamboyant gay man (Alexander/Emmett), and there's even the character that represents the low self-esteem member of the group (Phil/Ted) though the UK and US counterparts had very different outcomes. In fact, if you go down the comparison chart, most of the US characters had a counterpart in the UK series. So, going in, the story feels similar. But whereas the US version became the love story of Brian Kinney and Justin Taylor, the UK version wrapped up as ultimately being the ongoing adventure of best friends Stuart Alan Jones and Vince Tyler.
The UK Queer as Folk does not set out to create a happy environment where love conquers all. Instead, it shows that time passes, people change, and sometimes the best solution is to walk away and get on with your own life. Was I disappointed in where the UK series ended? Not so much, yet I did long for a more idealized love story maybe. Stuart started off as a softer character than Brian, yet he became a bit more psychotic over the series, so I could never see he and Nathan becoming the eternal love story that Brian and Justin were. Stuart and Brian are different characters, with different circumstances guiding their lives, but in the end I think they share certain aspects that make them who they are. Their lives just took them in very different directions.
Rating: 4 / 5 Stars