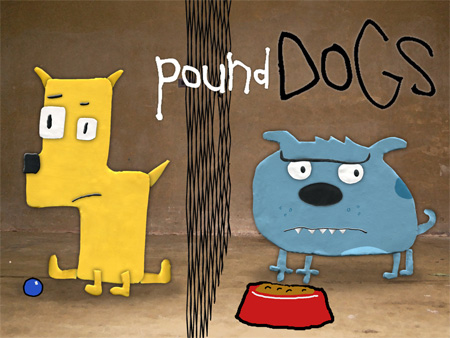 Some of our readers may recognize Mike Salva's name from my review of his short animated feature Back to Life, which screened at the Rhode Island International Horror Film Festival in 2009. Now the award-winning Nashville animator is back with his latest project, Pound Dogs.
Another animated short, Pound Dogs is a comedy about two dogs talking about eating cat poo while waiting to be adopted at an animal shelter. Unlike his previous work, which also includes Max The Hero and Death Row Diet, Pound Dogs deviates from traditional hand drawn 2D animation in favor of a different technique. This time around, Salva has sculpted his canine cartoon characters out of clay, which he then baked in the oven, making this the first cartoon he's made "in his kitchen".
Intrigued by this animation style, I talked briefly with Mike and asked him to describe the process in a bit more detail. This is what he had to say:
"The characters are created with pencil and paper first, and then I have to figure out a way they can exist as physical characters made out of clay. Once I get the right color of polymer clay, I knead it for a long time, flatten it with a pasta maker, cut out the character parts with a knife, bake it in the oven at 265 degrees, then scan it into the computer.
"This has to be done for every torso, arm, leg, head, eye, etc., for at least nine characters (and possibly two German shepherds in the background)."
Now that the animation is complete, Mike is beginning work on the feature's audio component, which is where his new Kickstarter campaign for Pound Dogs enters into the equation. As Mike told me recently, "We JUST finished recording all of the audio with the performers — Ryan Williams, Sean Parrott, Samantha Newark (remember Jem?), Andy Merrill, and Steve Taylor. I am repeatedly going through about four hours of audio, to trim this down to a cartoon that will (hopefully) not exceed eight minutes. Ryan and Sean play the dogs; they are standup comedians, so I let them improvise some dialogue. I have to pick and choose what will work in the context of the cartoon. They talk about eating cat poop a lot."
Some of you may recognize the voice actors cast in Pound Dogs: the group is composed of well-known individuals including, as Mike mentioned, Samantha Newark, who is best known for voicing Jem in the cartoon series of the same name, as well as Andy Merrill, who voices numerous characters for the [adult swim] television series Aqua Teen Hunger Force, The Brak Show, and Space Ghost Coast to Coast. In addition, Ryan Williams and Sean Parrott, two Nashville-area stand-up comedians, provide the voices of the main characters, and the multitalented Steve Taylor, writer/director/producer of the 2006 film The Second Chance, are contributing their voices as well.
For those of you unfamiliar with Kickstarter (which launched in 2009), it is an innovative online pledge system that allows individuals, groups and/or companies to help fund creative projects like Pound Dogs. Perhaps the best-known Kickstarter success story to date is that of Steve Taylor, one of the voice actors in Pound Dogs. Last year, the cinematic adaptation of Donald Miller's novel Blue Like Jazz hit a snag during pre-production when the production team discovered that there was not enough funding to begin filming. As a last ditch effort, Steve Taylor and the production team started the "SAVE Blue Like Jazz! (the movie)" on Kickstarter in an effort to raise $125,000 in 30 days. The response was overwhelming: the project raised $345,000 and was able to begin filming last October.
The Pound Dogs campaign offers people like you and me the unique opportunity to support a talented independent filmmaker in a direct and tangible way. In addition, Mike Salva is offering some fun incentives to encourage donations, including a barking dog ringtone (performed by Williams & Parrott, who play the dogs in the film), a chance to have your pet thanked in the credits, a DVD copy of the finished film, and a 15-minute Skype session with Samantha Newark for those contributing at the $200 level. If $200 is a little bit out of your price range, you may want to note that those willing to donate just $125 to the project will receive an Associate Producer credit on the film and be listed on IMDb.com (Impressive? I certainly think so).
While the Kickstarter campaign attempts to fund the rest of the project, Mike is planning on success and is still hard at work on Pound Dogs. "I am also in the process of making the backgrounds, and going through the long process of making the rest of the characters," he told me. "With most of my projects, 80% of the work is preparation, and the remaining 20% is making the actual animation." Mike's response to my inquiry as to what inspires him to create short animated films like Pound Dogs was a simple one: "I'm not very grown up. I just really like cartoons."
If you're interested in donating to help Mike Salva fund the remaining work on Pound Dogs — or if you just want to check out the project details — you can visit the Pound Dogs Kickstarter page. Salva is looking to raise at least $2500, and every little bit helps! You can also check out Salva's pitch video on YouTube, visit the animator's official web site, or head over to his page on IMDb for more information.