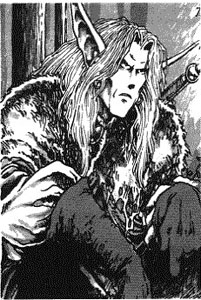 A very sad release from Sirius Entertainment today announced that Drew Hayes, celebrated comics writer and artist of Poison Elves, has passed away.
"Sirius Entertainment is saddened to report that Drew Hayes, the maverick creator of POISON ELVES, has died in his hometown of Bellingham, Washington. Drew had a heart attack while suffering from pneumonia. He is survived by his daughter, Mary and his mother, Sharon.
Drew had been hospitalized more than once over the last several years, but his return to good health had been anticipated, so the suddenness of his passing was an unexpected shock to those that knew him. Drew was 37 years old.
Drew Hayes entered the comic book field in 1991 by self-publishing his cult-hit series, I, LUSIPHUR. Over the next four years, he published twenty issues (collected in POISON ELVES: THE MULEHIDE YEARS trade paperback), changed the series title to POISON ELVES, and became known as one of the most singular and respected voices in the self-publishing world. In a bold transition, Hayes brought POISON ELVES under the Sirius Entertainment banner, where his creative freedom remained wholly intact. The last completed issue of the on-going series was issue #79, published by Sirius in September of 2004. Hayes' total output has surpassed 100 issues, many of which are collected in the ten POISON ELVES trade paperbacks."