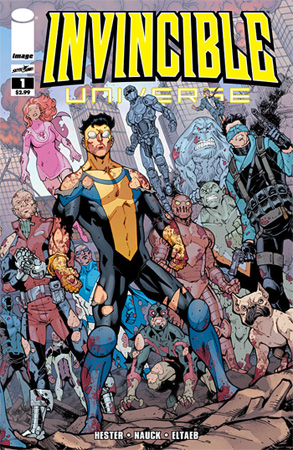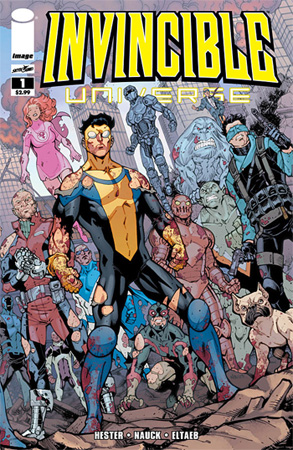 For anyone who can't get enough Invincible (which is basically anyone who likes good comics), the folks at Image Comics decided to get off their prolific behinds and give us another full plate of Invincible. But sit back, because there's only one thing you gotta do: let Lamar tell you all about it. Actually, you gotta let me tell you all about it and then if it sounds good you gotta go and buy an issue for yourself.
So that's two things you gotta do, and the latter part goes without saying, but I said it anyway. I'm digressing. Let's get to the recap:
Note: This recap may contain spoilers!
If you'll recall a few issues ago of regular Invincible, in Invincible #100, Cecil invited Invincible to come back to being a good guy and work for him again. Our hero accepted. In Invincible Universe, we are going to start at that same moment, but take it from another viewpoint. After our flawed yet powerful hero flies away, we watch Cecil while some strange narration gives us the distinct impression that Cecil's got a longtime enemy. An enemy who knows Cecil's secrets.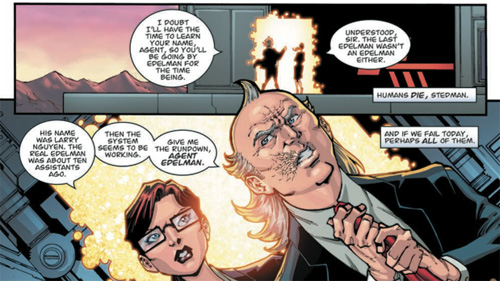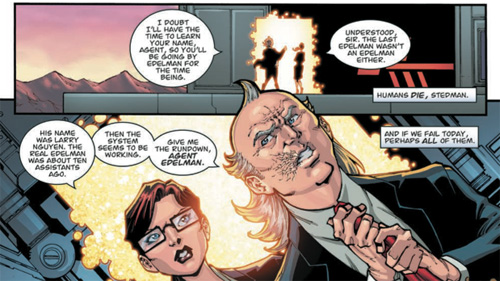 Cecil's new second shift executive assistant shows up (Edelman was killed in the floods that Dinosaurus and Invincible caused). Cecil doesn't have time to learn new names and get to know people and all that junk, so he calls her Edelman. The new Edelman reminds Cecil that the guy she is replacing also was not named Edelman. In fact, she's the fourth Edelman. Cecil doesn't care. He's too busy.
The new Edelman gets Cecil up to speed on the efforts to deal with the flooding that has just destroyed half the planet. All the super powered people seem to be pitching in. Since things are well in hand, Cecil decides to check up on kid Thor, who it turns out died, but has now come back to life. Kid Thor's girlfriend explains that when she put Kid Thor's hammer on his chest, he came back to life. Robot speculates that the hammer has been passed on from generation to generation, but because Kid Thor has no offspring to pass his hammer to, it's keeping him alive.
As soon as the hammer leaves Kid Thor's hands, he turns into a dried out old corpse. Robot replaces the hammer, and voilà! He springs back to life. Robot will need to make some special gloves so Kid Thor can maintain contact with his hammer at all times. "At ALL times?" asks Knockout. "You'll get used to it," replies Kid Thor. I wonder what she was thinking about, because she seemed really shocked that he would have to maintain contact with that hammer at ALL times.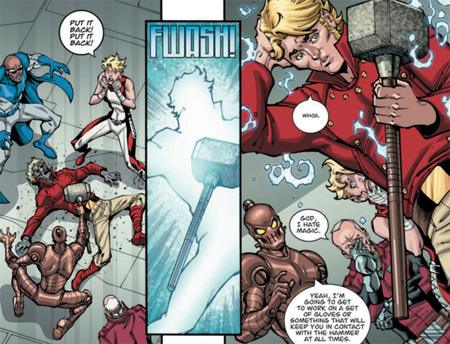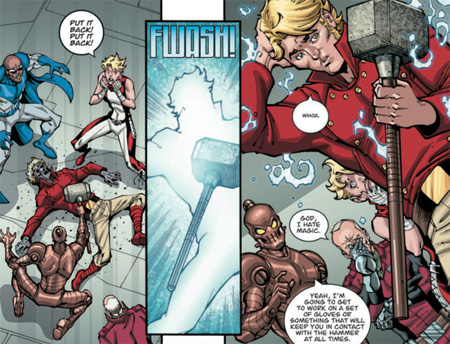 But enough of that. It's time for everyone to hop into action and clean up the floods and do disaster relief and whatnot, so Cecil does the only thing he knows: he screams at everyone. Cecil is in the middle of his "pep talk" when his nose falls off. This grosses out Kid Thor's girlfriend a little.
Cecil rushes to his regeneration chamber and finds there is someone already waiting for him, even though the regeneration room is supposed to be impenetrable. "How did you get in here, Liu?" asks Cecil, to which Liu replies, "Oh please, you're not the only man of resource in the world."
So, apparently they know each other. As I've said before, I was into Invincible for the first few issues, then I fell out of sorts for a few years. This may already be a long established back story, or it may be a brand new character. Either way, Liu seems to be a formidable-enemy-slash-friend of Cecil's. It turns out his body holds the spirit of a giant ghost dragon that can pop out of Liu and gobble up the city any time he wants. Liu imprisoned the demon dragon in his body centuries ago, but his body is falling apart. Robot will have to operate to keep the body alive and keep the dragon inside.
Of course, it doesn't work out that way. The dragon gets loose. And thus starts Invincible Universe. I'm curious to see how this all pans out. Plus, it will be fun to see this storyline unfold parallel to the main Invincible story.