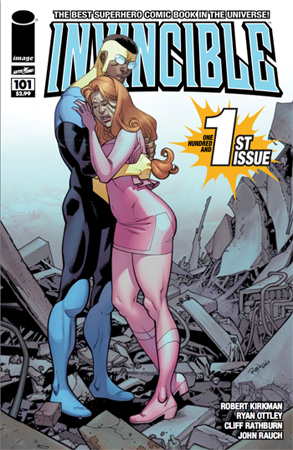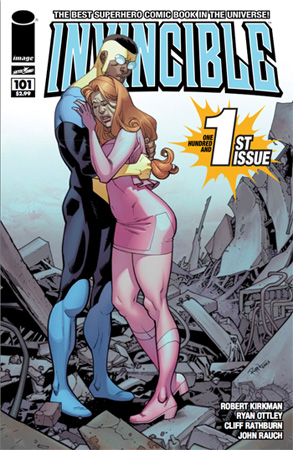 So there's a theme for this issue. It's love and bonding, that sense of belonging you get when people care about you, and pregnancy. That's four themes, technically, but I'm talking about the thing that is common to all of those. Whatever that's called, it's the common thread of this issue. Except, as with most Invincible stories, it's done in a way that gives you the feeling there's some sort of inside joke going on and you're about to be let in on it.
Note: This recap may contain spoilers!
We open with Thragg, the Viltrumite commander on the last Viltrumite ship, which is stationed at the moon, yelling at his fellow super race Viltrumite invaders. Their mission, of course, is to procreate as much as possible, rebuild the Vultrimite race (even though technically they'd be half Vultrimite), and restore the Vultrimite empire to its former glory. But feelings and love and attachment are getting in the way. The female has never wanted to procreate anyway, so feelings aren't getting in her way. It's just that she doesn't want kids.
But the two dudes are getting all mushy on Thragg. They want him to recognize their feelings. The two men don't want to run around on their mates impregnating random Earth women. They don't want to betray people like that. For example: "My mate has been hurt in the past by a companion who was disloyal. She doesn't approve of my procreating with other women."  That's going to be my excuse to my friends if they want me to go with them to a strip club: "She doesn't approve of my procreating with other women."
What is the commander of a race of superior beings supposed to do when his fellow superior beings don't go around treating all the inferior beings like cattle (he's supposed to start a cult, but Thragg doesn't know enough about Earth to think up that little gem)? Thragg is beside himself.


Elsewhere, on Earth, Eve is telling Mark Grayson/Invincible that she is pregnant. They were careful, but he's got that super Viltrumite sperm, so really there's no getting around it. This time they're going to keep the baby. But there's more time for celebrating later. For now, Invincible and Eve have to help the rest of the team to clean up the mess that Dinosaurus (and… um… Invincible) created. Of course, when Invincible shows up, the rest of the team, still thinking of him as a traitor (which he basically is, even if he killed Dinosaurus and cut a deal to get back onto the right side of things).
Cecil takes him to the secret underground lair at the Pentagon to patch things up, and also recommends a nanny/doctor for the new kiddo. She specializes in super powered children, and even has X-ray vision that's less invasive than ultrasound! It turns out Eve has to stop using her super powers until the kid's born, because the use of the powers could zap the baby.
Elsewhere, on the moon, it turns out that Omni-Man is back. He's not evil anymore, so that's good. But, back in the day, he did kill a lot of people and beat up Invincible and whatnot before he came to his senses. So, he can't come back to Earth. Cecil's solution is to let Omni-Man stay on the moon base that the Guardians of the Globe aren't using any more. That way, Omni-Man can keep an eye on the other Viltrumites who have set up shop on the other side of the Moon. You know the ones, right? The ones whose mates don't approve of their procreating with other women? If the closing panel is any indication, Thragg is not happy about this.
Rating: 3.5 / 5 Stars