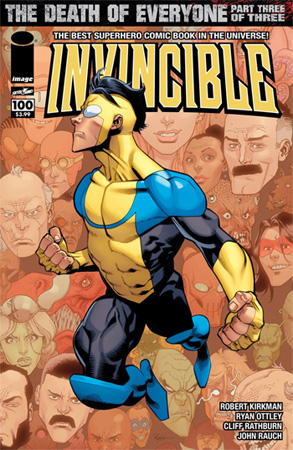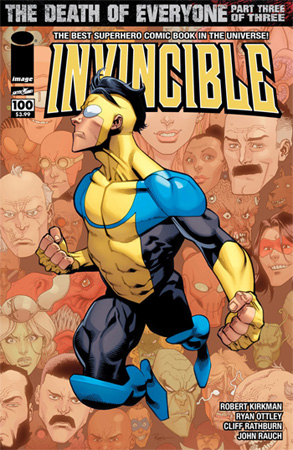 Here's what I am going to do, starting with this here issue 100 of Invincible: I'm going to answer the tough questions. The chief tough question is: does Invincible have what it takes as a superhero to become an Icon?
Note: This recap may contain spoilers!
When I first read Invincible #1 about forever years ago, I concluded Invincible was an all-out attempt to celebrate the superhero tradition. I liked it, and followed Invincible closely for a while, until life got in the way and I did crazy things like watch more TV and read fewer comics. But I'm curious to see how he's doing. Has Invincible developed into a truly major league comic book, or just another tribute to all the true icons that came before him?
I tried to visit Wikipedia to get myself caught up on the back-story, but it's one of those rambling Wikipedia entries ("first this guy did this, and then he got in a fight, and then the other guy came in and stopped the whole thing. But the cool part was the smoke monster…), so I'm pretty much on my own. It may take a while before I can piece together the different story lines.
Anyway, Invincible has been captured by Dinosaurus, who has built a machine that lets him talk directly to a Viltrumite's brain (as you'll recall, Viltrumites are super powerful aliens who use their powers to take over the Universe and subject everyone to their will. Invincible is only half Viltrumite, though, and has decided to be Earth's protector, much to his evil Viltrumite father's chagrin). Dinosaurus, in classic villain-monologue-fashion, reveals that he created and blew up a clone of Invincible to fake his death. So, everyone thinks Invincible is dead.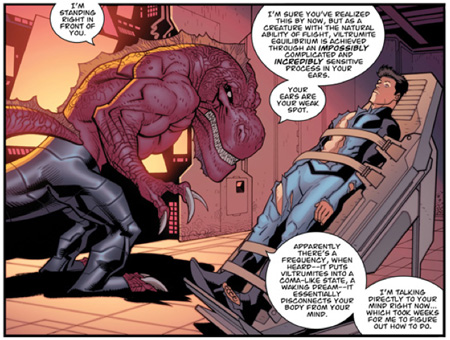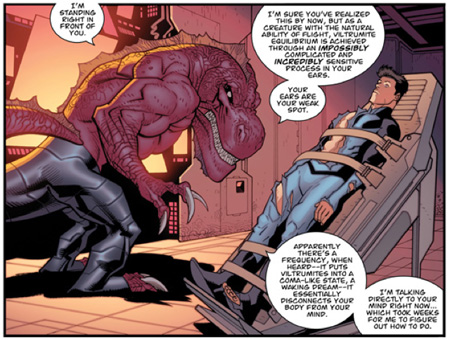 For a second I thought maybe Dinosaurus is a good guy. I'll have to read a few back issues and visit some forums and whatnot to figure it out for sure. Anyway, he tells Invincible that "now you're free. Nobody thinks you caused this, so you are free to work with me… to save the world." So, I thought, okay, he's a good guy. But then the conversation continues and Invincible talks about all the people Dinosaurus scarified for his plan (which was apparently to stop a global environmental catastrophe by blowing up the moon or something, which flooded half the world's cities). Invincible insists Dinousaurus got it all wrong. He and Dinosaurus are the bad guys in the story, and they have to atone for their mistakes.
Here's the interesting part: Dinosaurus is like "yeah, you're right," and releases Invincible. So does this mean Invincible has become an anti-hero? But it gets better. Dinosaurus realizes that, no matter how hard he tries to do the right thing, he'll always end up ruining things because, apparently, he has an ego the size of a proto-planet. The solution? Invincible has to kill him.
The next panel shows a dejected looking Invincible walking out of the evil lair, covered in blood. Cecil shows up, reveals that the Global Defense Agency has figured out a way to lower water levels, and announces that Invincible's actions led to about 800,000 dead. Invincible is ready to go to jail or pay for his crimes in whatever way he needs to. Instead, Cecil offers him his old job back.
"I've worked with villains before," says Cecil. The important thing, apparently, is for Invincible to realize he doesn't have all the answers. This is a good start from my perspective. Coming back about 70 issues after I stopped reading this series, I can see it has matured, deepened, and taken on its own mythos. I just hope they can keep it up. It's a pretty high bar Image has set for itself.
Rating: 4 / 5 Stars