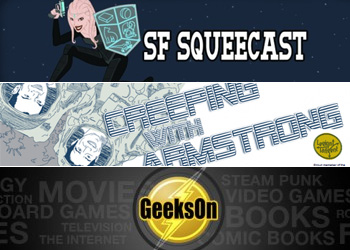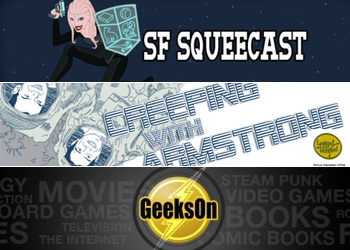 The long-awaited final edition of the Podcast Roundup has finally arrived! In this one, we'll take a look at some podcasts that cover a range of geeky topics in each episode, especially those that cover sci fi and fantasy television shows and movies. First in this category is Fandomania's own podcast, in which Jason and Celeste spend 45-60 minutes discussing the latest news and review the shows, movies, and games that they have watched and played. They've also been known to record interviews with some pretty cool famous geeks and play those on the show. I know I've said this before, but if you're not already listening to it, seriously, you should start. New episodes come out every Monday, and I'm pretty sure they haven't missed a week since they started several years ago. Once you're finished with it, though, you've got a whole week to fill, so why not check out some of these shows:

Website Features: Episode show notes with list of discussion topics and links, plus links to the podcasters' websites. It's a new podcast, so there is not yet much content. There are no subscription instructions or links, but it is available through iTunes and the RSS link at the bottom of the page can be plugged into either your RSS aggregator to read the blog content or your podcatcher to download the episode mp3s.
Average Length: 50 minutes
Frequency: Irregular, but approximately monthly (it's a new podcast, so it's hard to tell).
About: Editor Lynne M. Thomas (Chicks Dig Time Lords, Whedonistas) moderates wide-ranging panel discussions with other sci-fi professionals (writers Elizabeth Bear, Paul Cornell, Seanan McGuire, and Cathrynne Valente) about the geeky things that make them "squee." Each panelist brings something to the table for the group to discuss, with topics ranging from books to TV and movies to comics, and everything in between. Occasional guests weigh in with their fandoms, too, and each episode ends with a set of questions à la Inside the Actor's Studio, often with hilarious results. There are only eight episodes so far, but I look forward to more geeky goodness from this group.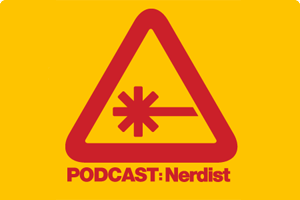 Website Features: Brief episode descriptions, audio feeds, and subscription links are on the podcast page, which is a small part of the The Nerdist blog that features news and reviews covering all aspects of geekdom.
Average Length: 60-75 minutes
Frequency: Approximately twice a week
About: Comedian, writer, blogger, and TV host Chris Hardwick, usually joined by his friends Jonah Ray and Matt Mira, spend an hour or so talking with a famous person or people from the world of geeky TV shows, movies, music, comedy, and other forms of entertainment. Past guests have included the likes of J.J. Abrams, Penn & Teller, Patrick Stewart, Neil Gaiman, Wil Wheaton, and Felicia Day. Although the guest's current projects are discussed, the conversations are much wider-ranging than a simple interview, covering all manner of geeky things that the participants are interested in. I can't wait to listen to more of The Nerdist's huge backlog of episodes to find out what some of my favorite stars are into. (Due to the frequent dropping of the f-bomb, this podcast is probably not appropriate for young ears.)

Website Features: TVZ's well-laid-out website has the requisite links to iTunes and RSS feeds in a prominent spot at the top of the side column, and information about the most recent podcast, including a play button to listen to it, and links to descriptions for other recent episodes are front and center on the page. Unfortunately, the show descriptions are very short and don't always give a complete list of TV shows or other topics discussed in a particular episode. In addition to the podcast info, the blog includes news articles and reviews pertaining to genre TV shows.
Average Length: 1 hour
Frequency: Approximately weekly
About: Jeff, Chris, Chuck, and Katie get together each week to discuss the latest news and most recent episodes of their favorite genre television shows, including Doctor Who, Torchwood, Fringe, True Blood, and The Walking Dead. I enjoy their commentary on shows I watch, but their episode descriptions are so brief that it's hard to tell how much of any one show I am going to be interested in listening to. There is nothing resembling even a topic list or show notes, much less timings to help me skip over the parts about shows that I'm not interested in (the more podcasts I listen to, the more I appreciate the extra effort Jason puts into the detailed notes for the Fandomania podcast). Many episodes also contain an interview by Chris, and I'm talking huge names here — people like Bear McCreary, Jane Espenson, Mark Sheppard, and George R.R. Martin. This is not a podcast for young ears, due to language and mature content (which, ironically, tends to be found in highly immature conversations) but avid genre TV fans should definitely check it out.

Website Features: The show notes and links for the latest episode are front and center, and there are links to past episodes and the show's RSS feed (it's also available through iTunes). The website also has geeky links and a forum where listeners can discuss geeky topics to their hearts' content.
Average Length: 90 minutes
Frequency: Irregular, but at least once a month
About: A small group of professional geeks get together to discuss the latest geek news, go on tangents, and rant about most geeky topics you can think of, including comics, games, movies, and television. These are people in the know, and they cover a wide range of topics. It's not a podcast I'm going to continue listening to, but that's mainly because they're long and I'm just not that interested in making my way through gaming and comic discussions to possibly hear something about a TV show or movie I like. If you do like all the things I've mentioned so far, however, you should definitely give it a try.

Website Features: Prominent RSS and iTunes subscription links, where to find the SFPL on various social media outlets, and detailed episode descriptions including timings, links, and other assorted show notes.
Average Length: 60 minutes, but varies widely, anywhere from 30-45 minutes to 2 hours.
Frequency: Irregular — at least twice a month, often weekly, sometimes more frequently.
About: Cat and Eric, along with assorted other regular contributors, talk about all things related to genre TV and movies. They thoroughly discuss the latest episodes of just about every genre TV show out there, plus recent sci fi and fantasy movies including Harry Potter, Transformers, and TRON. In addition to the detailed show notes, the episode titles very helpfully list the shows being discussed in that episode, which is great for me as I work through back episodes — I can tell at glance which shows to download and which to skip. This is one I'm adding to my list of regular listening, and I can't wait to get into the backlog of episodes to find out what Cat and crew have to say about my favorite shows.

Website Features: Playlist of recent episodes, all manner of subscription links, instructions for subscribing to their "Week in Geek" email newsletter, the requisite info on the show and its hosts, and links to other podcasts they find interesting.
Average Length: Just over an hour
Frequently: Approximately monthly
About: CWA can basically be described as "two blokes sit around and talk about stuff." What makes it appropriate for this article is that the stuff they talk about is, for the most part, sci fi movies, tv, and comics. James and Ross have been friends since they were kids, and it's fun to listen to their banter about the geeky things they're interested in at the moment and the ones from their childhoods that made them geeks to begin with. They're British, so they have a different perspective (from mine, anyway) on things, too, which is always entertaining. It's a good, general, wide-ranging podcast that doesn't take itself seriously and is an entertaining hour of background listening.

Website Features: RSS Feeds for the blog, links to GS on Twitter and Facebook, blog posts with news and reviews of current TV/movies/comics/books/games, and of course podcast episode descriptions.
Average Length: Varies by specific podcast — anywhere from very short (less than 30 minutes) to very long (more than 90 minutes)
Frequency: Again, varies by podcast, but there is generally at least one new podcast each week.
About: The Geek Syndicate started out as a single podcast, hosted by two British geeks, Barry and Dave, who talked about a wide range of geeky topics including TV, movies, comics, and games. Along the way, the Syndicate has become home to many other podcasts, some of which were short-lived and others of which are still quite prolific. The original Geek Syndicate officially ended last fall, but all of the back episodes are still in the feed (in case you want to hear them discuss things from as far back as 5 years ago). As for the other shows available, two of the more notable ones (and the most prolific) are Dissecting Worlds (a still-ongoing show in which two guys examine social science issues in various science fiction media — look for the earliest episodes about various SF empires under the podcast's original name, "Two Geeks with No Name"), and Scrolls (also still currently running and discussing speculative fiction books). If you're a comic book nerd or a gamer, be sure to check out the podcasts specific to those topics as well. On the right side of the web page, you can find links to the episode descriptions of the most popular and most current podcasts in the Syndicate, but be sure to check out the podcast feed for every podcast episode in the archive — there are several that only have few episodes but are still worth a listen.
---
Thanks for your patience with this last edition. As always, share your favorites that I missed in the comments, and tell us why we should listen to them. I hope you enjoyed the series — stay tuned for a wrap-up post with tips on where to look for more podcasts to listen to.