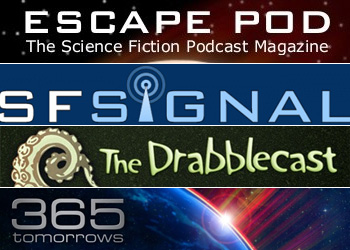 Whether you like to listen to science fiction and fantasy stories or read and write them, you should find plenty in this month's list to keep you occupied.
Audio Short Fiction Podcasts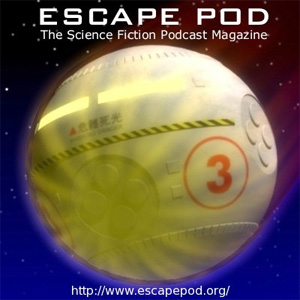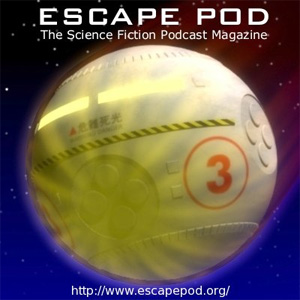 Website Features: Links to RSS Feed and iTunes, plus the option to subscribe via email. In addition to the full podcast feed, there are kid-friendly and family-friendly feeds, plus a "best of" feed that serves as a good intro to the podcast for newbies. There is a blog with information and story texts for podcast episodes, plus the occasional sci fi book reviews or other sci fi-related article. The website also hosts a discussion forum for talking about the stories.
Average Length: 45 minutes
Frequency: Weekly – New podcasts are released every Thursday.
About: I think Escape Pod is one of the best audio fiction podcasts out there; it's definitely the best of the ones that I listen to regularly. They pay professional rates to authors for the rights to podcast their short stories and have featured the likes of Cory Doctorow, Mary Robinette Kowal, Cat Rambo, and Kij Johnson. Each episode features one story (or occasionally several flash fiction stories), plus feedback from a prior episode based on forum posts and a minimum of commentary (Escape Pod editor Mur Lafferty and podcaster Norm Sherman alternate taking the hosting duties). There is a nice variety of stories within the "science fiction" designation, including space opera, steampunk, cyberpunk, aliens, and time travel. Escape Pod is part of Escape Artists, Inc., which hosts two other speculative fiction podcasts: Podcastle for fantasy stories and Pseudopod for horror. If you prefer either of those genres to sci fi, it would be well worth your time to check them out.


Website Features: Story texts, non-fiction articles, links to individual episodes for online listening or download and to a separate page with several subscription options for the podcast RSS feed, and access to back issues of Clarkesworld Magazine, where you can both read and listen to past stories.
Average Length: 45 minutes
Frequency: 3 times per month
About: Clarkesworld is a semi-pro speculative fiction e-zine that has won the Hugo award for the past two years. Each monthly issue contains two or three short stories and several non-fiction articles. Podcast host and story narrator Kate Baker brings us the fiction stories from each issue in audio format. The Clarkesworld podcast is very similar to Escape Pod, with many of the same authors featured in both places, but the stories rarely overlap. Clarkesworld is also open to submissions from non-famous authors — be sure to check out all of their rules, regs, and guidelines on the website. This is another great choice for those who can't get enough audio science fiction but don't want to listen to a whole audiobook.


Website Features: Links to podcast subscription options, forums for discussing stories and submitting Twit-fic, and access to Drabblecast B-Sides, a separate podcast feed with stories or features that for whatever reason don't fit in a regular Drabblecast episode.
Average Length: 30 minutes
Frequency: Approximately weekly
About: Norm Sherman, co-host of Escape Pod, is the host and producer of the Drabblecast, whose tagline sums up the podcast quite well: "Strange Stories, by Strange Authors, for Strange Listeners." Each episode features a Drabble (a story of exactly 100 words in length), a "flash fiction" story (2500 words or less), and a "Twabble" or "Twit-fic," a listener-submitted very short story of exactly 140 characters in length. Sometimes, listeners are also rewarded with news, feedback, poetry, or one of Mr. Sherman's strange songs. Listeners are welcome to submit stories in any of the aforementioned categories, as long as they are quirky and weird. With the Drabblecast, you never know exactly what you are going to get — it could be anything from relatives of Cthulhu to zombie clowns to mysterious and cuddly cryptids to pretty much whatever you can imagine. You can be sure, however, that it will be highly entertaining and a lot of fun.


Website Features: Podcast subscription info, a daily flash fiction story, and a form for submitting your own flash fiction story to the site.
Average Length: Less than 5 minutes
Frequency: Irregular
About: Six years ago, a group of people decided to start the 365 Tomorrows blog with the goal of publishing one flash fiction story each day for a year. When the year was up they kept going, and they haven't stopped since, although they did start accepting submissions from readers/listeners (use the form on the website to send them your 600-words-or-less story). About half-way through the first year, they decided to add a weekly podcast where they would share selected stories in audio form. They are interesting, compact science fiction stories that don't take much of your time to listen to. The blog continues to post daily stories, but the podcast feed hasn't put out anything new in eight or nine months. Still, there is a substantial backlog of previous episodes that are worth listening to.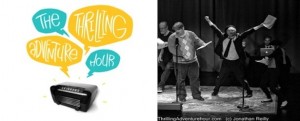 Website Features: Show segment descriptions, writer and cast bios, a blog with commentary on new episodes, and information on getting tickets to the live shows. There is a fairly prominent link on the home page for subscribing to the podcast, but it appears not to be up-to-date. The iTunes link is fine, but if you want to subscribe using something else, you need to get the feed information from The Nerdist because the old feed link stops six episodes ago. (I was wondering why I hadn't gotten a new one in a while…)
Average Length: 20 minutes
Frequency: Weekly
About: For a departure from narrated short fiction, try The Thrilling Adventure Hour, where you will hear funny science fiction-related stories presented as old-time radio shows. The segments are recorded at monthly live shows in Los Angeles and include such interesting recurring characters as Sparks Nevada, Marshall on Mars (my favorite of the lot); Jefferson Reid, Ace American; Captain Laserbeam; and the supernatural detective duo/high society lushes Frank and Sadie Doyle. To further the old-time radio feel, episodes often include a word from sponsors like Patriot Brand Cigarettes. Despite a bit of difficulty in locating the feed for the iPod-less crowd, it is a highly entertaining podcast that is definitely worth looking for.
Podcasts About SciFi/Fantasy Books and Authors

Website Features: RSS and iTunes subscription links and an archive of all past episodes, plus a regular web comic, sci fi book reviews, and articles by such contributors as the Booze Nerd, Art Nerd, Tech Nerd, and Fitness Nerd, just to name a few.
Average Length: 45 minutes
Frequency: Weekly
About: Blogger Patrick Hester and Singer/Songwriter John Anealio spend a little bit of time at the beginning and end of each podcast discussing news, events, and personal goings-on, but the bulk of each episode is an interview with a notable name in speculative fiction media (usually an author). The discussions are enjoyable to listen to as well as informative. I especially like the fact that they have links to all past episodes on the website, because the feed does not go back nearly that far. After just a glance through the list, I already know of several interviews that I will definitely go back and listen to!

Website Features: The podcast is a feature of the SF Signal blog, which posts a variety of science fiction-related articles and reviews. Links to the podcast feed (both iTunes and RSS) are prominently displayed on the left side of the page.
Average Length: 30-45 minutes
Frequency: Approximately twice a week
About: The SF Signal Podcast is hosted by Patrick Hester of The Functional Nerds and features two types of shows — panel discussions and author — that each go out once a week (most of the time). Panel discussions consist of four or five SF Signal "Irregulars" (as occasional contributors to the blog are called), who talk about a topic related to science fiction and fantasy, including books and authors, other sci fi and fantasy media, publishing, conventions, and whatever else Patrick can think of. Author interviews are just what they sound like — Patrick and usually one or two others talk with someone who has written science fiction or fantasy books (usually, although sometimes they talk to editors and others who work in the publishing industry). Both panel discussion and interviews are entertaining as well as interesting. SF Signal is a good choice for people interested in the world of written speculative fiction — I have added several authors and books to my "to read" list as a result of listening to this podcast.
Podcasts About Writing Speculative Fiction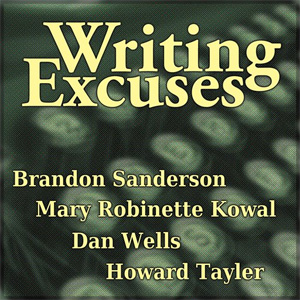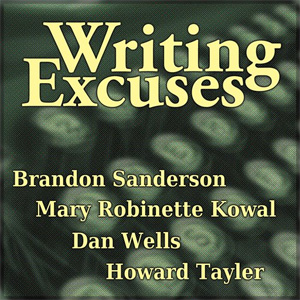 Website Features: Episode descriptions/show notes, podcast subscription links, and links to transcripts or summaries of older episodes.
Average Length: 18 minutes
Frequency: At least weekly, sometimes more often.
About: Four professionals in the world of speculative fiction writing — Mary Robinette Kowal, Brandon Sanderson, Howard Tayler, and Dan Wells — spend 15 minutes giving pointers and advice for people who want to be authors themselves. The information is concise, practical, and specific, covering topics related both to the technical aspects of writing (plotting, characters, etc.) and to the business side (getting published, finding an agent, etc.). It is delivered in a manner that is fast-paced and to the point, with no chit-chat or wasted time. This is a must-listen podcast for the wanna-be writers out there.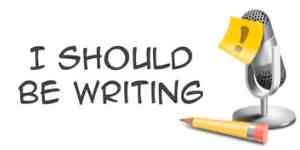 Website Features: Episode descriptions and online listening or downloading capability, other writing-related musings from Mur, and premium content only available with a paid subscription (along with instructions for becoming a premium subscriber). The website is lacking, however, in clear links/information about how to subscribe to the podcast feed — it would be nice to have a link to the subscription information on Mur's main website — but you can find it on iTunes, if that's your thing.
Average Length: 50 minutes for regular episodes, 20 minutes for feedback episodes.
Frequency: Approximately twice weekly (ideally, one regular show and one feedback show per week)
About: Mur Lafferty, co-host and editor of Escape Pod, is also a science fiction writer and in this podcast she shares her struggles with other wannabe sci fi writers. Regular episodes generally start with commentary from Mur on some topic related to her life as a writer at the moment, followed by an interview with either a professional writer or someone who works in the publishing industry, focusing on tips and information for new writers. In feedback episodes, Mur answers questions and gives advice to aspiring writers who have emailed her. Occasionally she will also put out an ever-popular "Good Cop-Bad Cop" episode where she and her friend Matt respond to listeners' questions from two vastly different points of view (Mur is the Good Cop and Matt is the Bad Cop), and amazingly, people continue to volunteer to receive Matt's verbal abuse! Mur's is a more personal and rambling approach than that of Writing Excuses, but her podcast is a valuable resource nonetheless.
---
This is just a sampling of the podcasts that are out there — I had so many favorites that could not be left out so I was forced to skip over other good audio fiction podcasts like
Starship Sofa
and
Beware the Hairy Mango
. So, what are your favorite podcasts related to speculative fiction books and authors? Please share in the comments! And stay tuned for one more podcast category: TV, Movies, and General Geekery.