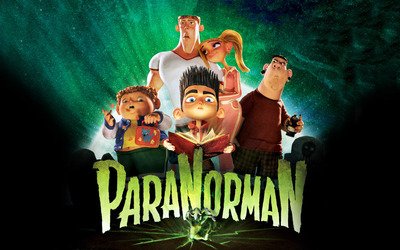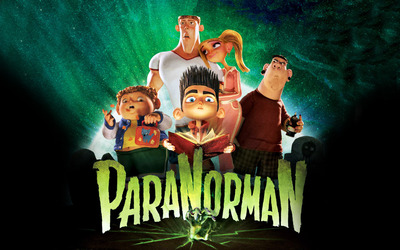 Zombies have gotten so mainstream over the past couple years that anything with them seems trendy and makes my skin crawl. No, I'm not scared of the living dead; I just hate fads. So I looked at ParaNorman as a way to get the Nickelodeon market on that bandwagon — another ploy in the media to make a buck. But after seeing it, I'm eating my words. It isn't just a zombie flick for families to enjoy together for an average 14 bucks a ticket; it has an interesting storyline that falls into another media mainstay that doesn't bother me quite as much: bullying. So with two ever-present topics in entertainment, ParaNorman takes you on a heart-stopping and heart-wrenching adventure.
In a Hocus Pocus type story, Norman lives in a small town where the folklore of an old witch is what defines where he calls home. He's an average looking kid with a generic family of a mom, dad, and older sister. He rocks skinny jeans and skate shoes. With one glance he's just another kid, but then you add on that he can see and talk to the dead… and that's where the story really begins. Everyone thinks he's a freak because, let's face it, "talking to dead people" isn't a number one quality you look for in a person.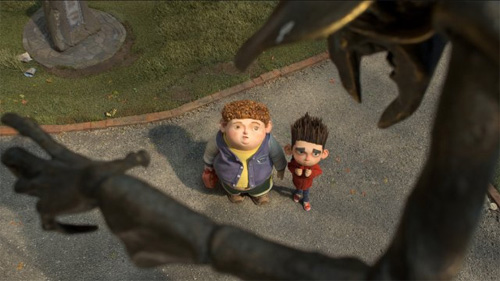 The action of ParaNorman comes with an old curse that finds Norman as the only one who can stop zombies from lurking the town. What those zombies did 300 years ago not only needs to be fixed, but will show Norman and the rest of his town the reality of their current state. Everyone will leave believing the tagline, "You don't become a hero by being normal."
Let Me In's Kodi Smit-McPhee plays Norman and does a good job of making you fall in love with an animated character. He's a nice balance of weird and badass that, if real, would be somewhere between Michael Cera and Ezra Miller. The rest of the cast will find a place in hearts too, from Twilight's Anna Kendrick as Norman's boy obsessed sis, Courtney, to Superbad's Christopher Mintz-Plasse as the bully Alvin. Of course the only place McLovin could ever be the bigger man is in animation, right? But it's Tucker Albrizzi as Neil, the chunky kid with sass, that's the breakout star. His one liners are the most quotable of the entire film.
ParaNorman has zombies, which will appeal to every adult who waits forever for the new Walking Dead, but will of course be a movie kids choose to see if they are the only ones under the sun who haven't seen the superhero cash cows The Avengers and The Dark Knight Rises. The previews don't showcase the amount of laughs and heart that ParaNorman is capable of. It's in theaters August 17th, so take a kid — or don't — and enjoy.