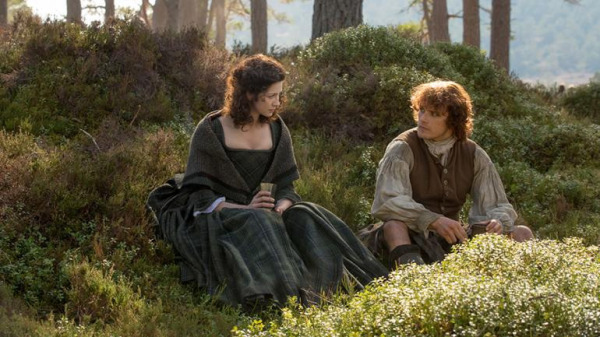 Other than Game of Thrones, I have never been more impressed with a book-to-television adaptation. Outlander has been fantastic. I feel just the same as I did eight weeks ago when I wrote my first review — except maybe that my admiration for the show has increased. I was going to write a long review but fans would get bored reading a lengthy essay. Let's just take a look at some of the highlights the show offered us these past eight episodes.
Caitriona Balfe and Sam Heughan are Claire and Jamie. Their acting really has brought the characters to life. I'm not just talking about their appearance, either. Caitrionia has Claire's wits and sass down perfectly. Sam is able to project Jamie's gallantry and wry sense of humor in a way that makes fans love him. Jamie and Claire's chemistry allow us to trace their relationship from the first glance to their wedding night. It's been a great journey seeing these two come together on television.
Tobias Menzies's portrayal of Black Jack in episode 6 made chills go up and down my spine. His acting was phenomenal. In the books, you know Black Jack is evil. You read about what he does. Actually seeing it acted out on screen is different. I wasn't sure it could pulled off. I know he does worse things in the novel later on and I am already shivering to see how Tobias pulls those scenes off. If his performance so far is any indication, it's going to be amazing.
3.8 million live viewers (not counting VOD and DVR) tuned into "The Wedding" episode. You could say it was the steamiest episode of the year. It was very well done.
The attention to detail on this show is amazing. The costumes and props are a feast for this history lover's eyes. I had to look up some of the stuff Caitrionia was being dressed in in episode 2. I love shows that make me want to research interesting things I've seen on them.
The scene in the mid-season finale where Claire almost made it back through the stones was probably the most heart-wrenching scene in the series so far, in my opinion. I almost wanted her to get back more so than I did when I read the books. Her getting caught by Redcoats happened differently in the books, but I loved this new scene better. It was so emotional and you really felt for Frank and Claire. It really shows what she was giving up by not making it back to the future.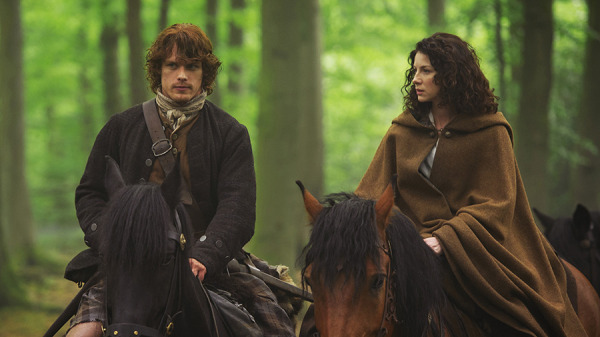 Gaelic is mentioned as being spoken a lot in the book and it's great to see it being used on the show.
Claire getting ready to use the potty to help the ladies waulk wool was one the funniest moments on the show.
Sam Heughan in a kilt is one of the most glorious things I've ever seen on television.
Diana Gabaldon's guest appearance was great. It showed her love for her books and her involvement with the show.
Last night, fans tuned into the Outlander mid-season finale. Fans probably did so with a bit of sadness. The series doesn't resume until April 4, 2015. The show has been so amazing and it will be hard not seeing new episodes for months. We do have a lot more intense action and romance to look forward to in April — it's just going to be really hard to wait. There are always the books, though!