My hopes for Outlander, at least episode one, were completely fulfilled. It was fantastic. I am very happy that Starz decided to offer fans a preview of episode one, aptly called "Sassenach", before the official air date. I was ready to watch. I made a point to be as unbiased as I could. It was difficult. It was easier to watch the first half objectively. Once Jamie appeared, it was a bit harder. I looked at things such as acting, adaptation, and just how well done the finished project was. I wasn't disappointed in any of these things. It's hard to turn a good book into a great live-action production. Ronald D. Moore has not failed so far.
Most eyes were turned to the actors playing Claire, Jamie, and Frank. Caitronia Balfe, Sam Heughan, and Tobias Menzies did an amazing job. Caitronia had the wit and charm of Claire down pat. I loved that they kept in her famous catchphrase. Sam's Jamie was great from what I have seen so far. Characters can be described in books but I am sure it can be difficult to bring them out of the page. Tobias Menzies probably has the toughest job, playing dual roles. He portrayed Frank's scholarly kindness and Black Jack's dastardly personality with impressive skill. The two characters are vastly different. I look forward to seeing more of his talent. The introduction of more of the book's characters is something I am looking forward to. It will be interesting to see how the stars interpret the characters in the plotlines to come.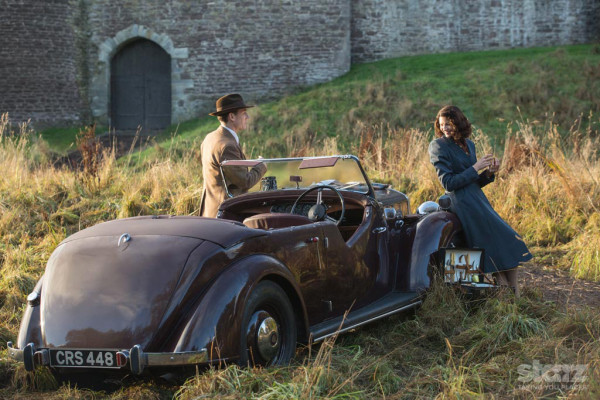 Moore did a great job with adapting the most important things in the book and adding in small bits to enhance the story. We get a deeper look at Claire and Frank's marriage and Claire's life in the war. I liked this added touch. The show helps you to get to know Claire without her first person point of view. A few things, like the time of year she gets sent back in time, was changed. A few scenes from the book were cut out or shifted around. There was nothing too dramatic that took away from the books. I did notice a lack of a certain young boy who becomes really important in the later novels. I was looking forward to seeing him. They are probably holding off to see how Outlander does before doing any more of the novels. I am glad they still put in Claire's narration during the show. It was done just enough to keep to the book's style and reveal her thoughts and feelings. The costumes and settings were gorgeous. I loved the scenes filmed in the Scottish countryside. I felt like I was there.
Overall, Ronald D. Moore kept the heart and soul of the novel. The right amount was trimmed away and the best parts were kept in. His production was a feast for the eyes and pleasing to this fan of the books. He did the right thing by asking the author, Diana Gabaldon, to consult with the staff. The show promises to please fans of the books and draw in new viewers into the Outlander world. The official premiere date is August 9th on Starz so don't miss it!