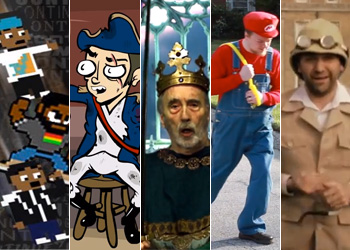 So this week's list (a little late) features some repeat artists, plenty of Super Mario songs, and a couple of tracks mentioned by the editors of the site. Let's get back to the videos!
mc chris – "Twin Peaks"
This isn't actually a new video, but it's new to me. Thanks to our own managing editor, Jason, for Tweeting about this one. I knew the song, but hadn't seen this video. Now I want pie…
Christopher Lee – "The Bloody Verdict of Verden"
Another one that's not new, but new to me. And thanks to our other editor, Celeste, for this one. I had no idea that Christopher Lee was a metal head. This song is from a concept album entitled Charlemagne: By the Sword and the Cross. The whole thing is definitely worth a listen.
Professor Elemental – "The Chronicles of Professor Elemental – Episode One, 'Discovery'"
Last week I featured a music video from the Professor, but this one isn't just a music video. It's the first of a three part series about, well, the chronicles of Professor Elemental. In addition to the story, there are also songs, so it fits the list anyway. Lovely!
Captain Dan and the Scurvy Crew – "Sea Monsters"
It's not a new song, but it's a new video for the song. It's one of my favorite Captain Dan songs, and the video is quite enjoyable as well.
I Fight Dragons – "cRaZie$"
OK, guys, I know you've seen enough movies to know better than to play a game called "Hipster Nomicon" while in the middle of the woods in an abandoned cabin. What'd you expect to happen?
Dual Core – "All the Things"
The title track from Dual Core's All the Things is my favorite on the album. I'm bummed I missed them at Nerdapalooza last year, but at least there's this video.
The Mountain Goats and Kaki King – "Thank You, Mario! But Our Princess Is in Another Castle!"
OK, I never would have pegged John Darnielle for a geek, but he's actually written a song about Mario from the perspective of Toad. The song (and fan-made video) may be rather old, but I recently discovered the song via the Vlog Brothers' "Evening of Awesome at Carnegie Hall." And if you haven't checked out that video, you really should.
SkyBlew x Mega Ran x WhizKid – "Game Over"
Life can be like a video game, but you've only got one to live. So live it to the fullest before it's "Game Over."
Mikal kHill and Romero Shaw – "Smash Bros. (Mario vs. Sonic / Nintendo vs. Sega)" (NSFW)
As much as I can appreciate the Sonic the Hedgehog games, I definitely have to agree with kHill that Super Mario Brothers are much better.
Star Wars Rock – "Interjections"
How can you not automatically love a mash-up of the Grammar Rock song "Interjections" with scenes (and a few interjections, too) from Star Wars? You can't, of course, so go watch it now!
Insane Ian – "Bob-Omb"
Let's end this list with yet another Mario song, this one a parody of Bruno Mars's "Grenade." I haven't actually heard the original, but Insane Ian's take on it is quite funny. Takes a bit of a dark twist at the end, but it kind of makes sense.
Captain Dan and the Scurvy Crew
,
christopher lee
,
dual core
,
I Fight Dragons
,
Insane Ian
,
kaki king
,
mc chris
,
Mega Ran aka Random
,
Mikal kHill
,
Professor Elemental
,
romero shaw
,
skyblew
,
star wars
,
the mountain goats
,
whizkid