Being a nerd or an avid fandom follower is not the hidden shame it once was. With people running around playing Pokémon Go and convention attendance growing, people are finding themselves in a large family of like-minded people. Mostly thanks to the Internet, people are open about their fandoms and nerdy activities. However, there are still moments and things we do that make us embarrassed. It could be a memory of that one time at Dragon Con or something you still do that you are afraid to confess. That is why this article was born. We all still have nerdy secrets. I asked around, with the assurance of anonymity, of what the nerdiest thing they ever did was or something they still do.
These are those responses.
I am a sucker for digital game sales, Humble Bundles, and things like that. I have over 400 games on Steam and almost 300 on Xbox Live. I probably have played about 1/4 of those, but I am convinced I'll get around to all of them one day.
Even though Rey is an amazing, strong female character who doesn't need a man, I ship her with Kylo Ren. I've spent too many idle hours reading fanfiction about the two.
[I] read a complete strategy guide walkthrough for every civilization race for Civilization V.
I will only play vintage video games if I have the original console they were made on.
At one time [I] had four max-level characters on World of Warcraft. One of them has a whole year of my life of logged in time. I spent a whole year doing monthly achievements working towards the overall achievement which earned me a dragon to fly around on. One of my proudest moments was during a dungeon boss fight that went horribly wrong. I was healing and as I ran out of mana (due to no fault of my own) the group started to die. I was being attacked, out of mana, low on health, when suddenly I leveled up. That means full health and mana. I saved myself along with the remaining group members and we defeated the boss. Truly epic.
A particular episode of Battlestar Galactica literally made me lose hope in life. I was also in a dark place but the death of my favorite character ruined me for a week.
Not as awesome as the gummy snack, but we did put our cats in boxes (with airholes) when we moved and labeled them Schrodinger's Cat I and II.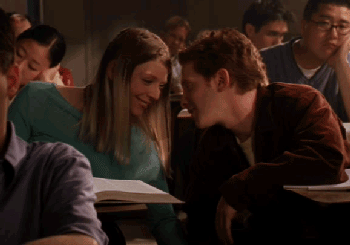 Met an anime voice actor and since I didn't have any paper with me I asked him to autograph my arm instead. For the next week I wrapped my arm in cling wrap every time I showered so it wouldn't wash off.
Spent money on a one-day con ticket just to have an author sign a book. I no longer really like that author.
I remember … way back in middle school … when we did the "Bloody Mary" chant like 100 times [because] we had read about how she stares you back in the mirror!!!
I would hoard my lunch money to save to buy stuff at conventions.
I don't like admitting the absurd amount of time I have spent Googling/YouTubing certain actors (David Tennant, Arthur Darvill, Aidan Turner, Henry Cavill, Colin O'Donoghue, & Eoin Macken, to name a few….) to find out about whatever projects they're working on or to watch interviews they've done, but honestly, usually just to drool.
I also have a tendency to want to track down EVERYTHING said actor has been in and watch it. Example: yesterday I spent nearly two hours watching clips on YouTube that someone had put together almost every scene that Aidan Turner had done in an Irish show called The Clinic because it seems to be impossible to find full episodes anywhere. Today I did the same thing with Colin O'Donoghue because he was on that show before Aidan as well as a couple episodes with him… and I totally fangirled when they had scenes together. If Eoin Macken had been on it too, I would have been a complete mess seeing all of my favorite Irishmen on the screen together!
One of my life events, the first time my lips ever came in contact with a girl's, was after I gave a dollar to a girl at AWA [who] was wearing a sign that said kisses for $1.
I would like to thank everyone who participated!