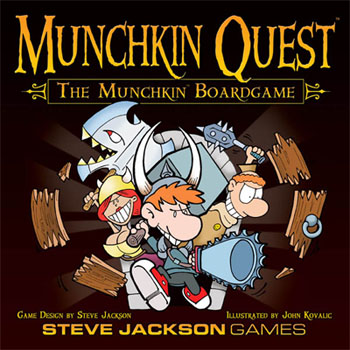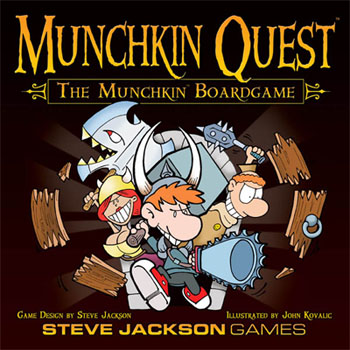 Wannabe dungeon raiders, listen up! Steve Jackson Games has announced that their popular Munchkin card game is making the leap into the board gaming realm. The board game incarnation, Munchkin Quest, was originally intended for release at this year's Origins gaming convention, but the ship date has been pushed back while the designers tinker with last minute adjustments to the play. When the game finally does hit shelves, it'll be available for $49.95. Here's the official blurb from the publisher:
Kill the monster, grab the treasure, stab your buddy. That's what it's all about. Now, Munchkin comes to the boardgame.

Cooperate with the whole group, adventure with a partner, or strike out on your own. You don't know what's behind a door until you open it . . . then another tile is added to the dungeon. Battle monsters for power and treasure, or send them after your friends. Reach Level 10, and then get out alive if you can!

Designed by Steve Jackson, and illustrated by John Kovalic, this boardgame doesn't take itself seriously. Except for the loot – munchkins are always serious about that!

Coming soon to game rooms everywhere . . .
Munchkin Quest, like its card game predecessor, will be an expandable game, and the first expansion pack is planned to release before the end of the year.
Preorder it here: Link