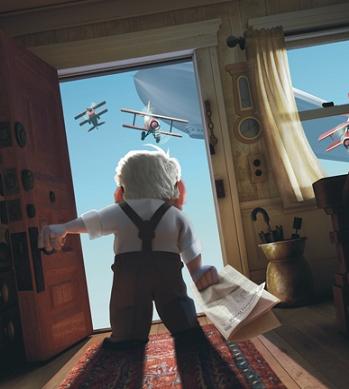 Up
Starring: Edward Asner, Chrisopher Plummer, Jordan Nagai, and Bob Peterson
Written by Bob Peterson
Directed by Pete Docter & Bob Peterson
SYNOPSIS: In order to fulfill his lifelong dream of living in South America, 78-year-old Carl Fredricksen ties thousands of balloons to his home in hopes of traveling there. Unknown to him, young Russell, a wilderness explorer, has become a stowaway on his front porch.
ANAYLSIS: PIXAR has never been one to go with conventional storytelling. From toys with a heart to rats that love to cook, they have a knack for telling a story that has both heart and a sense of wonder and excitement. While their films always have a connection to the human world, Up is the first film to show just what real life can be and how our dreams can come true in the most unusual of ways.
The story begins with a full explanation of how Carl Fredricksen came to be. His life was neither extravagant nor bad, but simply a normal life. A dream that continued throughout his life was to travel to exotic South America, to see Paradise Falls, a place where the mysteries of the jungle dwell.  As is life, he never had a chance to achieve that dream while a young man. Now, old and alone, Carl is pushed to the extreme, namely his knowledge of balloons, in a desperate attempt to take all he knows with him to South America.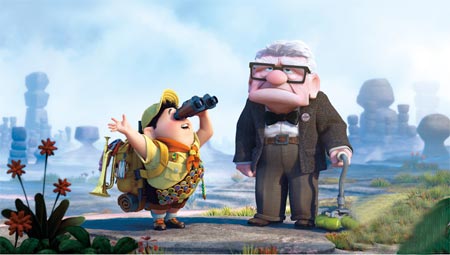 Of course, his escape from a boring life is put on hold when little Russell stows away on his porch. The boy is the absolute of innocence, with a heart more open and pure than most in Disney films today. Even crotchety Carl cannot deny the boy admittance into his home, even if it means things may take a turn for the bumpy. Eventually (with thanks to Russell), the two make it to South America, and that is when the real adventure begins.
I have seen every PIXAR film and have always been impressed with their ability to juggle serious issues (lost family members, isolation, etc.) with wonderful adventure and comedy. Up, though having a much darker beginning (just TRY and not shed a tear in the first fifteen minutes), has one of their best stories in terms of character development and plot. The entire film is a walking, moving metaphor, but one the audience doesn't realize until near the end. Each character becomes a piece of Carl's life, showing him what is, what was, and what will be. Nothing feels forced or thrown in the audience's face. All development is natural, and though it could have fallen into cliche, does not. PIXAR has proven themselves in that respect.
A special mention must be made regarding Dug, the talking dog. I am a cat person and am not fond of dogs at all. However I was in hysterics regarding both Dug and the talking dog pack (yes, there are more). PIXAR not only embodies these canines with realistic actions and responses, but they literally are able to personify what their thoughts are so accurately that even I had to admit that yes, that is what a dog would think. This in no way is an insult to canines but just one of those, "yes… that's true" statements. To avoid spoilers, I'll only say that a gag that includes the Alpha dog is so hilarious that I will need a second viewing to know what is being said in the scene, as I was laughing too hard to hear it the first time.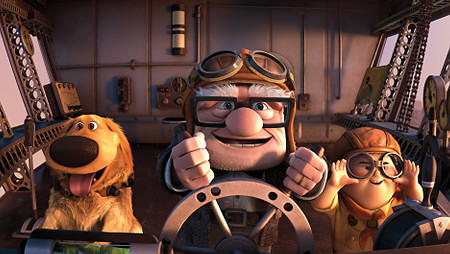 Up is an excellent film, full of action, adventure, heart, and hilarity all rolled up into a wonderful two hours. I highly recommend it to anyone looking for something a little different this year.
Rating: B+