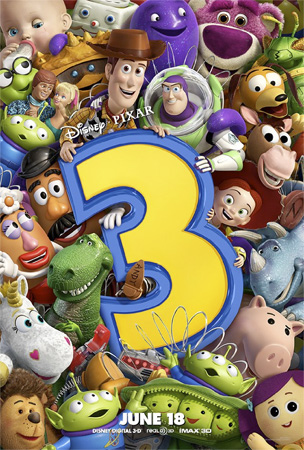 Director: Lee Unkrich
Screenplay: Michael Arndt
Cast: Tom Hanks, Tim Allen, Joan Cusack, Ned Beatty, John Ratzenberger, Michael Keaton
Rated: G
Toy Story 3 had all the right elements of a great sequel: all the talent of the original movies, all the creative minds who made the original, and all the history of a beloved franchise. It's also a creation of Pixar, an animation company whose movies are known for their originality, heart, and continued critical — and financial — success. Oh, and did I mention that I grew up with the series, almost literally if I may add? As an avid fan of the movies, this particular summer sequel had high hopes riding on it from the minute I walked into the theater. Did it live up to my expectations? Did it live up to the hype? Is it yet another astounding film from the powerhouse animation company? To answer these questions: yes, yup, and absolutely.
The movie begins with the a shot of Andy's cloud wallpaper that segues into… a huge chase sequence, with Woody (Tom Hanks), Jessie the Yodeling Cowgirl (Joan Cusack), and Buzz Lightyear (Tim Allen) playing heroes trying to foil the nefarious plot of the combined forces of Mr. Potato Head (Don Rickles), Mrs. Potato Head (Estelle Harris), Slinky Dog (Blake Clark), and Hamm (John Ratzenberger). It seems to have been directed by Michael Bay (read: full of over-the-top special effects, explosions and uses of deus ex machinas), pulled from the mind of an imaginative child. Then, just before the heroes get vaporized into nothingness, it cuts to a 6-year-old Andy (John Morris) playing with his toys in his room while his sister (Beatrice Miller) knocks things over and his mom (Laurie Metcalf) records his ventures.
After a montage of a young Andy is played, the real plot of the film comes to light. Fast forwarding to present day, Andy is going to college and the toys, or who's left of them, are all worried that they'll be exiled to the attic, sold on eBay, or even abandoned on the curb, as nothing but trash. In a series of unfortunate events, however, the toys get mistakenly curbed, except for Woody, escape, and soon head towards Sunnyside Daycare, in hopes for a new lease on life… and that's about how far I can go without revealing any spoilers.
As mentioned before, this movie does live up to the hype and to all of my expectations. The original cast from the last two movies reprise their roles here, even John Morris who grew up with Andy and John Ratzenberger who's been in all of Pixar's films, and several new characters are introduced, many of whom are as great as the original cast (especially Michael Keaton's role as the fashionable Ken). The toys seem all the more real here, as ironic as that may sound, thanks to the advances of the CGI since the last Toy Story (and the 3D sort of helps too). It seems as though they're more emotionally nuanced and, well, more human, which works in their favor as the story itself is more emotionally charged and slightly darker than the last two; in order to keep this specific review relatively spoiler-free, all I can say is that you will laugh, cry, and be gripped to the edge of your seat. The music keeps up with the story too, as expected of Randy Newman's musical talent and involvement with all of three of the films, and it serves as the silent accomplice towards enhancing the audience's emotions, not that it needs to, of course! It's easily one of Pixar's better films.
However, it would be unfair for me not to criticize this film, as meritorious as it is. Like with any Pixar film (so far), it's hard to be too nit-picky about something that's so obviously good. Unfortunately, I did come up with something relatively valid to criticize Toy Story 3 on: a lack of a great song. Maybe it's asking too much, but I really felt that there wasn't a great, new song to be found in the film. I didn't notice it myself, owing to the fact that it had so much going in it, which is possibly the same reason why there isn't a song. However, with such hits from the last two Toy Story movies like "You've Got a Friend in Me" and "When She Loved Me" (the latter of which never fails to make me start sniffling), a Spanish version of "You've Got a Friend in Me" — "You've Got a Friend in Me (para Buzz Español)" — just doesn't seem to cut it.
But other than that, it's a great movie. I don't think I can stress this enough. Most trilogies usually peter out in the end, and there are a select few that consistently make the effort to be as great as the original. But there are just barely a handful of franchises that consistently TOP the efforts made by the original. Toy Story was great and was a game-changer in its own right in terms of the animation and film industry; Toy Story 2 took what made the first so great and made it even better and then some, being consistently ranked one of the best animated films of all time; then this film, while not (yet) being given such sterling accolades as its predecessors, is currently being hailed as one of the best films of the summer. And, personally, it has the most satisfying ending to any film I know. I recommend this film to, well, anyone. And everyone. It's the final part of a story that started almost fifteen years ago, when the world first heard of Woody, Buzz, and a little animation company called Pixar. And to quote Buzz, I'm hoping that this particular film goes "To Infinity and Beyond!"
Rating: 5 / 5 Stars
BONUS: I found this video a few days ago, before I watched Toy Story 3, and it just blew me away. Like the other songs he's made, Pogo, the artist, uses the sounds in a specific movie to create, well, something visually and aurally awesome.