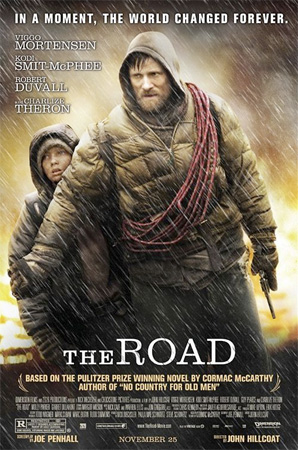 Director: John Hillcoat
Screenplay: Joe Penhall
Based On: The Road by Cormac McCarthy
Cast: Viggo Mortensen, Kodi Smit-McPhee, Robert Duvall, Guy Pearce, Charlize Theron
Rating: R
The apocalypse has become quite popular lately, hasn't it? It seems that cataclysmic destruction is everywhere we turn, and Hollywood has fallen suit. Ironically, The Road was slated to be released last November, and pushed back once again from this October. I can't help but question the release date; this isn't your typical Thanksgiving feel-good family apocalypse, nor does it have lots of pretty explosions that go boom.
The Road, based on the 2006 novel by Cormac McCarthy, directed by John Hillcoat, and starring Viggo Mortensen (as a postmodern Strider) and Kodi Smit-McPhee, is the anathema to the glossy Hollywood apocalypse; it is a tone poem, a character study, a mood piece that examines the human condition when all hopes of humanity is lost.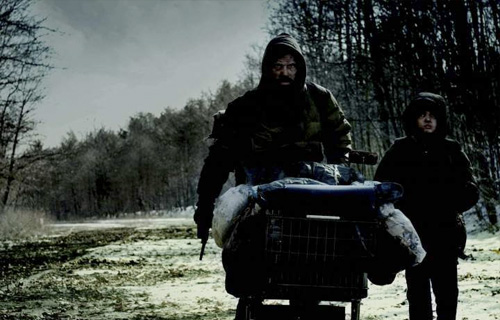 Immediately, the mood is set with an excellent score by Nick Cave and Warren Ellis (who worked with Hillcoat previously on The Proposition), and beautiful monochromatic bleak cinematography by Javier Aguirresarobe, both of which invoke a heightened sense of anxiety, terror and defeat. Both elements work in tandem, yet neither gives anything away nor lets the viewer escape. You are immediately and intimately involved, and you know this will be brutal and you are helpless.
It is the not too distant future, or the very near past. An unnamed apocalypse has killed millions, blighted the land, destroyed our oceans, and covered everything with a fine layer of grey ash. Maybe it's nuclear, maybe it's not. There are a few handfuls of survivors: those that have survived the many years since their world was was destroyed, and those that have survived the survivors.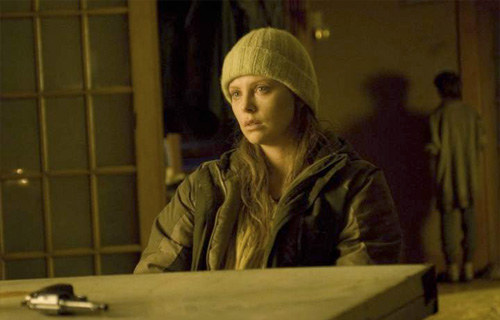 A man and a boy walk the road, armed with a shopping cart, a few cans of food, a map reduced to looseleaf, shoes that are quickly wearing out, and a pistol with two bullets. Soon there is only one. There was a mother once (unselfishly and unflinchingly honest, played in flashback by Charlize Theron). The trees are falling. Winters are getting colder and longer. Food is getting harder to find, and there is no hopes of any medicine left anymore. You don't want to be a woman or a child in this world. You won't survive alone. There are more bad guys than there are good guys. Cannibalism is the biggest threat of all.
Everything depends on going South, and getting to the coast. They could be anywhere. The dialogue, like the landscape and the novel, is sparse. The voiceover feels less like a narration and more like the inner monologue of a man who is slowly descending into a desperate, paranoid mania, a man hell-bent on doing whatever it takes to survive. A can of Coca-Cola and a rainbow provides tiny glimmers of hope, a brief chuckle, moments that allows for the possibility of perhaps a better future, for cracks in their armor. All hope is lost.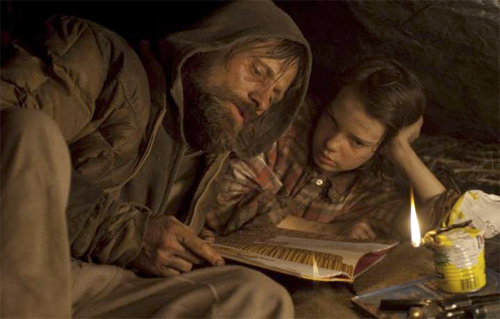 The man and the boy are each other's world. Each is the other's tether to reality, their beacon of hope. The father tells his son of a world with birds and colors, where plants and people grew and thrived, and didn't just survive. The boy knows of no other world; born in the fires of the end of time, he had his childhood ripped from him by catastrophe. They are each other's moral compass, each other's gods.
They are emaciated and filthy, and you can imagine the stench coming off of them, off of every street and looted car, every gutted house, every corpse in the road. Houses, cabins, cities — any could provide salvation, and could bring about their end. The man has a cough. It's getting worse. Other people are ghosts at best, predators at worst. The boy trusts too easily, the man condemns too quickly. Everything is in shades of grey, from the trees to the water to motivations. Hope is where you least expect it.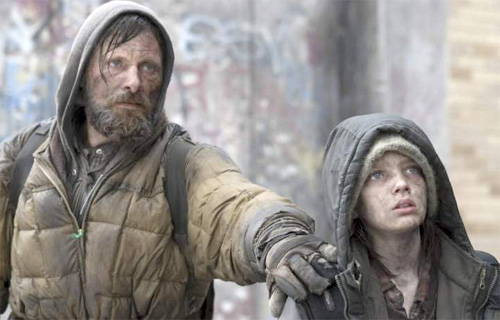 This films stands as one of the better literary adaptations I have seen, and the choices that were made to translate the story from the page to the screen are well made and respectful of the audience's ability to witness, on a microscopic level, humanity at its worst. It is one thing to imagine some of the horrors in the novel alone in your room, it is another to see them portrayed on a giant screen.
The Road is elegaic, contemplative, bleak, yet hopeful. Any post-apocalyptic movie can inspire you to start hoarding canned goods and antibiotics. Very few can question your will and ability to survive.
Do you carry the fire?
Rating: 4.5 / 5 Stars