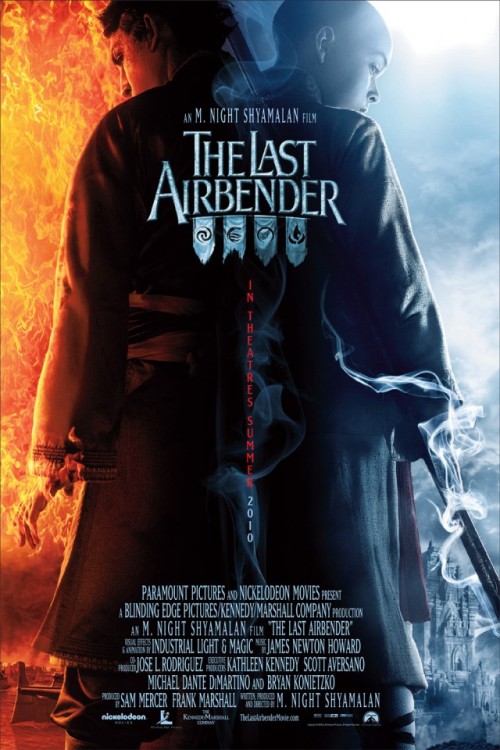 Director: M. Night Shyamalan
Screenplay: M. Night Shyamalan
Cast: Noah Ringer, Nicola Peltz, Dev Patel, Jackson Rathbone, Shaun Toub
Based On: Nickelodeon's animated series Avatar: The Last Airbender
Rated: PG
Avatar: The Last Airbender is one of the greatest animated shows ever written. It takes deep concepts of Buddhism and spirituality and overlays them with charming, dynamic characters that take you on an incredible journey while still maintaining something that both children and adults can enjoy. Mix in some of the most incredible animated martial arts action, and turning this series into something meant for the big screen is no easy task. Even in the hands of a seasoned director, it would be difficult to capture what makes Airbender so good. Shyamalan tries, but he just misses the mark by so far, I wondered if he bothered watching the show at all.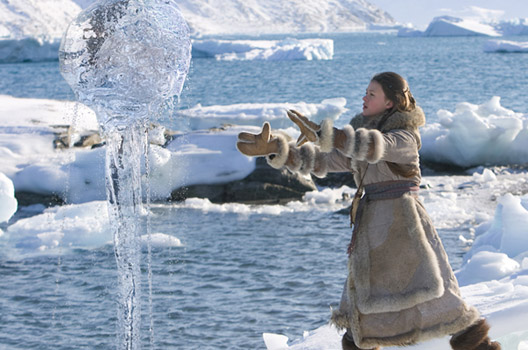 There are still many positive things about this film. Airbender has amazing cinematography. The set designs are gorgeous. Locations feel like proper adaptations of the the settings they're meant to recreate. The movie masterfully recreates places such as the Airbending temples and the Waterbender's ice fortress. I appreciate the commitment to shoot many scenes on locale, instead of resorting to green screening and CG effects. It feels as though this movie would have been a more positive experience if it had been on mute.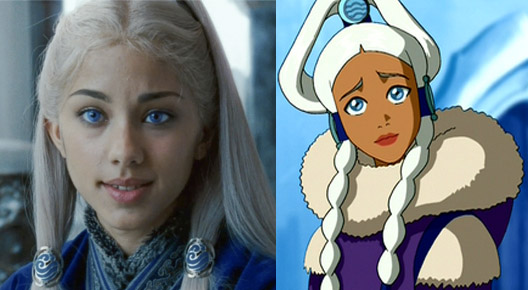 Costumes are beautiful recreations of the characters from the series. Yue was especially my favorite; they took the silver-haired maiden and made her look like a princess who could really exist. I enjoyed the spectacle of martial arts action and bending of the elements. The effects were pretty cool to watch, and again, perhaps the film would have been better with nothing more than a score, because as soon as the characters spoke, the enjoyable elements were lost. It's easy to see Shyamalan is still a talented and capable director. His downfall lies in his seemingly unwillingness to have anyone work on the movie besides himself. He should have had a more talented screenwriter handle the dialogue, because ultimately, that's what destroyed The Last Airbender.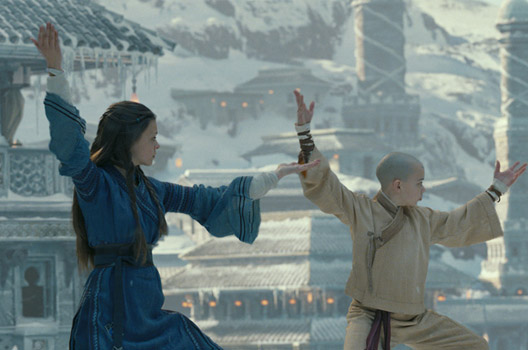 M. Night Shyamalan is a director that, up until this point, has only worked on his own original screenplays, and it shows. There were many changes from the show to the film that felt like they were changes made for the sake of it. It feels like he was trying far too hard to make it his own, instead of a faithful recreation. It's as though every line of dialogue written by Shyamalan says less with more words. I'll give an easy example: every episode of the show opens with a quick summary of the world's back story:
"Water. Earth. Fire. Air. Long ago, the four Nations lived together in harmony. Then everything changed when the Fire Nation attacked. Only the Avatar, master of all four elements, could stop them, but when the world needed him most, he vanished. A hundred years passed and my brother and I discovered the new Avatar, an Airbender named Aang. And although his Airbending skills are great, he has a lot to learn before he's ready to save anyone. But I believe Aang can save the world."
This is spoken over the onscreen action. I have seen it over a hundred times, and I still don't get tired of it. It's simple, concise, and informative. It gives you everything you need to know about the Avatar, and the show's fantasy world, in the fewest words possible. Now contrast that to the opening of The Last Airbender. The silhouetted bending action begins, in complete silence — then, after the action, the audience is met with a wall of text narrating the back story in a confusing and lengthy manner. Why they didn't just use the blurb from the show's opening is a mystery to me. It's not that I am against changes from on medium to another. On the contrary, I realize things that work in animation don't work in live action. I welcome changes when they makes sense, it's just most didn't in the context of this film.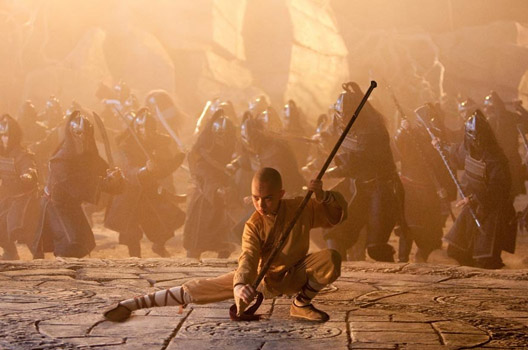 The dialogue is easily the worst and more horrid part of this movie. On most occasions exposition feels like verbal diarrhea. I don't feel the film is miscast (despite most people's outcries over race). I think the actors are all decent and could have done the scenes justice. They just had to deal with delivering such awful and trite dialogue. This is an actual line of dialogue from one of the most dramatic scenes:
"Sokka, I want to believe in our beliefs just like the Firebenders believe in their beliefs."
Lines so clumsily written litter the movie and bring down what could have been a more enjoyable experience.
I didn't see the film in 3D, so I can't comment on the effects. I doubt something that was such an afterthought would be much of a spectacle.
Overall, I feel most reviewers are ungraciously panning this movie because it's the in thing to do. For the most part, it left me feeling empty and left me wanting to revisit the show. I feel the worst part of this movie is that it might turn people away from watching such a great show. Don't misunderstand: it's still pretty bad; but it could be worse, you could be watching Eclipse.
Rating: 2 / 5 Stars