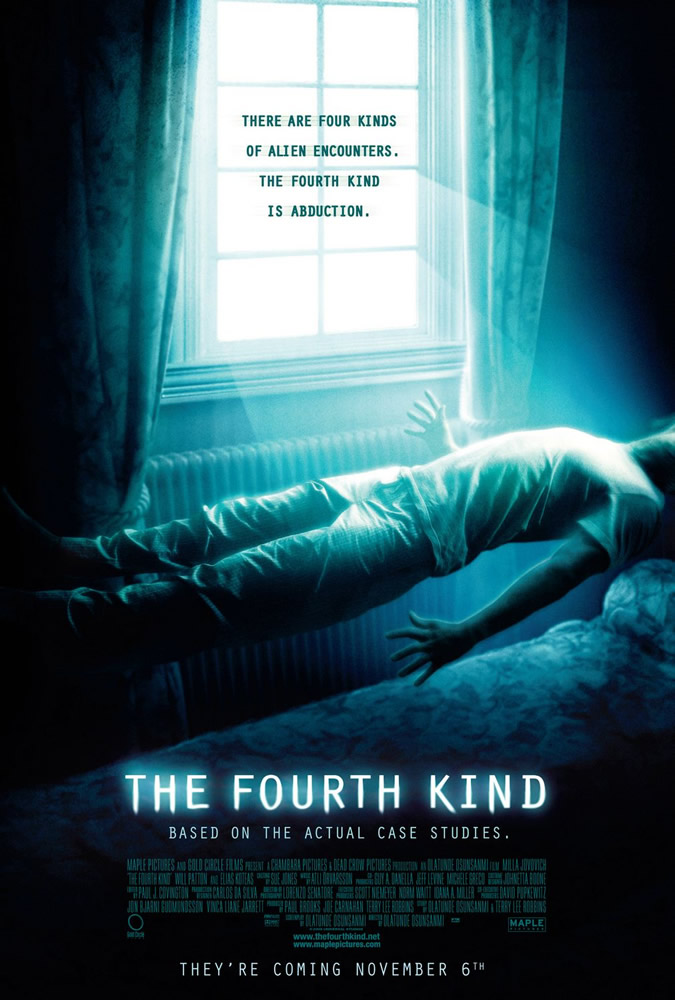 Director: Olatunde Osunsanmi
Screenplay: Olatunde Osunsanmi
Story: Olatunde Osunsanmi and Terry Lee Robbins
Cast: Milla Jovovich, Will Patton, Hakeem Kae-Kazim, Elias Koteas
Rating: PG-13
"I'm actress Milla Jovovich and I will be portraying Dr. Abigail Tyler […] What you are about to see is extremely disturbing."
The Fourth Kind is a movie based on real life events that happened in Nome, Alaska nine years ago that involved a psychologist by the name of Abigail Tyler. The movie incorporates the real life video and audio footage into the recreated footage with the actors, sometimes having both sets of footage side-by-side on the screen. The movie was interesting, but not as disturbing as Jovovich tries to get you to think it is. After the next picture, I'm going to drop a serious spoiler bomb on this review. If you're interested in seeing this movie, I suggest not reading this review because finding out what I did while researching it definitely changed my feeling about it.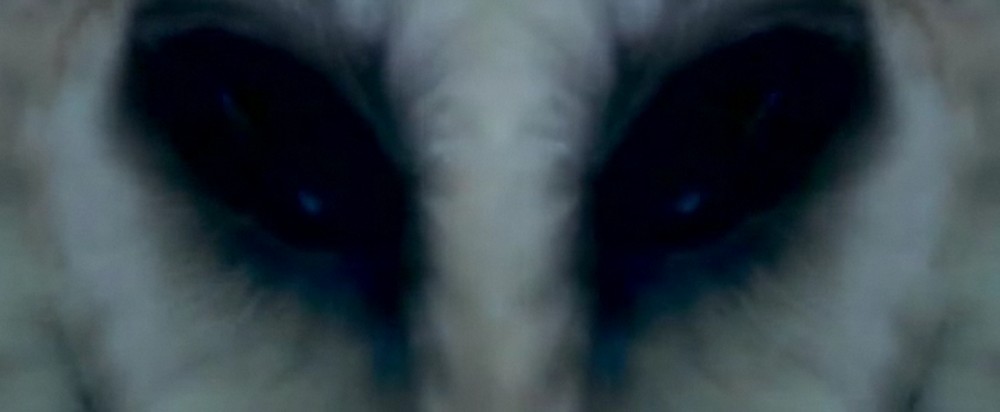 To quote my brother (who was kind enough to go see this movie with me despite having a major problem with abduction movies) before heading into the theater: "This is either going to be the biggest piece of boring crap or I'm going to s@#t myself." What we got was somewhere in the middle of those two options. Which was good, for obvious reasons.
To get this out of the way first, this is not based on real life events. Which is highly unfortunate and a bit disappointing. Honestly, the thought that it had been based on actual events made the movie way more interesting and thought-provoking to me. I mean, the thought that these events actually happened in Alaska is heartbreaking. I couldn't imagine people, this doctor, going through all of this. Losing her husband, losing her children, having a patient kill his family and himself in front of her because he couldn't bear the knowledge of his abduction is awful. I'm not sure if it was the A Christmas Story moment I had at discovering this ("A crummy commercial? Son of a bitch.") or the fact that I got duped that made the realization this was fiction that soured me.
That's not to say Osunsanmi and Robbins did a crap job of writing this story. They did put in a lot of UFO/paranormal elements that real paranormal investigators and researchers have been documenting for years. Having the "trigger object" (the owl) and the time prompts (everyone waking up at 3:33 am) are things people report when describing their encounters. Then to take those elements and place them in a locale that does have a number of unexplained disappearances, and is extremely remote, does breed that fear in the pit of your stomach for the unknown.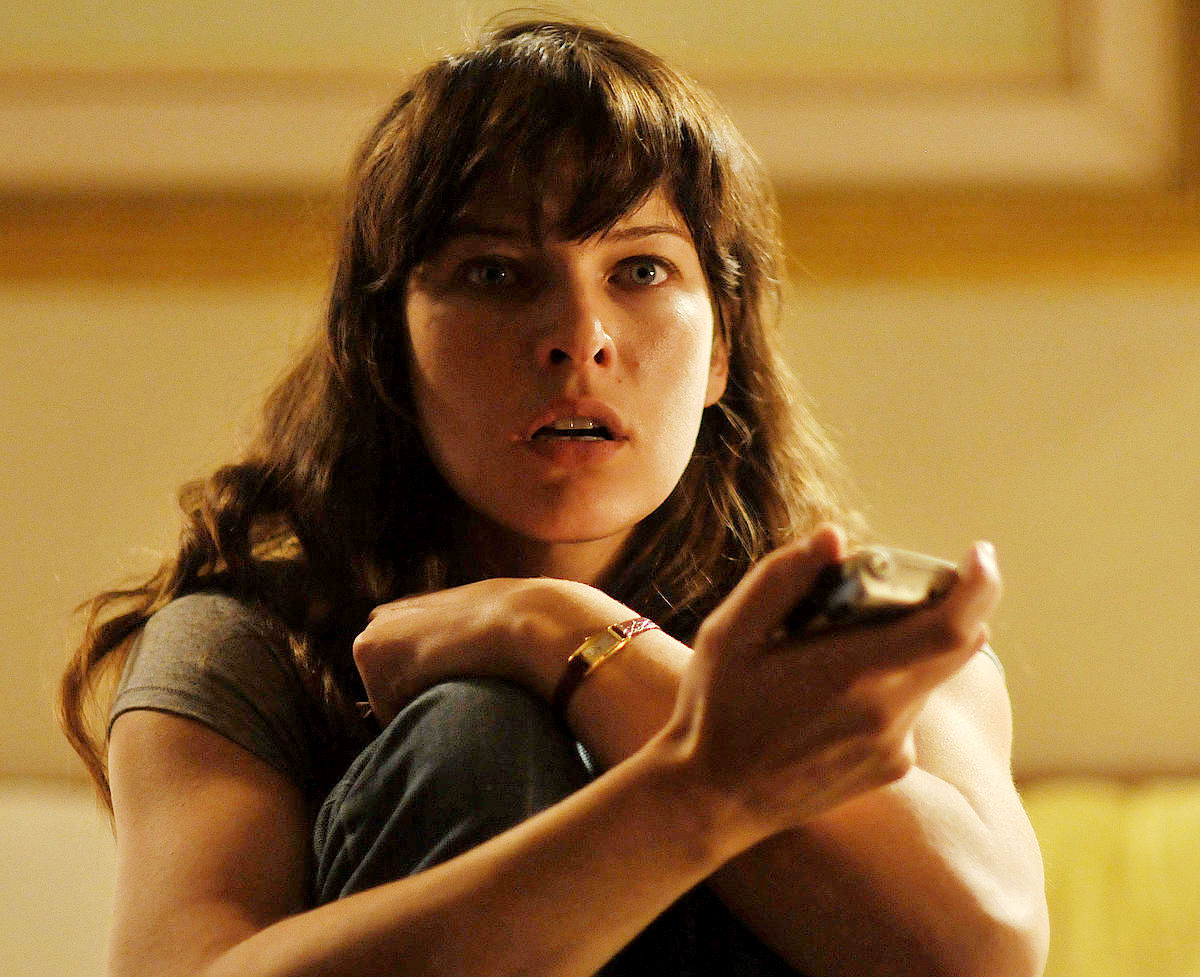 There are a lot of elements in this movie that help reiterate its mantra of "take this evidence and decide for yourself what happened" that spawned a good discussion between my brother and me on the ride home. They give you a number of possibilities of what happened that range from actual alien abductions to the Tyler character being crazy from the suicide of her husband to it being demons that are taking people at night. The demon aspect was very surprising for me, even more so when I found out my brother had thought of it as well. You don't normally go into an alien movie and come out thinking it might really be about demons.
The only thing the movie suffered from was the editing. Again, during our discussion, I asked my brother if it felt like we were watching a History Channel re-enactment show in a theater. He laughed and said that it actually reminded him of the show A Haunting. The "archive" footage was done very well, and in fact was pretty disturbing in a few bits. It was just the way it was edited into the "movie" footage that was awkward (the fades, sharing the screen, etc.), and really made it hard to decide what aspect to focus on. I found myself bouncing between all these mini screens of action for fear that if I focused on the wrong one I'd miss something important to the story.
Coming out of my viewing, I didn't find the movie particularly scary, but I did find it engaging. I thought it brought to light the rift between the Believer and the Skeptic, each completely convinced they are right. The movie is a great example of how we can have all this evidence, we can have all these experiences, but that the only thing we truly know is that we know nothing. How can we be sure, whether you experience it or are just hearing about it, if anything paranormal is true or not? While finding out the entire movie was a hoax based on real missing persons ruined my enjoyment of the movie as a retelling of things that happened, as an actual movie it wasn't as horribly boring as I thought it would be.
Movie Rating: 3 / 5 Stars