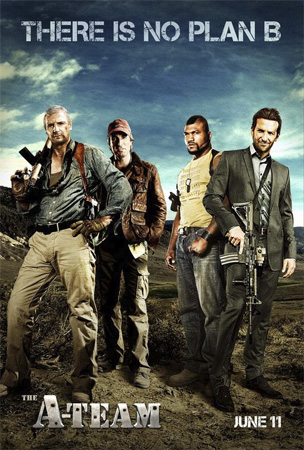 Director: Joe Carnahan
Screenplay: Joe Carnahan, Brian Bloom, and Skip Woods
Cast: Liam Neeson, Bradley Cooper, Sharlto Copley, Quinton 'Rampage' Jackson, Jessica Biel, Patrick Wilson, Gerald McRaney
Rated: PG-13
Before I entered the theater, I made a list of nine things that would make the A-Team movie work for me. Having been a huge fan of the TV show, I was going to be very critical if certain elements were not implemented in the film.
The Intro: Every fan of the show knows the voice-over intro in the beginning credits. I believed this to be something that had to be done. So at the beginning of the film when it didn't show up, I was a bit disappointed. But then, there it was at the end! Well struck!
The Music: Another key thing was the theme song. I was excited to hear it again. It was used a few times in the film, but honestly I could have had a little more of it. But it was still there, so all was well.

No One Can Die: This was an item I was prepared for. In the TV show, no one ever died. Everyone was always just injured or knocked out and everyone always jumped out of the car/helicopter/building before it exploded. I was pretty certain they couldn't make this movie without killing people if they wanted a real action movie. And I was right. However, they did give a nod to the no killing rule of the TV show by having B.A. try to reform himself by swearing off violence. I appreciated that gesture from the filmmakers.
B.A. Will Be Knocked Out: As everyone knows, B.A. is afraid of flying. And they did a wonderful job of keeping true to the original character.
They Must Build Things: Another key element of any episode of The A-Team is when they have to build something crazy using whatever is around them. This was done, and done well.
Disguises/Accents: Often in the show one or more of the team would end up wearing a disguise of some kind, often while using different accents. Both of these were done.
Hannibal Has A Plan: Indeed he does, and it does come together. Go ahead and light your cigars!
Face Must Fix: Face is also the fixer for the group. He has all the connections to get everyone what they need. And indeed, the film version of Face does this wonderfully.
Face Is A Slut: Yes!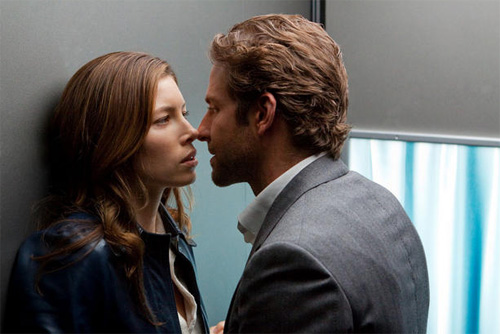 Of course there are many other elements to the TV show. These are only what I personally needed to enjoy the film. There are so many nods to details from the show that any die hard fan of the show will appreciate.
The casting was spot-on, particularly Sharlto Copley as Murdock. I couldn't imagine anyone but Dwight Shultz in the role before seeing the movie, but I am very happy with all the casting choices.
If shaky camera work makes you sick, this may not be the film for you. Otherwise, I recommend this film to all fans of the A-Team TV show as well as all action movie fans. It's got that kind of ridiculous action that makes you want to go back for more. I'm already planning my next trip to see it again.
Rating: 4 / 5 Stars