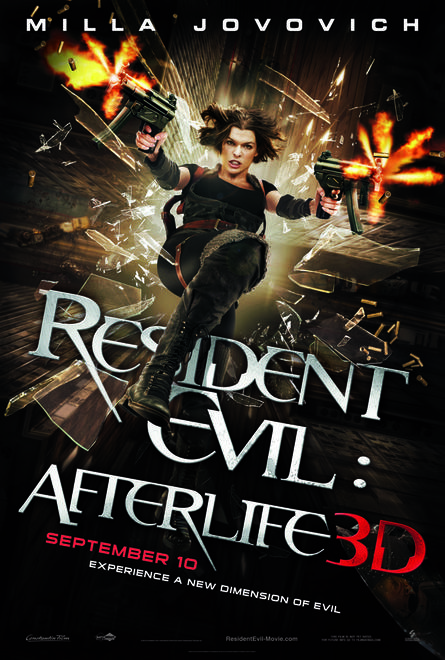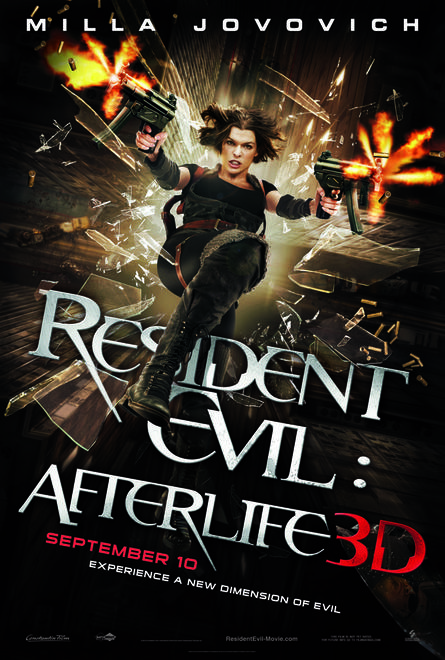 Director: Paul W. S. Anderson
Screenplay: Paul W. S. Anderson
Cast: Milla Jovovich, Ali Larter, Kim Coates, Shawn Roberts, Wentworth Miller
Rated: R
You have to love a post-apocalyptic world where everyone always has time to do their make-up. The fourth film in the Resident Evil series is better than the previous one, but that's hardly a compliment. It's sloppy, pretty, stupid, fun, and IN YOUR FACE! Um… that means 3D.
This is absolutely not the movie to start with in this series. If you haven't seen the previous movie, this one won't make much sense. In fact, if you haven't seen all of the movies, and played all of the video games (up to Resident Evil 5), you might be a bit confused by who and what you're seeing onscreen. For a film series that has always been loosely based on the video games (although Apocalypse did have two characters from the game), Afterlife seemed determined to cram every once of the source material into this film. Case in point: In the last film, Claire Redfield was a blonde, despite having auburn hair in the games, and in this film, her hair matches. They also threw in Chris Redfield, a creature right out of the fifth game, and finally made Albert Wesker the major villain in a film (he's had cameos in the other films).
The movie is riddled with plot holes, continuity errors, and utter ridiculousness. It starts early and doesn't stop. None of the characters has depth, but they are easy to look at, and if they're not, well, let's just say the moral of this story could be "Don't trust ugly people." Milla Jovovich is Alice, who hasn't bothered to attempt character development since the second movie, but when she kicks ass… it's just so damn pretty. Ali Larter tries to be Claire, but still looks like a sorority pledge trying to act like a tough guy. Wentworth Miller is Chris Redfield and pretty much just talks like Christian Bale's Batman.
I can't say enough about how random the movie as a whole is. The plot seems to be an amalgamation of a bunch of retreaded material and story from the first three movies shot through a focus group and pieced back together into Resident Evil: Afterlife. And let's be honest, no one is going to see a Resident Evil movie for clever dialogue, high drama, and a deeper understanding of the human condition. We go to see the hot actors and actresses shoot zombies… which brings up another problem.
For being a series known for having zombies, Afterlife is very light on the zombies. They pretty much only show up for one nifty action sequence. Now, before you start yelling at your friendly neighborhood reviewer about how even the game series moved away from classic zombies, I'd like to point out they were replaced by something else. Afterlife doesn't replace the zombies. The undead are there, but they're only used in one sequence and completely overshadowed by the big guy in the picture above. He's the highlight of the movie in terms of his sheer "HOLY CRAP!" factor.
Resident Evil: Afterlife is filmed using the same 3D cameras as Avatar, but the 3D is still kinda wonky. It's not as cheesy as I've seen it other 3D movies with the effects added in post, but there were several sequences that hurt my eyes and made my head spin. The fight scenes are pretty bad ass, but the final confrontation leaves a lot to be desired in terms of scale. Be sure to hang around for a few minutes after the credits roll for a little something extra. All in all, Afterlife was fun, but a little too light on the action for a movie without a clear direction. In fact, the movie doesn't so much end as it doesn't actually end at all. So if you're a fan of the series, it looks like you'll get another movie. The next one might make a bit more sense, but I doubt it.
Rating: 3 / 5 Stars